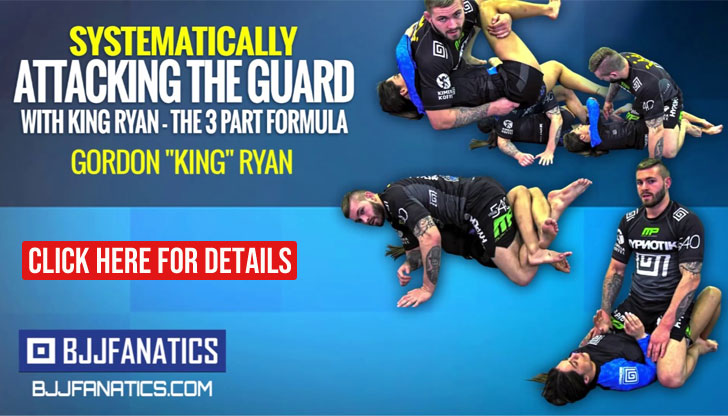 MARCH 18, 2017 was the final day of the 2016-17 Abu Dhabi Grand Slam Tour, a tournament organised by the United Arab Emirates Jiu Jitsu Federation (UAEJJF) which is also the most well paid grappling circuit in the world.
Many believed the Abu Dhabi Grand Slam would be hindered Held by the IBJJF Pan American Championship happening on the same weekend in California, but nothing could be further from the truth as the UAEJJF event gathered full support of the global BJJ community, who flew to London – England in big numbers for a chance win the prestigious event. One of those big names on deck was Gabriel Arges, who preferred a trip to Europe to challenge the #1 ranked UAEJJF athlete José Junior. With that in mind, Arges (who is naturally an 77 or 85 kilogram athlete) entered the tournament at 110kg in an attempt to dethrone Junior and earn the end of year prize. His efforts were unsuccessful as Junior managed to narrowly take the win by one penalty.
Aside from the big names in the black belt divisions, the 2017 London Grand Slam called for the rising stars of our sport in the coloured belt categories. Athletes such as Max Lindblad, Gabriel Almeida, River Dillon, Gutemberg Pereira, Jonata Gomes and many others.
Although there were plenty of interesting scraps to follow, as we have seen in the past, the 6 minute time limit rule resulted in a fair share of fairly slow cooked matches – something the federation is already addressing by introducing faster stalling measures.  Even with those fast passivity calls some divisions – i.e. lightweights, saw an average of 0.77 points per match. This was not by any means the norm, as the heavyweights totally threw a monkey wrench at this concept with double digit scoring boards and even a couple of submissions.
One of the bigger points worthy of mentioning in our report of the Grand Slam, was the strength in Britain's team. A clear sign of the growth of jiu jitsu in the country, having numerous podium placements not only in the coloured belt divisions, but also at black (male) and black/brown (female) belt divisions, where they placed 5 athletes. This evolution of British jiu jitsu was particularly evident in the performances of athletes such as Ross Nichols (Roger Gracie Academy) and Bradley Hill (Gracie Barra Birmingham), who placed in the top 3 of highly competitive divisions.
Maybe the greatest story in this event was the return of Alexandre Ribeiro to the winning board in a big way. The legendary Xande avenged his loss to the Polish Athlete Adam Wardizinski, submitting the Checkmat athlete, as he had World Championship medalist Jackson Sousa in the semi final. Brave effort by the Masters athlete.
FULL RESULTS FOR THE ABU DHABI GRAND SLAM - LONDON
Note: For the results of the individual matches of each black belt competitor, please refer to the respective athlete's page here on BJJ Heroes.
MALE / BLACK / ADULT / 62KG
1st Hiago George (BRA)
2nd Erno Elgland (FIN)
3rd Rodnei Barbosa  (BRA)
MALE / BLACK / ADULT / 69KG
1st Italo Lins  (BRA)
2nd Victor Moraes  (BRA)
3rd Max Campos  (BRA)
MALE / BLACK / ADULT / 77KG
1st Talison Costa  (BRA)
2nd Ilke Bulut (TUR)
3rd Ross Nicholls (ENG)
MALE / BLACK / ADULT / 85KG
1st Charles Negromonte (BRA)
2nd Santeri Lilius (FIN)
3rd Bradley Hill (ENG)
MALE / BLACK / ADULT / 94KG
1st Alexandre Ribeiro (BRA)
2nd Adam Wardzinski (POL)
3rd Jackson Sousa (BRA)
MALE / BLACK / ADULT / 110KG
1st José Junior (BRA)
2nd Gabriel Arges (BRA)
3rd Gabriel Lucas (BRA)
FEMALE / BROWN BLACK / ADULT / 55KG
1st Vanessa English (ENG)
2nd Mayra Abrahao  (BRA)
FEMALE / BROWN BLACK / ADULT / 62KG
1st Luiza Monteiro  (BRA)
2nd Cornelia Rossier (SWI)
3rd Leoni Munslow (ENG)
FEMALE / BROWN BLACK / ADULT / 70KG
1st Ana Carolina Vieira  (BRA)
2nd Samatha Crook (ENG)
3rd Laila Carneiro (BRA)
FEMALE / BROWN BLACK / ADULT / 90KG
1st Nathiely de Jesus  (BRA)
2nd Jessica da Silva (BRA)
3rd Claire France (FRA)