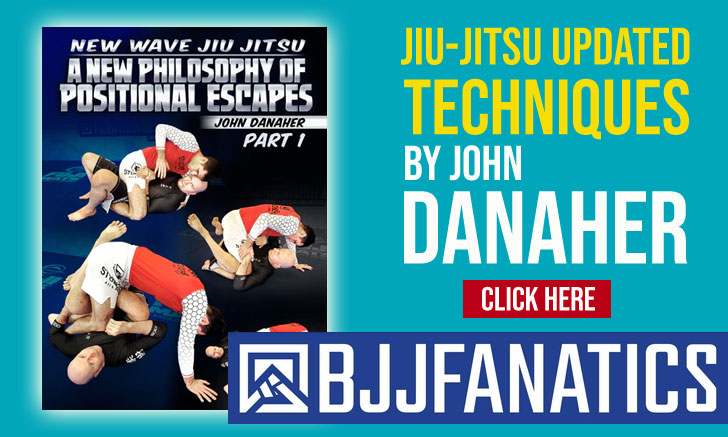 Vagner Rocha, commonly known as Ceará is a Brazilian jiu-jitsu black belt under Pablo Popovitch, known for his achievements in grappling and mixed martial arts (MMA) – having competed for the top promotions in both sports, the ADCC (BJJ) and the Ultimate Fighting Championship (MMA). Rocha is also an ADCC medalist and the founder of Vagner Rocha Martial Arts, a well-known association in the South Florida region.
Vagner Rocha Jiu-Jitsu
Full Name: Vagner Rocha
Nickname: 'Ceará' is a word often used to reference Vagner, which is the name of a state in Brazil's Northwest. The natives of this region are often depicted as Brazil's version of hillbillies – tough country folk, ridiculed for their lack of sophistication and, in Brazil, for the size of their heads. The name was associated with Vagner by Jorge Popovitch when Rocha started training because even though he wasn't born in Ceará, he fit the description.
Lineage: Carlos Gracie > Crolin Gracie > Jorge Popovitch > Pablo Popovitch > Vagner Rocha
Main Achievements:
1st Place ADCC US East Trials (2015/2010)
1st Place ADCC US West Trials (2017)
1st Place EBI Combat Invitational (2017)
1st Place IBJJF Pans Championship (2007 brown)
1st Place Florida Grappling League (2009**)
1st Place Grapplers Quest Champion (2009**)
2nd Place ADCC World Championship (2019)
2nd Place IBJJF World Championship NOGI (2021)
2nd Place 3CG Kumite III Grand Prix (2020)
2nd Place Eddie Bravo Invitational 13 (2017)
2nd Place Eddie Bravo Invitational 11 (2017)
2nd Place ADCC US West Trials (2013)
3rd Place ADCC World Championship (2017 / 2022)
Main Achievements (Colored Belts):
1st Place IBJJF Pans Championship (2007 brown)
* Absolute
** Weight and absolute
Favorite Position/Technique: 50/50 of the Arms
Weight Division: Peso Médio (82,30 kg /181.5 lbs)
Team/Association: Vagner Rocha Martial Arts
Vagner Rocha Biography
Vagner Rocha was born on June 6, 1982, in Nova Friburgo, a Brazilian mountainous region included in the state of Rio de Janeiro.
At the age of 5, Vagner's family moved to the United States, settling in Fort Lauderdale – South of Florida. It was there that Rocha spent most of his childhood and formative years, being also the place where he was introduced to martial arts, at the age of 7 through taekwondo.
Vagner practiced TKD for 2 years, losing his connection with the martial art as a brown belt, he would re-engage with combat sports as an 18-year-old – this time through jiu-jitsu. His newfound love for grappling was sparked in his native Brazil 2 years earlier, while on holiday playing around with a cousin who had gained some experience with the sport/martial art. Vagner and this cousin would engage in playful fighting every holiday since they were little and always on even grounds, this changed that Summer when Rocha was totally manhandled, choked, and tapped at will. Vagner soon understood his cousin's new skills were owed to BJJ. It didn't take long for Rocha to start contemplating signing with a gym, though it took him 24 months to finally join.
Vagner started training jiu-jitsu in 2001 with Jorge Popovitch. He was forced to slow down his training soon after due to the birth of his first child. He put training on the background to provide for his family, but once he found a steady job at a construction site and finished night school he returned, giving his full dedication to grappling.
The Popovitch family (Jorge and son  Pablo) were an integral part of Vagner's progression in jiu-jitsu, awarding him all belts – including his black belt, a promotion that took place at the team's end of the year dinner party in December 2007.
In 2008 Vagner was offered a position as a coach at the BJJ Centre (Popovitch academy). He learned the art of coaching and running a gym there, gradually leaving his construction job behind to focus solely on BJJ. Rocha would later add a career in mixed martial arts to his skill set, a competitive circuit he premiered in, in 2009 and eventually found his way to the sport's top promotion – the Ultimate Fighting Championship (UFC) in 2011.
2011 was also the year when the Popovitch + Rocha partnership ended and Vagner Rocha Martial Arts (VRMA) was born – Vagner's own association.
Rocha is often associated with Fight Sports, another well-known academy based in Florida. This link between Vagner and FS comes from Roberto 'Cyborg' Abreu whom he met in 2007. Vagner had known of Roberto for long, from bumping into him in jiu-jitsu events, but the first time they interacted was that year at a grappling tournament called 'Copa America'. Both Rocha and Cyborg made it through to the final of CA's open weight class, and in the process of an epic battle, they gained great mutual respect, which led to a friendship. Training together on a regular basis, in 2009 Rocha and Abreu formed an alliance, and a bigger team was born. It was named The Avengers.
The Avengers were a merged formation, combining Cyborg, Rocha, Pablo Popovitch, Marcus Almeida, Rodrigo Cavaca, Raphael Chaves, and a few other well-known black belts. The team took the IBJJF No-Gi Worlds by storm in 2010 but eventually fell through – through the union between Rocha and Abreu persisted, someone Vagner has described as both a friend and an inspiration.
Cover photo by Blanca Marisa Garcia @ Combat EBI World Championship
Vagner Rocha Academy Web: vagnerrochamartialarts.com
Vagner Rocha Grappling Record
94 WINS
BY POINTS


BY ADVANTAGES




BY SUBMISSION




BY DECISION




BY PENALTIES




BY EBI/OT



43 SUBMISSIONS WINS
#fad11b
Reverse triangle
7
3
#ff9124
Shoulder lock
5
2
#bf1f6c
Anaconda choke
5
2
#039a1f
Triangle armbar
2
1
#03d61f
Inside heel hook
2
1
27 LOSSES
BY POINTS


BY ADVANTAGES




BY SUBMISSION




BY DECISION




BY PENALTIES




BY EBI/OT



4 SUBMISSIONS LOSSES
#5AD3D1
Inside heel hook
25
1
#d1212a
Reverse triangle
25
1
Vagner Rocha Fight History
ID
Opponent
W/L
Method
Competition
Weight
Stage
Year
2422

Carlos Ferreira

L
Points
NoGi Worlds
79KG
4F
2009
2798

Matt Arroyo

L
Points
MMAC Grappling
ABS
F
2011
3233

Augusto Mendes

Augusto Mendes
L
Footlock
ADCC
77KG
R1
2011
4028

Diego Borges

Diego Borges
L
Points
World Champ.
82KG
R1
2012
4348

G. Tonon

L
Points
ADCC US Trials
77KG
F
2013
7948

Otavio Sousa

Otavio Sousa
L
Referee Decision
ADCC
77KG
4F
2015
7996

Joao Rocha

Joao Rocha
L
Pts: 3x0
ADCC
ABS
4F
2015
10686

AJ Agazarm

AJ Agazarm
L
DQ
F2W 14
77KG
SPF
2016
10763

Gordon Ryan

Gordon Ryan
D
---
Sapateiro 2
ABS
SPF
2016
12019

Gordon Ryan

Gordon Ryan
L
RNC
EBI 11
77KG
F
2017
13248

DJ Jackson

DJ Jackson
L
Pts: 25x8
Grappling Pro
77KG
SPF
2017
13904

Lucas Lepri

Lucas Lepri
L
Referee Decision
ADCC
77KG
SF
2017
14235

Garry Tonon

Garry Tonon
L
Inside heel hook
EBI 13
70KG
F
2017
14672

Gilson Nunes

Gilson Nunes
L
Pts: 0x0, Adv
NoGi Worlds
73KG
R2
2017
14730

Jared Dopp

Jared Dopp
L
Pts: 0x0, Adv
NoGi Worlds
ABS
R1
2017
16960

Francisco Iturralde

Francisco Iturralde
L
Referee Decision
W.S.O.G.
81KG
8F
2018
17249

Renato Canuto

Renato Canuto
L
Pts: 1x1, Pen
Kasai Pro 3
77KG
F
2018
18193

Renato Canuto

Renato Canuto
L
Pts: 3x0
Kasai Pro 4
77KG
SPF
2018
21255

JT Torres

JT Torres
L
Referee Decision
F2W 119
77KG
SPF
2019
21898

JT Torres

JT Torres
L
Pts: 3x0
ADCC
77KG
F
2019
22417

Tye Ruotolo

Tye Ruotolo
L
Referee Decision
F2W 131
77KG
SPF
2019
23740

Craig Jones

Craig Jones
L
EBI/OT
SUG 14
88KG
SPF
2020
23810

Roberto Jimenez

Roberto Jimenez
L
Referee Decision
3CG Kumite III
81KG
F
2020
23924

Alexandre Ribeiro

Alexandre Ribeiro
D
---
BJJ Bet
95KG
SPF
2020
25396

Gordon Ryan

Gordon Ryan
L
Reverse triangle
WNO 7
93KG
SPF
2021
28319

Pedro Marinho

Pedro Marinho
L
Pts: 4x2
NoGi Worlds
91KG
F
2021
33510

Felipe Pena

Felipe Pena
L
EBI/OT
Honor Challenge
ABS
F
2022
35045

Lucas Barbosa

Lucas Barbosa
L
Referee Decision
ADCC
88KG
SF
2022
44395

Abraham Montagne

L
Referee Decision
ADCC Florida
91KG
SF
2023
1845

David Vieira

W
Points
Copa America
ABS
F
2008
2789

G. Geiger

W
Points
ADCC US Trials
77KG
R1
2010
2790

Brian Beaury

Brian Beaury
W
Anaconda choke
ADCC US Trials
77KG
R2
2010
2791

B. McLaugh

W
Armbar
ADCC US Trials
77KG
4F
2010
2792

Peter Runez

W
Choke
ADCC US Trials
77KG
SF
2010
2793

Tony Tipton

W
Points
ADCC US Trials
77KG
F
2010
2796

A. Agazarm

W
Triangle armbar
MMAC Grappling
ABS
4F
2011
2797

Corey Hill

W
Reverse triangle
MMAC Grappling
ABS
SF
2011
2811

Unknown

W
RNC
FGL
ABS
R1
2011
2812

Unknown

W
RNC
FGL
ABS
4F
2011
2813

Unknown

W
Reverse triangle
FGL
ABS
SF
2011
2814

Danilo Villefort

W
Pts: 6x0
FGL
ABS
F
2011
2815

Edson Diniz

Edson Diniz
W
Pts: 2x0
FGL
77KG
F
2011
3199

Unknown

W
Triangle
ADCC EC Trials
77KG
R1
2011
3200

Unknown

W
Anaconda choke
ADCC EC Trials
77KG
R2
2011
3201

Unknown

W
Armbar
ADCC EC Trials
77KG
4F
2011
3202

Unknown

W
Choke
ADCC EC Trials
77KG
SF
2011
3203

Tony Tipton

W
Points
ADCC EC Trials
77KG
F
2011
4333

Anton Yalch

W
Kimura
Copa America
ABS
4F
2013
4334

Jeremy York

W
Short choke
Copa America
ABS
SF
2013
4335

Dan Martinez

W
Points
Copa America
ABS
F
2013
4343

N/A

W
Armbar
ADCC US Trials
77KG
R1
2013
4344

N/A

W
Triangle
ADCC US Trials
77KG
R2
2013
4345

Ed Cummings

W
Points
ADCC US Trials
77KG
4F
2013
4347

Enrico Cocco

Enrico Cocco
W
Referee Decision
ADCC US Trials
77KG
SF
2013
7208

Unknown

W
Points
ADCC US Trials
77KG
8F
2015
7211

Unknown

W
Points
ADCC US Trials
77KG
4F
2015
7214

Jonathan Satava

Jonathan Satava
W
Points
ADCC US Trials
77KG
SF
2015
7215

Magid Hage

W
Points
ADCC US Trials
77KG
F
2015
7941

Milton Vieira

W
Pts: 2x0
ADCC
77KG
R1
2015
7991

Romulo Barral

Romulo Barral
W
Pts: 2x0
ADCC
ABS
R1
2015
12010

Joe Baize

W
EBI/OT
EBI 11
77KG
R1
2017
12015

Sergio Ardila

Sergio Ardila
W
Short choke
EBI 11
77KG
4F
2017
12017

Craig Jones

Craig Jones
W
EBI/OT
EBI 11
77KG
SF
2017
12483

Edmund Kim

W
Pts: 3x0
ADCC WC Trials
77KG
R1
2017
12499

Werther Marciales

W
RNC
ADCC WC Trials
77KG
R2
2017
12512

Will Durkee

W
Armbar
ADCC WC Trials
77KG
8F
2017
12518

Stephen Martinez

W
Submission
ADCC WC Trials
77KG
4F
2017
12523

Jonathan Satava

Jonathan Satava
W
Referee Decision
ADCC WC Trials
77KG
SF
2017
12524

AJ Agazarm

AJ Agazarm
W
Referee Decision
ADCC WC Trials
77KG
F
2017
13895

Tero Pyylampi

W
Pts: 3x0
ADCC
77KG
E1
2017
13901

DJ Jackson

DJ Jackson
W
Referee Decision
ADCC
77KG
4F
2017
13906

Garry Tonon

Garry Tonon
W
Pts: 2x0
ADCC
77KG
3RD
2017
14225

Issa Able

W
EBI/OT
EBI 13
70KG
R1
2017
14231

PJ Barch

PJ Barch
W
EBI/OT
EBI 13
70KG
4F
2017
14234

Nathan Orchard

W
EBI/OT
EBI 13
70KG
SF
2017
14667

Nicolas Reiner

W
Short choke
NoGi Worlds
73KG
R1
2017
14858

Dustin Akbari

W
Referee Decision
F2W 58
82KG
SPF
2018
15711

Bill Cooper

Bill Cooper
W
Short choke
F2W 68
77KG
SPF
2018
16680

Dante Leon

Dante Leon
W
RNC
Grappling Ind.
82KG
SPF
2018
17235

Masahiro Iwasaki

Masahiro Iwasaki
W
Heel hook
Kasai Pro 3
77KG
RR
2018
17241

M. Lutes

D
---
Kasai Pro 3
77KG
RR
2018
17243

M. Lutes

D
---
Kasai Pro 3
77KG
RR
2018
17244

Marcin Held

W
Wristlock
Kasai Pro 3
77KG
RR
2018
17841

Augusto Mendes

Augusto Mendes
W
Referee Decision
F2W 89
70KG
SPF
2018
18513

Ben Henderson

W
RNC
Polaris 8
77KG
SPF
2018
19544

Ross Nicholls

Ross Nicholls
W
Referee Decision
Polaris 9
77KG
SPF
2019
20863

Ethan Crelinsten

Ethan Crelinsten
W
Points
Third Coast
75KG
SPF
2019
20974

Celso Vinicius

Celso Vinicius
W
Pts: 4x2
KASAI SS Florida
77KG
SPF
2019
21858

Servio Tulio

Servio Tulio
W
Armbar
ADCC
77KG
R1
2019
21863

Celso Vinicius

Celso Vinicius
W
Referee Decision
ADCC
77KG
4F
2019
21896

Dante Leon

Dante Leon
W
Referee Decision
ADCC
77KG
SF
2019
23449

Thiago Moises

W
Points
Sub Stars
N/A
SPF
2020
23806

Kody Steele

Kody Steele
W
Points
3CG Kumite III
81KG
4F
2020
23809

Pedro Marinho

Pedro Marinho
W
Points
3CG Kumite III
81KG
SF
2020
23854

Ronaldo Junior

Ronaldo Junior
W
Referee Decision
WNO
86KG
SPF
2020
24405

Gabriel Almeida

Gabriel Almeida
W
Inside heel hook
F2W 157
83KG
SPF
2020
24853

Jon Blank

Jon Blank
W
Referee Decision
WNO 5
SPF
88KG
2020
25150

Yuri Simoes

Yuri Simoes
W
Referee Decision
F2W 164
ABS
SPF
2021
25949

William Tackett

William Tackett
W
Referee Decision
F2W 171
84KG
SPF
2021
26299

Josh Hinger

Josh Hinger
W
Referee Decision
WNO 9
83KG
SPF
2021
28310

Giancarlo Bodoni

Giancarlo Bodoni
W
Referee Decision
NoGi Worlds
91KG
8F
2021
28318

Diego Ramalho

Diego Ramalho
W
Referee Decision
NoGi Worlds
91KG
SF
2021
31268

Francisco Cuneo

Francisco Cuneo
W
RNC
Charleston NGO
ABS
SF
2022
31269

Estevan Martinez

Estevan Martinez
W
RNC
Charleston NGO
ABS
F
2022
32479

Thiago Cesar

W
Submission
SD NGO
91KG
SF
2022
32480

Jorge Farfan

W
Triangle
SD NGO
91KG
F
2022
32482

Rafael Anjos

Rafael Anjos
W
Heel hook
SD NGO
ABS
4F
2022
32484

Elliot Kelly

W
Submission
SD NGO
ABS
SF
2022
32486

Johnny Tama

Johnny Tama
W
Aoki lock
SD NGO
ABS
F
2022
33509

Hugo Borim

W
Cross face
Honor Challenge
ABS
SF
2022
33811

Angelo Claiborne

Angelo Claiborne
W
Cross face
Orlando SMNGO
91KG
SF
2022
33812

Juan Romero

W
Reverse triangle
Orlando SMNGO
91KG
F
2022
33815

Francisco Cuneo

Francisco Cuneo
W
Points
Orlando SMNGO
ABS
4F
2022
33817

Johanan Vielma

W
N/A
Orlando SMNGO
ABS
SF
2022
33819

Jeferson Guaresi

Jeferson Guaresi
W
Adv
Orlando SMNGO
ABS
F
2022
35035

Izaak Michell

Izaak Michell
W
Referee Decision
ADCC
88KG
R1
2022
35043

Pedro Marinho

Pedro Marinho
W
Referee Decision
ADCC
88KG
4F
2022
35047

Eoghan OFlanagan

W
Toe hold
ADCC
88KG
3RD
2022
36873

Shawn Hoehne

W
Shoulder lock
NoGi Worlds
91KG
R1
2022
36881

Bryan Peterson

W
Toe hold
NoGi Worlds
91KG
4F
2022
36884

C. Negromonte

C. Negromonte
W
Pts: 0x0, Adv
NoGi Worlds
91KG
SF
2022
41639

Uros Cilic

W
Points
Tough Roll
NA
SPF
2023
44385

T. Vines

W
Pts: 2x0
ADCC Florida
91KG
R1
2023
44388

E. Birch

W
Pts: 2x0
ADCC Florida
91KG
8F
2023
44392

B. Wagenaar

W
Shoulder lock
ADCC Florida
91KG
4F
2023
Vagner Rocha vs Eddie Cummings