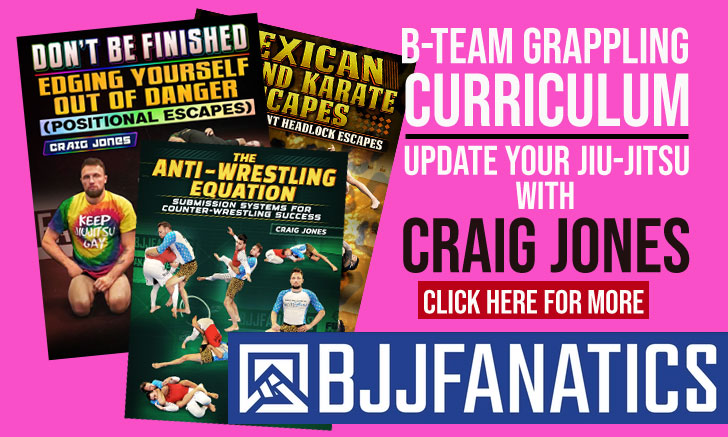 Rodrigo Cabral, also known as "Brucutu", is a Brazilian jiu-jitsu black belt under Leonardo Vieira of the Checkmat Team, who was once regarded as one of the most promising students of Vieira (2000s). Although successful as an athlete, Cabral suffered a few serious injury setbacks during his competitive career, which prevented him from reaching his full potential but turned Cabral's attention to coaching. As a coach, and founder of the Fight Factory Academy (Austin, US), Brucutu was responsible for producing important athletes such as Kody Steele, Tiffany Buttler, and the Tackett brothers.
Rodrigo Cabral Jiu Jitsu
Full Name: Rodrigo de Oliveira Cabral
Nickname: "Brucutu" is the name of a character in a famous cartoon in Brazil. The name was given by Leonardo Vieira, Rodrigo's former coach due to Rodrigo's resemblance with the character.
Lineage: Carlos Gracie > Helio Gracie > Rolls Gracie > Romero Cavalcanti > Leo Vieira >Rodrigo Cabral
Main Achievements:
1st Place CBJJ Brazilian Nationals (2011 Master)
1st Place FJJR Rio State Championship (2008)
1st Place IBJJF Austin Open (2017 Master)
1st Place IBJJF Dallas Open (2012)
1st Place IBJJF London Open (2005)
1st Place UK Grappling Challenge (2007)
2nd Place IBJJF Masters World Championship (2012)
Weight Division:
Meio Pesado (88kg/194lbs)
Pesado (94kg/207lbs)
Super Pesado (100kg/221lbs)
Team/Association: Drysdale BJJ (formerly with Alliance, Gracie Humaita, Brasa and Checkmat)
Rodrigo "Brucutu" Cabral Biography
Rodrigo Cabral was born on July 7, 1981, in Rio de Janeiro, Brazil.
He started practicing Jiu-Jitsu with Gracie Humaita's Fredson Alves. Shortly after he received his blue belt (1999) Rodrigo had to stop training for personal reasons, returning to practice the following year with another Humaita world champion, black belt Marcos Norat. Norat awarded Brucutu his purple bel and Rocian Gracie his brown.
Rodrigo moved away from the Gracie Humaita camp when he moved to Sao Paulo. There he became a student of Leonardo Vieira for a few years. Life would lead Cabral to London, England, to study English in the early 2000s. There Rodrigo trained with the Alliance / Master team for a while.
Once Rodrigo returned to Brazil, he did so in Rio de Janeiro, training with Ricardo Vieira (Leo's brother). It was Ricardo who promoted Cabral to black belt in 2005, though merely by circumstance since the belt promotion had been an endorsement of Leonardo Vieira). When Brucutu returned to London, he started coaching at the London Fight Factory in Hanbury Street (East End), a small team that grew exponentially under Rodrigo's guidance.
When Cabral returned to Rio de Janeiro, he trained at the Alliance, Leblon academy with Alexandre Paiva, breaking his bond with Checkmat. This was a period when Rodrigo was plagued by injuries, having surgeries to both his shoulders from separate training accidents, among other injuries. During the mid-2010s, Brucutu moved to the United States, opening his own Fight Factory in Austin, Texas.
Rodrigo Cabral vs Sergio Moraes

Rodrigo Cabral Rio Open 2008

Rodrigo Cabral Phoenix Open 2012

Rodrigo Cabral UK Nationals Highlight