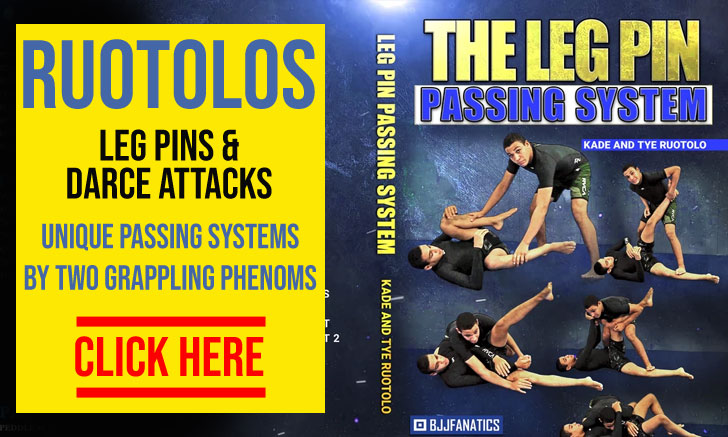 Alexandre de Jesus, also known as "Robinho", is a Brazilian jiu-jitsu black belt under Claudio Calasans, being also one of the main representatives of the Calasans BJJ / Atos JJ coalition in grappling's international circuit. Already regarded as a rising star of the sport after his Brazilian National and European Open podium placing performances during his colored belt career, Alexandre de Jesus would cement that claim by winning the International Brazilian Jiu-Jitsu Federation (IBJJF) South American Championship on his black belt debut (2018).
Alexandre Jesus Jiu-Jitsu
Full Name: Alexandre Joaquim de Jesus
Nickname: Alexandre is often referenced as "Robinho" who was a famous football (soccer) player during the mid-2000s era. The reason for that dates back to when de Jesus started training. As he did not own a kimono, de Jesus would wear football jerseys to practice, and being the big fan that he was, all these shirts had Robinho's name on the back. For that reason, Alexandre's coach would humorously call his pupil the footballer's name, a tradition that remained throughout his career.
Lineage: Carlos Gracie > Reyson Gracie > Osvaldo Alves > Sergio Lisboa > Erivaldo Junior > Claudio Calasans > Alexandre de Jesus
Main Achievements:
1st Place ADCC Brazilian Trials (2022)
1st Place IBJJF South American Championship (2018 / 2019)
2nd Place IBJJF European Open NOGI (2022)
3rd Place IBJJF World Championship NOGI (2021)
3rd Place IBJJF European Open (2020)
3rd Place CBJJ Brazilian Nationals (2023)
3rd Place AJP Grand Slam, MIA (2021)
Main Achievements (Colored Belts):
1st Place CBJJ Brazilian Nationals (2018 brown)
1st Place CBJJE Mundial Submission (2016** purple)
2nd Place IBJJF European Open (2017 purple, 2018 brown)
2nd Place CBJJE World Championship (2016 purple)
3rd Place ACBJJ World Championship (2018 brown)
3rd Place CBJJ Brazilian Nationals (2017 purple)
* Absolute
** Weight and absolute
Favorite Position/Technique: Knee Slide Pass
Weight Division: Peso Médio (82,30 kg / 181.5 lbs)
Team/Association: Calasans JJ / Atos JJ
Alexandre Jesus Biography
Alexandre Jesus was born on April 11, 1997, in Saúde, a small town located in the state of Bahia in the North-East region of Brazil. As a toddler, Alexandre's family moved to Caraguatatuba, a coastal municipality in São Paulo where de Jesus would settle and spend his formative years.
During childhood, Alexandre was an avid football (soccer) player, but as his parents struggled with his behavior at school, they decided to sign him on to a martial art, hoping this would instill discipline in young Robinho. With that in mind, Alexandre was 13 years old (2012) when he joined André Medeiros' jiu-jitsu academy.
De Jesus remained under Medeiros' tuition until he earned his purple belt, a time when Alex already intended to become a professional grappling athlete. Believing in his talent, Robinho then moved to the Calasans Camargo gym, in the São José dos Campos city, an academy to which coach André Medeiros was affiliated, and a team that housed one of the best coaches in the region, Mr. Claudio Calasans.
At the Calasans Camargo academy, Alexandre de Jesus learned from both Calasans and Álvaro Borges, coaches who graded Robinho with his brown and black belts, the latter in September 2018.
Alexandre Jesus Grappling Record
67 WINS
BY POINTS


BY ADVANTAGES




BY SUBMISSION




BY DECISION




BY PENALTIES




BY DQ



22 SUBMISSIONS WINS
#5AD3D1
Choke from back
14
3
#fad11b
Bow and arrow
5
1
#f58822
Inside heel hook
5
1
26 LOSSES
BY POINTS


BY ADVANTAGES




BY SUBMISSION




BY DECISION




BY PENALTIES




BY DQ



12 SUBMISSIONS LOSSES
#214eb8
Choke from back
42
5
#5AD3D1
Bow and arrow
8
1
#224aba
Arm in Ezekiel
8
1
Alexandre Jesus Fight History
ID
Opponent
W/L
Method
Competition
Weight
Stage
Year
18487

Yan Lucas

Yan Lucas
L
Points
Brasilia Open
82KG
SF
2018
19625

Otavio Sousa

Otavio Sousa
L
Choke from back
Pan American
82KG
4F
2019
19752

Gabriel Almeida

Gabriel Almeida
L
Heel hook
ADCC SP Trials
88KG
R1
2019
20294

Igor Verissimo

Igor Verissimo
L
Bow and arrow
Brasileiro
82KG
R3
2019
20634

Yago Souza

Yago Souza
L
Pts: 2x2, Adv
World Champ.
82KG
R1
2019
21012

Wellington Luis

Wellington Luis
L
Referee Decision
SP BJJ Pro
82KG
F
2019
21521

W. Costa

L
Choke from back
Team Nationals
ABS
F
2019
23116

Pedro Ramalho

Pedro Ramalho
L
Pts: 2x2, Adv
European Open
82KG
SF
2020
23868

Marcos Martins

Marcos Martins
L
Pts: 4x0
BJJ Stars
N/A
SPF
2020
24743

Jaime Canuto

Jaime Canuto
L
Referee Decision
Grand Slam RJ
85KG
4F
2020
24748

Jaime Canuto

Jaime Canuto
L
Armbar
Grand Slam RJ
85KG
3RD
2020
26835

Servio Tulio

Servio Tulio
L
RNC
Copa Kings
87KG
F
2021
27254

Andre Porfirio

Andre Porfirio
L
Pts: 4x2
Grand Slam MIA
85KG
SF
2021
27595

Tainan Dalpra

Tainan Dalpra
L
Kimura
Pan American
82KG
4F
2021
28287

Hugo Marques

Hugo Marques
L
Pts: 4x0
NoGi Worlds
79KG
SF
2021
29521

Jonnatas Gracie

Jonnatas Gracie
L
Referee Decision
World Champ.
82KG
8F
2021
30059

Gabriel Costa

Gabriel Costa
L
Referee Decision
ADCC BR1 Trials
88KG
R2
2022
32933

Filipe Cesar

L
Arm in Ezekiel
World Champ.
82KG
R1
2022
33147

Ronaldo Junior

Ronaldo Junior
L
Referee Decision
EUG 4
82KG
SF
2022
34344

Miguel Curi

L
Pts: 0x0, Adv
Brasileiro NoGi
ABS
4F
2022
35031

Mason Fowler

Mason Fowler
L
Guillotine
ADCC
88KG
R1
2022
36037

Oliver Taza

Oliver Taza
L
Pts: 2x0
European NG
ABS
SF
2022
36089

Oliver Taza

Oliver Taza
L
Pts: 4x0
European NG
85KG
F
2022
38494

Mica Galvao

Mica Galvao
L
Choke from back
Majestic
82KG
SPF
2023
39399

Tainan Dalpra

Tainan Dalpra
L
Choke from back
Brasileiro
82KG
SF
2023
40187

Jansen Gomes

Jansen Gomes
L
Choke from back
World Champ.
82KG
4F
2023
18358

Jan Buatim

Jan Buatim
W
Choke from back
South American
82KG
R1
2018
18359

Alef Brito

Alef Brito
W
Pts: 5x0
South American
82KG
4F
2018
18360

Fabricio Barbarotti

Fabricio Barbarotti
W
Pts: 0x0, Adv
South American
82KG
SF
2018
18361

Rodolphe Souza

W
Pts: 8x0
South American
82KG
F
2018
18484

Andre Astolfo

W
Points
Brasilia Open
82KG
4F
2018
19614

Vinicius Garcia

Vinicius Garcia
W
Cross choke
Pan American
82KG
R1
2019
19619

Lucas Rocha

Lucas Rocha
W
Armbar
Pan American
82KG
8F
2019
19917

Celso Reis

W
Armbar
Curitiba Pro
82KG
R1
2019
19922

Luciano Bernert

W
Pts: 5x0
Curitiba Pro
82KG
4F
2019
19926

Igor Verissimo

Igor Verissimo
W
Choke from back
Curitiba Pro
82KG
F
2019
20293

Romario Teodoro

W
Points
Brasileiro
82KG
R2
2019
21006

Ricardo Rocha

W
Armbar
SP BJJ Pro
82KG
R1
2019
21009

Ygor Dantas

W
Points
SP BJJ Pro
82KG
4F
2019
21011

Marcos Martins

Marcos Martins
W
Pts: 3x2
SP BJJ Pro
82KG
SF
2019
21520

N/A

W
N/A
Team Nationals
ABS
SF
2019
22573

Lucas Alves

Lucas Alves
W
Armbar
South American
82KG
R1
2019
22576

Leonilson Marques

W
Bow and arrow
South American
82KG
4F
2019
22578

Ygor Dantas

W
Pts: 2x0
South American
82KG
SF
2019
22580

Wellington Luis

Wellington Luis
W
Pts: 2x0
South American
82KG
F
2019
23110

Lars Friberg

W
Armbar
European Open
82KG
R1
2020
23114

Max Lindblad

Max Lindblad
W
Referee Decision
European Open
82KG
4F
2020
24732

Ramon Delsin

W
Choke from back
Grand Slam RJ
85KG
R1
2020
24733

Bruno Tosto

W
Pts: 4x0
Grand Slam RJ
85KG
8F
2020
24746

Lionel Bareiro

W
Pts: 7x0
Grand Slam RJ
85KG
RPC
2020
25310

Sergio Soares

W
RNC
Rio Open
82KG
4F
2021
25315

Natan Chueng

Natan Chueng
W
Pts: 4x0
Rio Open
82KG
SF
2021
25316

Ygor Rodrigues

Ygor Rodrigues
W
Pts: 2x0
Rio Open
82KG
F
2021
26830

Djalma Morais

W
RNC
Copa Kings
87KG
4F
2021
26833

Marcelo Gomide

Marcelo Gomide
W
Referee Decision
Copa Kings
87KG
SF
2021
27258

Andre Gois

Andre Gois
W
DQ
Grand Slam MIA
85KG
RPC
2021
27259

Lucas Moutinho

W
Armbar
Grand Slam MIA
85KG
3RD
2021
27588

Celso Reis

W
Pts: 2x0
Pan American
82KG
8F
2021
27867

Joao Braz

W
Inside heel hook
Atlanta SMNG
85KG
4F
2021
27869

Joseph Watson

W
Pts: 4x2
Atlanta SMNG
85KG
SF
2021
27870

Joao Cizeski

Joao Cizeski
W
Pts: 0x0, Adv
Atlanta SMNG
85KG
F
2021
27874

Joao Cizeski

Joao Cizeski
W
Pts: 6x0
Atlanta SMNG
ABS
4F
2021
27875

Thiago Saldanha

W
RNC
Atlanta SMNG
ABS
SF
2021
27877

Daniel Maira

Daniel Maira
W
Pts: 0x0, Adv
Atlanta SMNG
ABS
F
2021
28264

Celso Reis

W
Armbar
NoGi Worlds
79KG
R2
2021
28276

Jaime Canuto

Jaime Canuto
W
Pts: 2x0
NoGi Worlds
79KG
8F
2021
28283

Johnathan Satava

W
Referee Decision
NoGi Worlds
79KG
4F
2021
29513

Servio Tulio

Servio Tulio
W
DQ
World Champ.
82KG
R1
2021
30322

Darllan Whinsthon

W
Armbar
ADCC BR2 Trials
88KG
R2
2022
30338

Gabriel Lara

W
Armbar
ADCC BR2 Trials
88KG
R3
2022
30350

Rafael Jesus

W
Pts: 5x0
ADCC BR2 Trials
88KG
8F
2022
30356

Calon Sabino

W
Pts: 3x0
ADCC BR2 Trials
88KG
4F
2022
30359

Andre Porfirio

Andre Porfirio
W
Referee Decision
ADCC BR2 Trials
88KG
SF
2022
30360

Rafael Paganini

Rafael Paganini
W
Referee Decision
ADCC BR2 Trials
88KG
F
2022
32504

Sean Fisher

W
Wristlock
Atlanta SPO
82KG
4F
2022
32507

Carlos Neto

W
Pts: 8x2
Atlanta SPO
82KG
SF
2022
32508

Levi Jones

Levi Jones
W
Referee Decision
Atlanta SPO
82KG
F
2022
33144

Lucas Gualberto

Lucas Gualberto
W
Pts: 3x0
EUG 4
82KG
4F
2022
34338

Pablo Raimundo

W
Pts: 5x2
Brasileiro NoGi
ABS
8F
2022
35648

Michael Neary

W
RNC
London FNGO
85KG
F
2022
36023

D. Margaritopoulos

W
Armbar
European NG
ABS
R1
2022
36030

Jakub Najdek

W
Points
European NG
ABS
R2
2022
36036

Eliot Kelly

Eliot Kelly
W
Points
European NG
ABS
4F
2022
36075

Fabricio Pitittio

W
Armbar
European NG
85KG
8F
2022
36085

Jaakko Vilander

W
Points
European NG
85KG
4F
2022
36087

David Garmo

David Garmo
W
Points
European NG
85KG
SF
2022
38000

Luiz Neto

W
Pts: 2x0
Curitiba SMO
82KG
8F
2023
38010

Lucas Foguinho

Lucas Foguinho
W
Pts: 3x0
Curitiba SMO
82KG
4F
2023
38013

Jhonathan Marques

W
Pts: 3x0
Curitiba SMO
82KG
SF
2023
38014

Luiz Paulo

Luiz Paulo
W
Pts: 5x0
Curitiba SMO
82KG
F
2023
39391

Gabriel Avila

W
Pts: 4x0
Brasileiro
82KG
R1
2023
39395

Wallisson Oliveira

W
Pts: 3x0
Brasileiro
82KG
4F
2023
40182

Fausto Godoy

W
Pts: 2x0
World Champ.
82KG
8F
2023
Alexandre de Jesus vs Rodolphe Nery