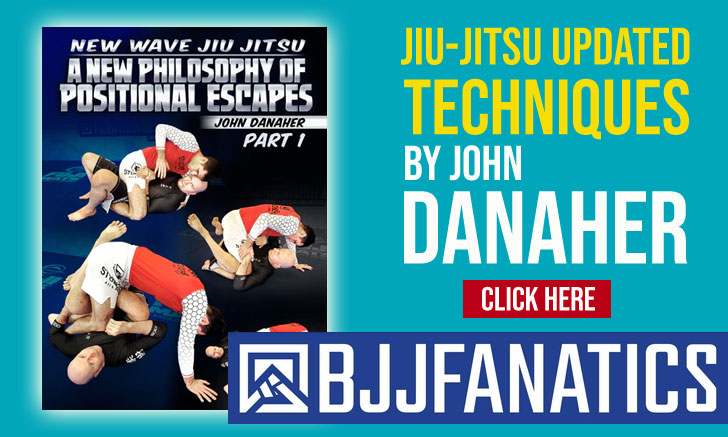 DJ Jackson is one of Team Lloyd Irvin's most accomplished competitors and an important figure in Brazilian jiu jitsu's middleweight division (82,30 kg / 181.5 lbs), having won the IBJJF World Championship in every belt division leading to black belt, a promotion he achieved on July 2012. Originally a wrestler, DJ Jackson became part of Lloyd Irvin's jiu-jitsu team on his off-season, and picked up a series of wins from the start, relegating wrestling to the background to focus on BJJ competition.
DJ Jackson Jiu-Jitsu
Full Name: De'Alonzio Jerome Jackson
Nickname: "DJ" which is short for De'Alonzio Jerome, he is also called "Ram-Man" most likely due to his powerful double leg takedown, "Kimura-Kid" for the same prowess with that technique and "Human Honey Badger" for his tenacity on the mats.
Lineage: Carlos Gracie > Helio Gracie > Rickson Gracie > Jorge Pereira > Leonardo Dalla > Lloyd Irvin > DJ Jackson
Main Achievements:
1st Place IBJJF World Championship No-Gi (2015/2012)
1st Place Copa Pódio MW Grand Prix (2017)
1st Place UAEJJF Grand Slam, Tokyo (2018)
1st Place Grappling Pro WW Championship (2016)
2nd Place Rickson Gracie Cup (2012)
Main Achievements (Colored Belts):
1st Place IBJJF World Championship No-Gi (2010 purple / 2011 brown / 2009 blue)
1st Place IBJJF World Championship (2012 brown / 2011 purple / 2010 blue)
1st Place Gracie World Championship (2012** brown)
2nd Place IBJJF Pan American Championship (2011 purple)
3rd Place IBJJF Pan American Championship (2010 blue)
* Absolute
** Weight and absolute
Favorite Technique/Position: Double Leg Takedown, Half-Guard from Top.
Weight Division: Peso Médio (82,30 kg / 181.5 lbs)
Team/Association: Team Lloyd Irvin
DJ Jackson Biography
DJ Jackson was born on October 31, 1988, in District Heights, Maryland – USA. He started wrestling for the DeMartha Catholic High School, MD during his freshman year, joining Lloyd Irvin's wrestling program (led by Jim Kelly) a couple of years into his wrestling practice (2008). A decision was made during his off-season as a way to stay in shape.
When training with Team Lloyd Irvin (TLI), DJ tried jiu-jitsu classes to keep things interesting and to add something new to his grappling game. Jackson's talent caught Irvin's attention at one of these classes; the head coach immediately asked DJ to help some of the more advanced students train for a no-gi tournament that was coming up, where DJ's wrestling ability could be of great help. DJ Jackson started getting more involved in jiu-jitsu through this initial contact with TLI's "Medal Chasers" program.
With a natural grinding style, very suited for his body frame, DJ started terrorizing local and international competitions, first in no-gi and shortly after in the gi also. DJ's progression through this martial art's ranking happened much faster than the sport's average, greatly thanks to Jackson's continuous victories in the competitive scene. These wins ultimately led to his black belt promotion, taking a total of 4 years time (2012) from white to black belt.
On his way to the black belt rank, DJ also fought in mixed martial arts (MMA), a subject that always interested the "Ram-Man". Jackson has trained with many well-regarded cage fighters, including Phil Davis, Mike Easton, Michael Chandler, Dominic Cruz and many others.
DJ Jackson Grappling Record
92 WINS
BY POINTS


BY ADVANTAGES




BY SUBMISSION




BY DECISION




BY PENALTIES




BY EBI/OT



24 SUBMISSIONS WINS
#224aba
Arm in guillotine
4
1
#bf1f6c
Inside heel hook
4
1
39 LOSSES
BY POINTS


BY ADVANTAGES




BY SUBMISSION




BY DECISION




BY PENALTIES




BY EBI/OT



1 SUBMISSION LOSSES
DJ Jackson Fight History
ID
Opponent
W/L
Method
Competition
Weight
Stage
Year
3715

Lucas Leite

Lucas Leite
L
Referee Decision
NYC World Trials
83KG
F
2012
4276

Leandro Lo

Leandro Lo
L
Pts: 0x0, Adv
NoGi Worlds
ABS
4F
2012
4449

Claudio Calasans

Claudio Calasans
L
Pts: 0x0, Pen
European Open
82KG
4F
2013
4527

Bernardo Faria

Bernardo Faria
L
Pts: 12x0
Pan American
ABS
4F
2013
4597

Clark Gracie

Clark Gracie
L
Referee Decision
Pan American
82KG
SF
2013
4664

Claudio Calasans

Claudio Calasans
L
Pts: 0x0, Adv
World Pro
82KG
R1
2013
4755

Leonardo Leite

Leonardo Leite
L
Points
World Champ.
ABS
RDS
2013
4850

Tio Chico

D
---
Copa Podio
76KG
GP
2013
4862

Vinicius Marinho

Vinicius Marinho
L
Adv
Copa Podio
76KG
GP
2013
4870

Leandro Lo

Leandro Lo
L
Pts: 6x2
Copa Podio
76KG
SF
2013
4871

Vinicius Marinho

Vinicius Marinho
L
Pen
Copa Podio
76KG
3PLC
2013
4991

AJ Agazarm

AJ Agazarm
L
Referee Decision
ADCC
77KG
R1
2013
5107

Vitor Oliveira

Vitor Oliveira
L
Points
NoGi Worlds
79KG
SF
2013
5316

Andre Galvao

Andre Galvao
L
Points
Pan American
ABS
R3
2014
5379

Diego Hertzog

L
Pts: 2x2, Adv
Pan American
88KG
R1
2014
5780

Rodrigo Freitas

Rodrigo Freitas
L
Pen
World Champ.
76KG
R1
2014
8503

Felipe Pena

Felipe Pena
L
RNC
NoGi Worlds
ABS
SF
2015
9680

Rustam Chsiev

L
EBI/OT
EBI 6
ABS
4F
2016
12546

John Salter

John Salter
L
Pen
ADCC WC Trials
88KG
F
2017
12945

Roberto Abreu

Roberto Abreu
L
Pts: 25x0
Miami SPO
ABS
F
2017
13424

Marcos Tinoco

Marcos Tinoco
L
Referee Decision
NY Summer Open
ABS
SF
2017
13710

Greg Walker

L
Pts: 0x0, Adv
Washington Open
82KG
F
2017
13901

Vagner Rocha

Vagner Rocha
L
Referee Decision
ADCC
77KG
4F
2017
16104

Tanner Rice

Tanner Rice
L
Pts: 0x0, Pen
WP US Qualifier
94KG
RR
2018
16105

Tanner Rice

Tanner Rice
L
Adv
WP US Qualifier
94KG
RR
2018
16558

Murilo Santana

Murilo Santana
L
Pts: 0x0, Pen
World Champ.
88KG
R1
2018
18004

Gilbert Burns

Gilbert Burns
L
Points
Black Belt CBD
83KG
F
2018
18093

V. Hugo

L
Pts: 16x0
Spyder Inv. Final
O76KG
SF
2018
18821

Manuel Ribamar

Manuel Ribamar
L
Pts: 6x0
Grand Slam AD
85KG
4F
2019
18858

Manuel Ribamar

Manuel Ribamar
L
Pts: 9x0
King of Mats II
85KG
RR
2019
18859

Isaque Bahiense

Isaque Bahiense
L
Referee Decision
King of Mats II
85KG
RR
2019
19327

Isaque Bahiense

Isaque Bahiense
L
Referee Decision
BJJ Stars
88KG
SPF
2019
19468

Manuel Ribamar

Manuel Ribamar
L
Referee Decision
F2W 104
85KG
SPF
2019
19777

Murilo Santana

Murilo Santana
L
Referee Decision
F2W 108
85KG
SPF
2019
19902

Felipe Cesar

Felipe Cesar
L
Pts: 15x0
Washington DCO
82KG
SF
2019
20122

Faisal AlKitbe

Faisal AlKitbe
L
Pts: 0x0, Adv
World Pro
85KG
SF
2019
20645

Claudio Calasans

Claudio Calasans
L
Pts: 0x0, Adv
World Champ.
82KG
R2
2019
20856

K. Steele

L
Referee Decision
Third Coast
88KG
SPF
2019
21257

Edwin Najmi

Edwin Najmi
L
Referee Decision
F2W 120
82KG
SPF
2019
21860

JT Torres

JT Torres
L
Pts: 3x0
ADCC
77KG
4F
2019
3714

Rafael Barbosa

Rafael Barbosa
W
Points
NYC World Trials
83KG
SF
2012
4231

Unknown

W
Wristlock
NoGi Worlds
82KG
R1
2012
4234

Jason Manly

W
Pts: 11x0
NoGi Worlds
82KG
4F
2012
4238

Vitor Oliveira

Vitor Oliveira
W
Pts: 0x0, Adv
NoGi Worlds
82KG
SF
2012
4240

Clark Gracie

Clark Gracie
W
Pts: 5x0
NoGi Worlds
82KG
F
2012
4265

James Puopolo

James Puopolo
W
Pts: 0x0, Adv
NoGi Worlds
ABS
R1
2012
4272

Roberto Alencar

Roberto Alencar
W
Pts: 4x0
NoGi Worlds
ABS
8F
2012
4492

Rodrigo Breves

W
Points
NYC World Trials
83KG
N/A
2013
4508

Felipe Matos

W
Adv
Pan American
ABS
R1
2013
4521

Gabriel Vella

Gabriel Vella
W
Pts: 2x0
Pan American
ABS
R2
2013
4588

Gabriel Rollo

Gabriel Rollo
W
Adv
Pan American
82KG
R2
2013
4595

Rafael Barbosa

Rafael Barbosa
W
Wristlock
Pan American
82KG
4F
2013
4745

Magid Hage

W
Pts: 2x0
World Champ.
ABS
RDS
2013
4857

Oliver Geddes

Oliver Geddes
W
Wristlock
Copa Podio
76KG
GP
2013
4865

Rodrigo Magalhaes

W
Pts: 2x0
Copa Podio
76KG
GP
2013
5194

Abmar Barbosa

Abmar Barbosa
W
Pts: 3x0
Boston W. Open
82KG
SF
2013
5195

Gregor Gracie

Gregor Gracie
W
Pts: 2x0
Boston W. Open
82KG
F
2013
5197

Abmar Barbosa

Abmar Barbosa
W
Points
Boston W. Open
ABS
SF
2013
5198

Rafael Barbosa

Rafael Barbosa
W
Pts: 6x0
Boston W. Open
ABS
F
2013
5224

Garry Tonon

Garry Tonon
W
Points
ADCC Nationals
ABS
SPF
2014
5297

Unknown

W
Submission
Pan American
ABS
R2
2014
5776

Unknown

W
Wristlock
World Champ.
76KG
R1
2014
8430

Manuel Ribamar

Manuel Ribamar
W
Pts: 2x0
NoGi Worlds
79KG
8F
2015
8433

Vinicius Agudo

W
Pts: 5x0
NoGi Worlds
79KG
4F
2015
8435

Otavio Sousa

Otavio Sousa
W
Referee Decision
NoGi Worlds
79KG
SF
2015
8437

Jonathan Satava

Jonathan Satava
W
Pts: 3x0
NoGi Worlds
79KG
F
2015
8489

Eliot Kelly

Eliot Kelly
W
Referee Decision
NoGi Worlds
ABS
R1
2015
8495

Guybson Sa

Guybson Sa
W
Pts: 6x0
NoGi Worlds
ABS
8F
2015
8499

Caio Terra

Caio Terra
W
Pts: 0x0, Adv
NoGi Worlds
ABS
4F
2015
9675

Bruno Bastos

Bruno Bastos
W
Arm in guillotine
EBI 6
ABS
R1
2016
10541

Corey Brown

W
Pts: 24x0
Grappling Pro
77KG
4F
2016
10544

Garry Tonon

Garry Tonon
W
Pts: 7x2
Grappling Pro
77KG
SF
2016
10545

Lucas Barbosa

Lucas Barbosa
W
Pts: 6x3
Grappling Pro
77KG
F
2016
11125

John Combs

John Combs
W
Guillotine
F2W 18
82KG
SPF
2016
12266

Vinicius Agudo

W
Brabo choke
F2W 29
82KG
SPF
2017
12530

Cora Talamoni

W
Americana
ADCC WC Trials
88KG
R1
2017
12537

Ty Freeman

W
Referee Decision
ADCC WC Trials
88KG
8F
2017
12541

Kevin Crane

W
Pts: 4x0
ADCC WC Trials
88KG
4F
2017
12545

Antonio Zuazo

W
Pts: 5x0
ADCC WC Trials
88KG
SF
2017
12938

Jose Portillo

W
N/A
Miami SPO
88KG
SF
2017
12939

Jurandir Conceicao

Jurandir Conceicao
W
Pts: 3x0
Miami SPO
88KG
F
2017
12941

Josh Littleton

W
Brabo choke
Miami SPO
ABS
4F
2017
12943

Valdir Araujo

Valdir Araujo
W
Points
Miami SPO
ABS
SF
2017
13248

Vagner Rocha

Vagner Rocha
W
Pts: 25x8
Grappling Pro
77KG
SPF
2017
13417

Nick Calvanese

Nick Calvanese
W
Pts: 0x0, Adv
NY Summer Open
88KG
SF
2017
13418

Jonathan Satava

Jonathan Satava
W
N/A
NY Summer Open
88KG
F
2017
13422

Enrique Galarza

W
N/A
NY Summer Open
ABS
4F
2017
13434

Tex Johnson

Tex Johnson
W
Points
NY S. No-Gi Open
ABS
SF
2017
13548

James Brasco

James Brasco
W
Inside heel hook
F2W 42
88KG
SPF
2017
13602

Tommy Langaker

Tommy Langaker
W
Points
Copa Podio
88KG
RR
2017
13604

Kywan Gracie

W
Pts: 0x0, Adv
Copa Podio
88KG
RR
2017
13606

F. Andrew

W
Pts: 0x0, Adv
Copa Podio
88KG
RR
2017
13608

Hugo Marques

Hugo Marques
W
Pts: 4x2
Copa Podio
88KG
RR
2017
13611

Gustavo Braguinha

W
Adv
Copa Podio
88KG
SF
2017
13613

F. Andrew

W
Adv
Copa Podio
88KG
F
2017
13894

Leo Saggioro

Leo Saggioro
W
Referee Decision
ADCC
77KG
E1
2017
14186

Donghyun Kim

W
Pts: 2x0
Spyder Invitational
ABS
SPF
2017
14272

Gilbert Burns

Gilbert Burns
W
Referee Decision
F2W 53
82KG
SPF
2017
15225

Alberto Gonzalez

W
Submission
Spain Nat. Pro
94KG
SF
2018
15227

Adam Wardzinski

Adam Wardzinski
W
Pts: 0x0, Adv
Spain Nat. Pro
94KG
F
2018
15953

Nick Calvanese

Nick Calvanese
W
Referee Decision
F2W 71
84KG
SPF
2018
16103

Tanner Rice

Tanner Rice
W
Pts: 0x0, Adv
WP US Qualifier
94KG
RR
2018
16745

Sami Baki

W
Kimura
Boa Super 8
ABS
4F
2018
16748

Stuart Cooper

W
Pts: 3x0
Boa Super 8
ABS
SF
2018
16750

Craig Jones

Craig Jones
W
Pts: 0x0, Pen
Boa Super 8
ABS
F
2018
16932

Craig Jones

Craig Jones
W
Referee Decision
Spider Inv. 4F
O76KG
SPF
2018
17014

Takagi Shota

W
Brabo choke
Grand Slam TYO
85KG
4F
2018
17018

Alan Fidelis

W
Armbar
Grand Slam TYO
85KG
SF
2018
17020

Bradley Hill

W
Pts: 5x0
Grand Slam TYO
85KG
F
2018
17620

Jamie Fletcher

W
Guillotine
Subversiv
ABS
SF
2018
17625

Richie Martinez

Richie Martinez
W
Kimura
Subversiv
ABS
F
2018
18002

Rafael Domingos

W
Points
Black Belt CBD
83KG
SF
2018
18855

Roberto Satoshi

Roberto Satoshi
W
Wristlock
King of Mats II
85KG
RR
2019
18856

Diego Ramalho

Diego Ramalho
W
Pts: 0x0, Adv
King of Mats II
85KG
RR
2019
19140

Marc Akakpovi

W
Submission
Netherlands Pro
85KG
SF
2019
19141

Arthur Pucci

W
Submission
Netherlands Pro
85KG
F
2019
19900

Scott Jutras

W
Kimura
Washington DCO
82KG
4F
2019
19911

Brian Beaury

Brian Beaury
W
Injury
Washington DCO
ABS
4F
2019
19913

Diogo Sampaio

Diogo Sampaio
W
Pts: 0x0, Adv
Washington DCO
ABS
SF
2019
19914

Vinicius Trator

Vinicius Trator
W
Pts: 0x0, Adv
Washington DCO
ABS
F
2019
20022

Arnaldo Maidana

Arnaldo Maidana
W
Referee Decision
F2W 109
85KG
SPF
2019
20121

Viking Wong

W
Pts: 3x0
World Pro
85KG
4F
2019
20127

Philippe Pomaski

Philippe Pomaski
W
Pts: 2x0
World Pro
85KG
RPC
2019
20129

Devhonte Johnson

Devhonte Johnson
W
Referee Decision
World Pro
85KG
3RD
2019
20480

Alexandre Pimentel

W
Points
Miami SPO
82KG
SF
2019
20482

Brian Beaury

Brian Beaury
W
Points
Miami SPO
82KG
F
2019
20512

Enrique Galarza

W
Submission
High Rollerz
ABS
4F
2019
20513

Evani Chavez

W
Submission
High Rollerz
ABS
SF
2019
20514

Michael Egley

W
Submission
High Rollerz
ABS
F
2019
20643

Nathan Mendelsohn

Nathan Mendelsohn
W
Points
World Champ.
82KG
R1
2019
21001

Ruben Rivera

W
EBI/OT
Subversiv 2
75KG
SPF
2019
21852

John Combs

John Combs
W
Pts: 5x0
ADCC
77KG
R1
2019
DJ Jackson Team Lloyd Irvin black belt promotion

DJ Jackson vs Benny Dariush

DJ Jackson vs Fabian Rosario

DJ Jackson vs Raphael Rosendo