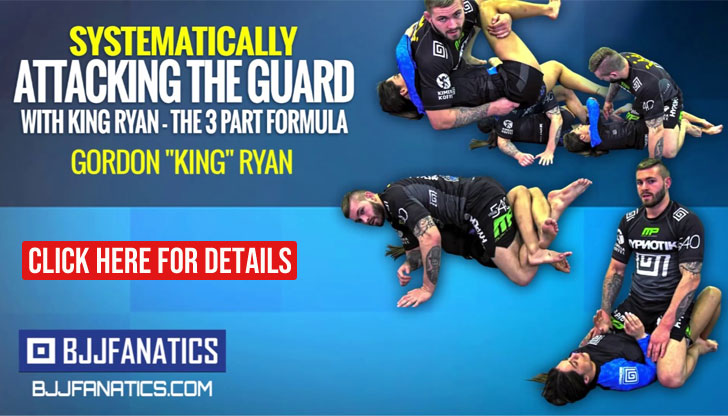 Cícero Lívio Ribeiro Paiva, commonly known as Lívio Ribeiro or "Galinho", is a Brazilian jiu jitsu black belt under Osvaldo Moizinho of the Ares Jiu Jitsu Academy, having also trained extensively with Luiz "Major" and Helder Mourão at the Projeto Social QG da Luta. A Brazilian National Champion in every belt level, Lívio Ribeiro became recognized as one of the top roosterweights of his generation after his wins at the International Brazilian Jiu Jitsu Federation's Pan and World Championships (2018) as a brown belt, a status he later cemented as a black belt.
Lívio Ribeiro Jiu-Jitsu
Full Name: Cícero Lívio Ribeiro Saldanha Paiva
Nickname: Often referenced as "Galinho" which translated to Little Rooster in Portuguese. The nickname was started by Lívio's coach Helder Mourão as a friendly/joking way to describe Ribeiro due to his stature and weight class.
Lineage 1: Carlos Gracie > Carlson Gracie > Crézio de Souza > André Almeida >Leandro Escobar/Rafael Barbosa > Osvaldo Moizinho > Lívio Ribeiro
Lineage 2: Luiz França > Oswaldo Fadda > Sebastião Ricardo > Wendell Alexander > André Marola > Luiz Major > Lívio Ribeiro
Main Achievements:
1st Place IBJJF Pan Championship (2021)
1st Place CBJJE World Championship (2018)
1st Place SJJIF World Championship (2018)
1st Place IBJJF Orlando Spring Open (2019)
2nd Place IBJJF World Championship NOGI (2018)
Main Achievements (Colored Belts):
1st Place IBJJF World Championship (2018 brown)
1st Place IBJJF Pan Championship (2018 brown)
1st Place IBJJF Pan Championship NOGI (2017 brown)
1st Place IBJJF European Open (2016 purple)
1st Place CBJJ Brazilian Nationals (2017 brown, 2016/2015 purple)
1st Place IBJJF South American Championship (2014 purple)
Favorite Position/Technique: 50/50 Guard
Weight Division: Peso Galo (127.0 lbs / 57,50 kg)
Team/Association: Ares JJ
Lívio Ribeiro Biography
Lívio Ribeiro was born on April 27, 1993 in Bacabal, a city located in the Brazilian state of Maranhão. At the age of 6 Ribeiro, due to his parents divorce, Galinho moved to Teresina, a city also located on the Northeast of the country.
While growing up Ribeiro tested himself in a number of martial arts, activities such as karate, judo and capoeira though he did not settle in any. At the age of 15 Lívio finally found a combat sport he enjoyed in jiu jitsu.
When he started Galinho had no expectations in jiu jitsu, he was merely trying to fill a free portion of his daily schedule. A friend from school referenced training BJJ at the Projeto Social QG da Luta (PSQGL) academy and invited Lívio to come along. There Ribeiro met two instructors who would become his reference in the sport from white to black belt, coaches Helder Mourão and Luiz "Major".
Mourão's life slowly dragged him away from the sport, and by the time Lívio became a brown belt, Galinho's training was almost solely guided by Major. It was also as a brown belt that Ribeiro decided to travel to the United States together with team mate Alef Brito, packing their kimonos, the hope for a better future and not much else. Without any contacts in the big northern territory, Ribeiro and Brito planned to compete in the two major tournaments of the year: The IBJJF Pan and World Championships.
Once in the United States, the Brazilian duo was invited by Osvaldo Moizinho to come and train at the Ares Jiu Jitsu academy in Modesto, California. There the PSQGL athletes were received with arms wide open, feeling immediately at home and becoming part of the team.
While training with Osvaldo and Samir Chantre at the Ares gym, Galinho conquered both of his competition goals, the aforementioned Pan and World Championship. After these two tremendous achievements, coach Moizinho contacted Luiz Major and with his permission promoted Galinho to black belt. A ceremony that took place on June 2018.
Livio Ribeiro Grappling Record
46 WINS
BY POINTS


BY ADVANTAGES




BY SUBMISSION




BY DECISION




BY PENALTIES




BY DQ



17 SUBMISSIONS WINS
#5AD3D1
Choke from back
12
2
#f58822
Bow and arrow
6
1
5 LOSSES
BY POINTS


BY ADVANTAGES




BY SUBMISSION




BY DECISION




BY PENALTIES




BY DQ



0 SUBMISSION LOSSES
Livio Ribeiro Fight History
ID
Opponent
W/L
Method
Competition
Weight
Stage
Year
18571

Nobuhiro Sawada

Nobuhiro Sawada
L
Referee Decision
NoGi Worlds
55KG
F
2018
19557

Hiago Gama

Hiago Gama
L
Pts: 2x2, Adv
Pan American
57KG
4F
2019
20566

Carlos Alberto

L
Pts: 4x4, Adv
World Champ.
57KG
R1
2019
26072

Roiter Lima

Roiter Lima
L
Pts: 11x4
NoGi Pan Am.
55KG
4F
2021
30849

Bebeto Oliveira

L
Pts: 6x6, Pen
Indianapolis Open
64KG
F
2022
16764

Matheus Monteiro

W
Choke from back
Mundial CBJJE
57KG
SF
2018
16765

Dalvan Nunes

W
Armbar
Mundial CBJJE
57KG
F
2018
18049

Andre Pontes

W
Pts: 4x0
SJJIF Worlds
57KG
SF
2018
18050

Javier Gomes

W
Triangle
SJJIF Worlds
57KG
F
2018
18444

Alexis Alduncin

Alexis Alduncin
W
Points
GT Open
64KG
SPF
2018
18570

Kristian Woodmansee

Kristian Woodmansee
W
Pts: 0x0, Adv
NoGi Worlds
55KG
SF
2018
19553

Kristian Woodmansee

Kristian Woodmansee
W
Choke
Pan American
57KG
8F
2019
19868

Jose Silva

W
Bow and arrow
Orlando SPO
57KG
SF
2019
19870

Suraj Budhram

W
Pts: 2x2, Adv
Orlando SPO
57KG
F
2019
20871

Robson Silva

W
Choke
Fortaleza Open
64KG
SF
2019
20873

Lucas Nascimento

W
Submission
Fortaleza Open
64KG
F
2019
20890

Gabriel Mendonca

W
Pts: 4x0
Fortaleza NGO
62KG
F
2019
21283

Wesley Santos

W
Pts: 0x0, Adv
Vitoria Open
64KG
F
2019
21325

Ricardo Primo

W
DQ
Floripa WO
64KG
SF
2019
21326

Leo Alves

W
Pts: 2x2, Adv
Floripa WO
64KG
F
2019
21714

Ricardo Silva

W
Points
Sao Paulo Open
57KG
SF
2019
21715

Dalvan Nunes

W
N/A
Sao Paulo Open
57KG
F
2019
21765

Lucas Souza

W
Points
Brasileiro NoGi
55KG
SF
2019
21766

Luciano Vieira

W
Points
Brasileiro NoGi
55KG
F
2019
22095

Kalel Nascimento

W
Referee Decision
Curitiba SPO
64KG
SF
2019
22096

Yuri Gomes

W
Points
Curitiba SPO
64KG
F
2019
22545

Levy Jackson

W
Points
South American
57KG
4F
2019
22547

Joao Antonio

W
Pts: 0x0, Adv
South American
57KG
SF
2019
22549

Yuri Hendrex

Yuri Hendrex
W
DQ
South American
57KG
F
2019
25397

Rashawn Kershaw

W
Points
Orlando Open
57KG
SF
2021
25399

Lee Rosensfield

W
Pts: 19x4
Orlando Open
57KG
F
2021
26253

Carlos Robles

W
Points
Miami Open
64KG
SF
2021
26254

Igor Mancebo

W
Points
Miami Open
64KG
F
2021
26650

Roiter Lima

Roiter Lima
W
Pts: 8x8, Adv
American Nats
57KG
SF
2021
26652

Henrique Rossi

W
Loop choke
American Nats
57KG
F
2021
26929

Jorge Vasquez

W
Choke from back
Austin Open
64KG
F
2021
26994

K. Martincowski

W
Adv
Orlando Open
64KG
SF
2021
26995

Michael Mehl

W
DQ
Orlando Open
64KG
F
2021
27037

Chris Fisher

W
Triangle
Phoenix Open
64KG
SF
2021
27525

Lee Rosenfield

W
Triangle
Pan American
58KG
4F
2021
27527

Kevin Martincowski

W
Toe hold
Pan American
58KG
SF
2021
27529

Hiago Gama

Hiago Gama
W
Pts: 6x2
Pan American
58KG
F
2021
30499

Matheus Fonseca

W
DQ
N. Orleans Open
57KG
F
2022
30847

Matheus Magalhaes

W
Points
Indianapolis Open
64KG
SF
2022
31270

Aidan Collins

W
Points
Boise Open
64KG
F
2022
32615

Michael Alvarez

W
Pts: 4x2
Denver Open
64KG
SF
2022
32616

Ram Ananda

W
Triangle
Denver Open
64KG
F
2022
33851

John Rodrigues

W
Submission
Phoenix Open
70KG
4F
2022
33853

Aidan Collins

W
Armbar
Phoenix Open
70KG
SF
2022
35469

Evgueny Metchenov

W
Triangle
Twin Cities Open
64KG
RR
2022
35471

Luis Pinto

W
Armbar
Twin Cities Open
64KG
F
2022
Livio Ribeiro 2018 World Championship Highlight