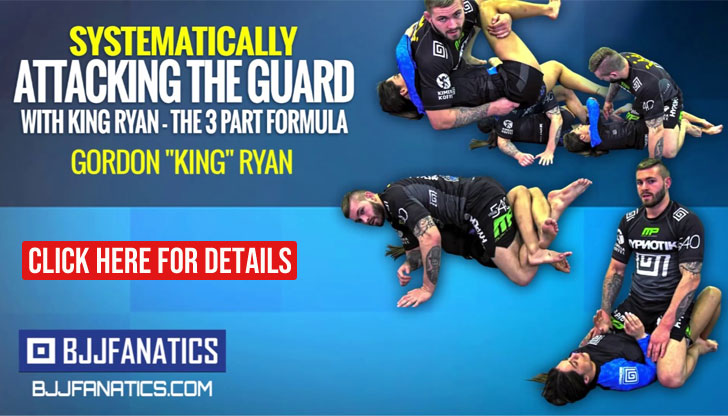 Kit Dale is an Australian grappler and a Brazilian jiu-jitsu black belt under Yuri Simões, who also worked with coaches: Bernie Jenkins and Peter De Been. Widely recognized as one of the best jiu-jitsu competitors developed in Australia, a reputation conquered while competing on the lower belt divisions of the sport – a time when Dale conquered 4 United Arab Emirates Jiu-Jitsu Federation (UAEJJF) world titles, Kit competed in important, mainstream, professional grappling events such as Polaris Invitational, Metamoris, ADCC, Copa Podio and more.
Kit Dale Jiu-Jitsu
Full Name: Kit James Dale
Nickname: N/A
Lineage: Mitsuyo Maeda > Carlos Gracie (Senior) > Helio Gracie > Rolls Gracie > Romero Cavalcanti (Jacare) > Ricardo Vieira > Yuri Simões > Kit Dale
Main Achievements:

1st Place ADCC Japan Trials (2017)
1st Place IBJJF Sydney Open (2017**)
1st Place IBJJF Sydney NoGi Open (2017*)
1st Place UAEJJF Melbourne Pro (2017)
1st Place AFBJJ Pan Pacific (2013)
2nd Place UAEJJF Melbourne Pro (2017*)
Main Achievements (Colored Belts):

1st Place UAEJJF Abu Dhabi Pro (2010 blue, 2011 purple, 2012/2013 brown)
1st Place IBJJF Asian Open (2012 brown)
1st Place CBJJ Brazilian Nationals (2011 purple)
1st Place IBJJF Pan-Pacific (2012 brown)
3rd Place IBJJF Asian Open (2012* brown)
3rd Place IBJJF Pans Championship (2012 brown)
* Absolute
** Weight and absolute
Favorite Position/Technique: Knee-slide Pass
Weight Division: Meio Pesado (88,30 kg / 195.0 lbs)
Team/Association: N/A
Kit Dale Biography
Kit Dale was born on January 24, 1986, in Melbourne, Australia, growing up in the area's eastern suburbs.
During his formative years Dale practiced a number of athletic activities, from karate to inline hockey, as well as Australian football (Aussie rules), a sport he competed in extensively prior to jiu-jitsu.
Australian rules football is widely recognized as one of the most physical sports in the world, generally played by large individuals. Although a very athletic competitor himself, Kit lacked the physicality of some of the other players, a handicap Dale sought to overcome by learning a few grappling tricks, starting his jiu-jitsu training in 2008 with Robert Parmakovski – a man who would, years later, become Kit's own student.
BJJ came natural to Dale, who soon started allocating more of his time to grappling and less to Aussie rules football. While climbing the ranks of jiu-jitsu Dale trained with Bernie Jenkins (up to blue belt) and Peter De Been (up to brown belt), while also doing plenty of training and experimentation on his own or with friends/students.
Once the highly decorated grappler, Yuri Simões moved to Australia, Kit started training with the Brazilian. The two established a strong relationship as friends and training partners, and it was Yuri who promoted Dale to black belt on June, 2013. At the time of the ceremony, Dale had just under 5 years of training, this being one of the fastest rises to the rank recorded by then.
Dale would later move to California, USA, one of jiu-jitsu's epicenters in order to improve his grappling skills while also attempting further his acting career.
Throughout his career Kit Dale became known for his approach to grappling, breaking from the traditional training practices such as positional drilling. On his own website, Dale wrote:
"I believe that sport is 90% mental 10% physical, but most spend the majority of the time drilling techniques (physical), I spend the majority of the time problem solving in live training (training the mind). While other people developed their body as muscle memory, I developed my mind as what I call "mental memory". It removes predictability, rigidness and monotony, giving me the advantage to play out the Jiu Jitsu match in my head. That means being able to not only strategize before stepping onto the mat, but also predicting patterns while rolling, which is a great way of rapidly improving while rolling against your opponent – figuring them out. Give me one hour of rolling with anyone and I believe I will have the solution to victory." (source: kitdaletraining.com)
Kit Dale Grappling Record
30 WINS
BY POINTS


BY ADVANTAGES




BY SUBMISSION




BY DECISION




BY PENALTIES




BY DQ



11 SUBMISSIONS WINS
17 LOSSES
BY POINTS


BY ADVANTAGES




BY SUBMISSION




BY DECISION




BY PENALTIES




BY DQ



7 SUBMISSIONS LOSSES
#fad11b
Violin armlock
14
1
Kit Dale Fight History
ID
Opponent
W/L
Method
Competition
Weight
Stage
Year
4694

Diogo Sampaio

Diogo Sampaio
L
Pts: 5x2
Copa Podio
88KG
GP
2013
4703

Davi Ramos

Davi Ramos
D
---
Copa Podio
88KG
GP
2013
5110

Felipe Pena

Felipe Pena
L
RNC
NoGi Worlds
85KG
4F
2013
5652

Otavio Sousa

Otavio Sousa
L
Pts: 7x2
World Pro.
82KG
R1
2014
5807

Marcos Souza

Marcos Souza
L
Pts: 2x0
World Champ.
82KG
R1
2014
5872

Garry Tonon

Garry Tonon
L
Guillotine
Metamoris 4
ABS
SPF
2014
6362

Bruno Alves

Bruno Alves
L
Omoplata
Boa Super 8
85KG
R1
2014
10925

Matheus Diniz

Matheus Diniz
L
RNC
NoGi Worlds
85KG
4F
2016
12660

Claudio Calasans

Claudio Calasans
L
Pts: 4x2
World Pro
85KG
R1
2017
12672

Marcos Costa

Marcos Costa
L
Pts: 2x0
World Pro
85KG
RPC
2017
12921

Roberto Dib

L
Referee Decision
Melbourne Pro
ABS
F
2017
13176

Andre Galvao

Andre Galvao
L
Pts: 9x0
World Champ.
88KG
4F
2017
13882

Romulo Barral

Romulo Barral
L
Short choke
ADCC
88KG
E1
2017
14697

Murilo Santana

Murilo Santana
L
Pts: 4x0
NoGi Worlds
85KG
4F
2017
14735

Keenan Cornelius

Keenan Cornelius
L
Triangle
NoGi Worlds
ABS
R2
2017
15165

Jake Shields

Jake Shields
L
Referee Decision
F2W 62
ABS
SPF
2018
18005

Rodolfo Vieira

Rodolfo Vieira
L
Violin armlock
Black Belt CBD
O83KG
SF
2018
18661

Josh Hinger

Josh Hinger
L
Pts: 0x0, Adv
NoGi Worlds
85KG
4F
2018
20550

Marcelo Nunes

Marcelo Nunes
D
---
WSOF 1
ABS
SPF
2019
4699

Alexandre Ceconi

Alexandre Ceconi
W
Pts: 2x0
Copa Podio
88KG
GP
2013
5206

N/A

W
Submission
Australia Cup
88KG
NA
2013
5207

Leandro Silva

W
Armbar
Australia Cup
88KG
NA
2013
5208

William Dias

W
Pts: 2x0
Australia Cup
88KG
NA
2013
5209

Bruno Alves

Bruno Alves
W
Pts: 10x0
Australia Cup
88KG
NA
2013
5210

Bruno Alves

Bruno Alves
W
Pts: 10x0
Australia NGC
85KG
NA
2013
5211

W. Darragh

W
Points
Pan Pacific
88KG
F
2013
5212

T. Stefanutti

W
Points
Pan Pacific NG
85KG
F
2013
5213

Julian Gonzalez

W
Botinha
Synergy Pro
ABS
SPF
2013
6397

Victor Silverio

Victor Silverio
D
---
Polaris
ABS
SPF
2015
10922

Mathew Secor

W
Pts: 25x2
NoGi Worlds
85KG
R1
2016
11394

Troy Skidmore

W
Kimura
Sydney Open
88KG
4F
2017
11395

Reid Reale

W
Botinha
Sydney Open
88KG
SF
2017
11396

Rodolfo Campani

W
Armbar
Sydney Open
ABS
SF
2017
11397

Yan Cabral

W
Injury
Sydney Open
ABS
F
2017
11398

Reid Reale

W
Short choke
Sydney NGO
ABS
SF
2017
11399

Jose Greco

W
Pts: 7x0
Sydney NGO
ABS
F
2017
11400

Viking Wong

W
Pts: 5x0
ADCC JPN Trials
88KG
F
2017
12668

Thabet Al Taher

W
Guillotine
World Pro
85KG
RPC
2017
12670

Nathan Mendelsohn

Nathan Mendelsohn
W
Pts: 5x4
World Pro
85KG
RPC
2017
12919

Roberto Dib

W
Points
Melbourne Pro
85KG
F
2017
12920

Harmut Heske

W
N/A
Melbourne Pro
ABS
SF
2017
13167

Rodrigo Fajardo

Rodrigo Fajardo
W
Pts: 3x0
World Champ.
88KG
R1
2017
13169

Victor Bomfim

W
Pts: 4x0
World Champ.
88KG
8F
2017
14696

S. Abdulkader

W
Guillotine
NoGi Worlds
85KG
R1
2017
14728

Johnny Tama

Johnny Tama
W
Referee Decision
NoGi Worlds
ABS
R1
2017
17373

Tommy Langaker

Tommy Langaker
W
Points
Nordic ADCC
88KG
SPF
2018
18562

Mathew Tesla

D
---
Nacka Dojo
ABS
SPF
2018
18645

Fabricio Machado

W
RNC
NoGi Worlds
85KG
R1
2018
18657

Valdir Araujo

Valdir Araujo
W
Referee Decision
NoGi Worlds
85KG
R2
2018
26323

Josue Cuellar

W
Kimura
World League
88KG
RR
2021
26324

Luis Robles

W
Pts: 17x0
World League
88KG
RR
2021
Kit Dale vs Tommy Langaker