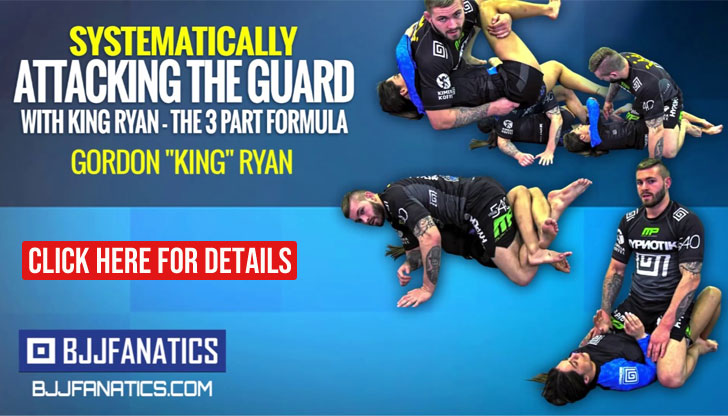 Lucas Lepri is a Brazilian jiu-jitsu black belt under the illustrious Elan Santiago, being one of the most successful competitors in the history of the sport's lightweight division. Training out of the Alliance team, this stand-out from Minas Gerais – Brazil won some of the biggest tournaments in the world, including the IBJJF World Championship (gi and no gi) the UAEJJF World Pro Championship as well as Brazilian and Pan American titles.
Lucas Lepri Jiu-Jitsu
Full Name: Lucas Alves Lepri
Lineage: Carlos Gracie > Carlson Gracie> Sergio Bolão > Mauro Chueng > Elan Santiago > Lucas Lepri
Nickname: N/A
Main Achievements:
1st Place IBJJF World Championship NoGi (2009 / 2010 / 2011)
1st Place UAEJJF Abu Dhabi World Pro (2015)
1st Place CBJJ Brazilian Nationals (2014)
1st Place IBJJF Pan Championship (2009 / 2011 / 2013 / 2014 / 2017)
1st Place IBJJF European Open (2011)
1st Place IBJJF Pan Championship NoGi (2009)
2nd Place ADCC World Championship (2017 / 2015)
2nd Place IBJJF World Championship (2007 / 2012)
2nd Place IBJJF World Championship NoGi (2008)
2nd Place IBJJF Pan Championship (2008 / 2012)
2nd Place IBJJF European Open (2019**)
* Absolute
** Weight and absolute
Weight Division:  Peso Leve (76,00 kg / 168.0 lbs)
Favorite Technique/Position: Well Rounded
Association/Team: Alliance Jiu-Jitsu.
Lucas Lepri Biography
Lucas Lepri was born on September 19th, 1985 in a city called Uberlândia in the state of Minas Gerais – Brazil.
Always an avid sports practitioner, Lucas played and competed in sports such as Futsal (a form of indoor soccer), Judo, Swimming, Skating, and Capoeira. The first time he paid attention to Jiu-Jitsu was in 2000 through a Brazilian MTV program called "Vinte e Poucos Anos", were he saw Fernando "Margarida" Pontes showing his training routine on the build-up to the Pan American Championship.
After this guest appearance by "Margarida", Lucas became fascinated with the sport and decided to find a Jiu-Jitsu academy to try it out. A few weeks later, Lucas Lepri did his first of many warm-ups to come at Elan Santiago's academy, a man that would become very important in Lucas's development in the sport.
Lepri's talent started shining through early on, in the local competitive scene. After his coach Elan switched affiliation from BTT to Fernando Terere's TT, Lepri started also adding training sessions at this historic academy in Sao Paulo. This stint at TT lasted until 2004/2005 when TT team closed down. Elan Santiago and Lucas Lepri then joined forces with the powerful Alliance academy.
After narrowly missing the world title at the World Championship as a brown belt (conquering also a 3rd Place at the Pan American the following year), Lucas Lepri was awarded his black belt by the end of 2006. The rise to black belt glory would be a quick one, as Lepri shocked the grappling world on his very first year as a black belt by conquering his first world title.
With the amazing boom of Brazilian Jiu-Jitsu in America, the Alliance academy was in need of an extra coach to help run the class at the team's New York Academy. With the intent of filling the vacant position, in 2008 Lucas Lepri moved to the American metropolis. With his new home and new students, Lepri started one of the best competitive periods of his career.
The banner picture was taken by Preston Smith Photography & Design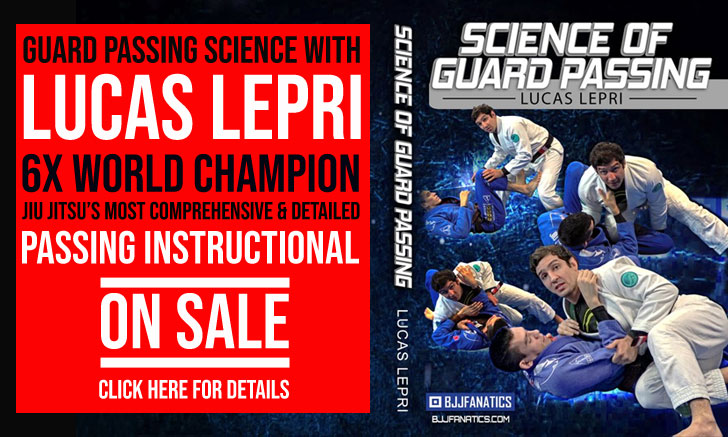 [fighter_status id=272]
Lucas Lepri Grappling Record
111 WINS
BY POINTS


BY ADVANTAGES




BY SUBMISSION




BY DECISION




BY PENALTIES




BY DQ



55 SUBMISSIONS WINS
#214eb8
Choke from back
33
18
#5AD3D1
Bow and arrow
9
5
#fad11b
Arm in Ezekiel
5
3
#ff9124
Baseball choke
4
2
#03c61f
Choke f/ omoplata
2
1
29 LOSSES
BY POINTS


BY ADVANTAGES




BY SUBMISSION




BY DECISION




BY PENALTIES




BY DQ



2 SUBMISSIONS LOSSES
#214eb8
Choke from back
50
1
#86e620
Flying armbar
50
1
Lucas Lepri Fight History
ID
Opponent
W/L
Method
Competition
Weight
Stage
Year
1870

Celso Vinicius

Celso Vinicius
L
Pts: 4x0
Pan American
76KG
F
2008
1929

Celso Vinicius

Celso Vinicius
L
Pts: 2x0
World Champ.
76KG
F
2008
2015

Daniel Moraes

Daniel Moraes
L
Pts: 0x0, Adv
NoGi Worlds
79KG
F
2008
2331

Gilbert Burns

Gilbert Burns
L
Points
World Champ.
76KG
R1
2009
2652

JT Torres

JT Torres
L
Choke from back
Brasileiro
76KG
SF
2010
2688

Celso Vinicius

Celso Vinicius
L
Referee Decision
World Champ.
76KG
SF
2010
2779

Pablo Popovitch

Pablo Popovitch
L
Adv
UFC Expo
ABS
SPF
2010
3112

Gilbert Burns

Gilbert Burns
L
Pts: 2x2, Adv
World Champ.
76KG
4F
2011
3615

Leandro Lo

Leandro Lo
L
Pts: 2x0
Pan American
76KG
F
2012
3774

Rodrigo Caporal

Rodrigo Caporal
L
Pts: 2x0
World Pro.
76KG
R2
2012
3783

Roberto Satoshi

Roberto Satoshi
L
Pts: 2x0
World Pro.
76KG
F
2012
4026

Leandro Lo

Leandro Lo
L
Pts: 2x0
World Champ.
76KG
F
2012
4163

Leandro Lo

Leandro Lo
L
Pts: 0x0, Adv
IBJJF Pro League
82KG
F
2012
4663

Leandro Lo

Leandro Lo
L
Pts: 0x0, Adv
World Pro
76KG
F
2013
4794

Leandro Lo

Leandro Lo
L
Adv
World Champ.
76KG
SF
2013
5000

JT Torres

JT Torres
L
Pts: 2x0
ADCC
77KG
4F
2013
5166

Vitor Oliveira

Vitor Oliveira
L
Pts: 4x2
Atlanta Open
82KG
F
2013
5314

Diego Hertzog

L
Points
Pan American
ABS
R3
2014
5532

Felipe Pena

Felipe Pena
L
Points
Brasileiro
ABS
SF
2014
7955

Davi Ramos

Davi Ramos
L
Flying armbar
ADCC
77KG
F
2015
8887

Leandro Lo

Leandro Lo
L
Pts: 2x2, Adv
Copa Podio
77KG
GP
2016
8891

AJ Sousa

AJ Sousa
L
Pts: 4x2
Copa Podio
77KG
GP
2016
8896

Leandro Lo

Leandro Lo
L
Pts: 2x0
Copa Podio
77KG
F
2016
9590

Luan Carvalho

Luan Carvalho
L
Referee Decision
World Pro
77KG
R1
2016
12105

Joao Rocha

Joao Rocha
L
Pts: 3x0
Pan American
ABS
4F
2017
13907

JT Torres

JT Torres
L
Pts: 3x0
ADCC
77KG
F
2017
18903

Levi Jones

Levi Jones
L
Referee Decision
European Open
76KG
F
2019
18961

Gustavo Batista

Gustavo Batista
L
Pts: 10x0
European Open
ABS
F
2019
21862

Dante Leon

Dante Leon
L
Pts: 3x0
ADCC
77KG
4F
2019
1750

Celso Vinicius

Celso Vinicius
W
Kneebar
World Champ.
76KG
SF
2007
1751

Michel Maia

W
Baseball choke
World Champ.
76KG
F
2007
1869

Philipe Monica

W
Points
Pan American
76KG
SF
2008
1920

Marcos Torregrossa

W
Choke from back
World Champ.
76KG
R1
2008
1926

Denis Mitchel

W
Kimura
World Champ.
76KG
4F
2008
1927

Jonatas Gurgel

Jonatas Gurgel
W
Choke from back
World Champ.
76KG
SF
2008
2014

Pedro Bessa

W
Points
NoGi Worlds
79KG
SF
2008
2045

R. Hall

W
Pts: 4x0
All Star Pro
81KG
4F
2008
2046

Fabio Holanda

W
Pts: 4x0
All Star Pro
81KG
SF
2008
2047

Rick Macauley

W
Pts: 2x2, Adv
All Star Pro
81KG
F
2008
2157

Joao Sobrinho

W
Cross choke
Pan American
76KG
8F
2009
2162

Eder Persiliano

W
Pts: 4x2
Pan American
76KG
4F
2009
2163

L. Leite

W
Lapel choke
Pan American
76KG
SF
2009
2414

Raphael Chaves

Raphael Chaves
W
Points
NoGi Worlds
76KG
SF
2009
2415

JT Torres

JT Torres
W
Pts: 2x0
NoGi Worlds
76KG
F
2009
2487

Unknown

W
Points
European
76KG
4F
2010
2489

Helder Medeiros

Helder Medeiros
W
Points
European
76KG
SF
2010
2540

Chris Westfall

W
Choke from back
Pan American
76KG
8F
2010
2543

JT Torres

JT Torres
W
Pts: 3x0
Pan American
76KG
4F
2010
2608

Augusto Mendes

Augusto Mendes
W
RNC
No Gi Worlds
76KG
F
2010
2683

Rafael Carrao

W
Brabo choke
World Champ.
76KG
R1
2010
2686

Augusto Mendes

Augusto Mendes
W
Adv
World Champ.
76KG
4F
2010
2782

Guybson Sa

Guybson Sa
W
Choke
Long Island Pride
ABS
SF
2010
2783

Roberto Abreu

Roberto Abreu
W
Pts: 6x2
Long Island Pride
ABS
F
2010
2784

Renan Borges

W
Points
Long Island Pride
78KG
F
2010
2879

Zak Maxwell

Zak Maxwell
W
Points
Pan American
76KG
4F
2011
2882

Augusto Mendes

Augusto Mendes
W
Pts: 4x2
Pan American
76KG
SF
2011
3029

Robson Barbosa

W
Pts: 8x0
World Champ.
76KG
RDS
2011
3033

William Ferreira

W
Kimura
World Champ.
76KG
RDS
2011
3351

Daniel Aguiar

W
Submission
No Gi Worlds
76KG
4F
2011
3371

Marcel Gonçalves

W
Pts: 6x0
No Gi Worlds
76KG
SF
2011
3384

Augusto Mendes

Augusto Mendes
W
Adv
No Gi Worlds
76KG
F
2011
3610

Rodrigo Simoes

W
Choke
Pan American
76KG
4F
2012
3613

Vinicius Marinho

Vinicius Marinho
W
Kimura
Pan American
76KG
SF
2012
3711

J. Shultz

W
Choke from back
NYC World Trials
74KG
SF
2012
3712

Renan Borges

W
Points
NYC World Trials
74KG
F
2012
3781

Leandro Lo

Leandro Lo
W
Points
World Pro.
76KG
SF
2012
4010

Luis Fraga

W
Choke
World Champ.
76KG
R2
2012
4020

Renan Borges

W
Choke from back
World Champ.
76KG
4F
2012
4024

Thiago Abreu

Thiago Abreu
W
Ezekiel
World Champ.
76KG
SF
2012
4162

Oliver Geddes

Oliver Geddes
W
Baseball choke
IBJJF Pro League
82KG
4F
2012
4384

K. Mahecha

W
Choke from back
Miami Pro Trials
76KG
NA
2013
4567

Caio Silva

W
Points
Pan American
76KG
R2
2013
4574

Marcel Goulart

W
Adv
Pan American
76KG
4F
2013
4576

Vinicius Marinho

Vinicius Marinho
W
Choke
Pan American
76KG
SF
2013
4661

Maiky Reiter

W
Points
World Pro
76KG
4F
2013
4792

Rodrigo Freitas

Rodrigo Freitas
W
Choke
World Champ.
76KG
4F
2013
4994

Tero Pyylampi

W
Pts: 3x0
ADCC
77KG
R1
2013
5301

Nathan Mendelsohn

Nathan Mendelsohn
W
Choke from back
Pan American
ABS
R2
2014
5354

Rafael Henrique

W
Choke from back
Pan American
76KG
R1
2014
5360

Rafael Henrique

W
Brabo choke
Pan American
76KG
4F
2014
5364

JT Torres

JT Torres
W
Adv
Pan American
76KG
SF
2014
5502

Renan Borges

W
Choke from back
WP Montreal
ABS
4F
2014
5503

Abraham Marte

Abraham Marte
W
Armbar
WP Montreal
ABS
SF
2014
5505

Otavio Sousa

Otavio Sousa
W
Pts: 4x0
WP Montreal
ABS
F
2014
5523

Caio Almeida

Caio Almeida
W
Choke from back
Brasileiro
ABS
R1
2014
5531

Paulo Miyao

Paulo Miyao
W
Referee Decision
Brasileiro
ABS
4F
2014
5548

Pedro Fernandes

W
Choke from back
Brasileiro
76KG
SF
2014
5782

Gabriel Rollo

Gabriel Rollo
W
Pts: 2x0
World Champ.
76KG
R1
2014
5792

Rodrigo Freitas

Rodrigo Freitas
W
Pts: 7x0
World Champ.
76KG
4F
2014
5794

Roberto Satoshi

Roberto Satoshi
W
Pts: 20x0
World Champ.
76KG
SF
2014
5795

JT Torres

JT Torres
W
Pts: 12x0
World Champ.
76KG
F
2014
7101

Kevin Mahecha

Kevin Mahecha
W
Choke
World Pro
75KG
R2
2015
7106

AJ Agazarm

AJ Agazarm
W
Pts: 2x0
World Pro
75KG
4F
2015
7108

Roberto Satoshi

Roberto Satoshi
W
Pts: 2x0
World Pro
75KG
SF
2015
7109

Gabriel Rollo

Gabriel Rollo
W
Choke from back
World Pro
75KG
F
2015
7437

Ilke Bulut

Ilke Bulut
W
Bow and arrow
World Champ.
76KG
8F
2015
7446

Rodrigo Freitas

Rodrigo Freitas
W
Armbar
World Champ.
76KG
4F
2015
7448

Gabriel Rollo

Gabriel Rollo
W
Pts: 4x0
World Champ.
76KG
SF
2015
7944

Gamrot Mateusz

W
Pts: 3x0
ADCC
77KG
R1
2015
7951

Garry Tonon

Garry Tonon
W
Pts: 10x0
ADCC
77KG
4F
2015
7952

Otavio Sousa

Otavio Sousa
W
Pts: 4x0
ADCC
77KG
SF
2015
8874

Davi Ramos

Davi Ramos
W
Pts: 4x2
Copa Podio
77KG
GP
2016
8878

Felipe Cesar

Felipe Cesar
W
Kimura
Copa Podio
77KG
GP
2016
8895

Diego Borges

Diego Borges
W
Pts: 0x0, Adv
Copa Podio
77KG
SF
2016
9977

Masahiro Iwasaki

Masahiro Iwasaki
W
Marceloplata
World Champ.
76KG
R2
2016
9982

Mansher Khera

Mansher Khera
W
Omoplata
World Champ.
76KG
4F
2016
9986

JT Torres

JT Torres
W
Pts: 2x2, Adv
World Champ.
76KG
SF
2016
9988

Edwin Najmi

Edwin Najmi
W
Choke from back
World Champ.
76KG
F
2016
12082

Marcus Wilson

W
Arm in Ezekiel
Pan American
ABS
R1
2017
12096

Arnaldo Maidana

Arnaldo Maidana
W
Pts: 12x0
Pan American
ABS
8F
2017
12159

Philip Miller

W
Choke from back
Pan American
76KG
R2
2017
12168

Breno Bittencourt

Breno Bittencourt
W
Choke from back
Pan American
76KG
8F
2017
12173

Caio Almeida

Caio Almeida
W
Choke from back
Pan American
76KG
4F
2017
12176

Michael Liera

Michael Liera
W
Pts: 18x0
Pan American
76KG
SF
2017
12177

Marcio Andre

Marcio Andre
W
Pts: 2x0
Pan American
76KG
F
2017
13119

Masahiro Iwasaki

Masahiro Iwasaki
W
Pts: 0x0, Adv
World Champ.
76KG
8F
2017
13124

Jake Mackenzie

Jake Mackenzie
W
Bow and Arrow
World Champ.
76KG
4F
2017
13128

Yan Lucas

Yan Lucas
W
Pts: 4x0
World Champ.
76KG
SF
2017
13129

Roberto Satoshi

Roberto Satoshi
W
Injury
World Champ.
76KG
F
2017
13892

Osman Kasimov

W
RNC
ADCC
77KG
E1
2017
13900

Mansher Khera

Mansher Khera
W
Referee Decision
ADCC
77KG
4F
2017
13904

Vagner Rocha

Vagner Rocha
W
Referee Decision
ADCC
77KG
SF
2017
14974

Marcio Andre

Marcio Andre
W
Choke
ACB 10
75KG
SPF
2018
16495

Athos Ribeiro

W
Bow and arrow
World Champ.
76KG
R2
2018
16507

Matheus Costa

Matheus Costa
W
Choke f/ omoplata
World Champ.
76KG
R3
2018
16512

Jake Mackenzie

Jake Mackenzie
W
Choke
World Champ.
76KG
4F
2018
16514

Espen Mathiesen

Espen Mathiesen
W
Pts: 0x0, Adv
World Champ.
76KG
SF
2018
16516

Renato Canuto

Renato Canuto
W
Pts: 4x0
World Champ.
76KG
F
2018
16743

Davi Ramos

Davi Ramos
W
Points
ACBJJ 14
75KG
SPF
2018
18892

Vinicius Pereira

Vinicius Pereira
W
Arm in Ezekiel
European Open
76KG
R2
2019
18898

Tommi Pulkkanen

W
Arm in Ezekiel
European Open
76KG
4F
2019
18902

Alexandre Molinaro

Alexandre Molinaro
W
Choke from back
European Open
76KG
SF
2019
18951

Renan Marcel

W
Choke from back
European Open
ABS
R2
2019
18958

Seif Houmine

Seif Houmine
W
Bow and arrow
European Open
ABS
4F
2019
18959

Kaynan Duarte

Kaynan Duarte
W
Pts: 4x4, Pen
European Open
ABS
SF
2019
20608

Athos Miranda

W
Pts: 2x0
World Champ.
76KG
R1
2019
20623

John Combs

John Combs
W
Ezekiel
World Champ.
76KG
R2
2019
20632

Rodrigo Freitas

Rodrigo Freitas
W
Bow and arrow
World Champ.
76KG
SF
2019
20633

Lucas Valente

Lucas Valente
W
Referee Decision
World Champ.
76KG
F
2019
21857

Lachlan Giles

Lachlan Giles
W
Pts: 3x0
ADCC
77KG
R1
2019
Lucas Lepri vs Abraham Marte, absolute division – 2014

Lucas Lepri vs Gregor Gracie (NY BJJ Open, Absolute Division)

Lucas Lepri Highlight

Lucas Lepri vs Augusto "Tanquinho"

Lucas Lepri vs JT Torres (No Gi Pan American 2009)