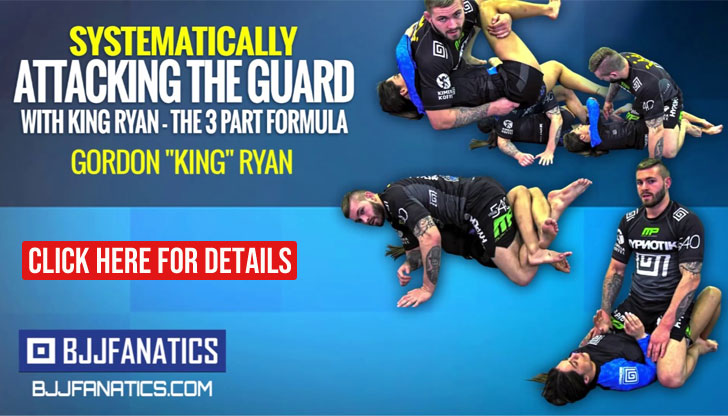 Often regarded as the Lance Armstrong of Brazilian Jiu-Jitsu, Lucio Rodrigues also known as "Lagarto", is a decorated Brazilian Jiu-Jitsu black belt under Carlos Gracie Junior from Gracie Barra who has victoriously battled with cancer, returning to BJJ after his recovery to conquer some of the most important titles in his career, such as the European Open and the World Pro Cup finals in Abu Dhabi.
Lucio Rodrigues Jiu Jitsu
Full Name: Lucio Furtado Rodrigues
Nickname: Lucio's nickname is "Lagarto" which means Lizard in Portuguese. The nickname was given by Marcio Feitosa at Gracie Barra because he used to joke saying that Lucio resembled a reptile.
Lineage:  Mitsuyo Maeda > Carlos Gracie Sr. > Helio Gracie > Carlos Gracie Junior > Lucio Rodrigues
Main Achievements:
1st Place IBJJF  European Open (2015 / 2014 / 2011 / 2005 / 2004**)
1st Place IBJJF  European Open NoGi (2016*)
1st Place UAEJJF World Pro Cup Champion (2011)
1st Place FJJR Rio de Janeiro State Champion (2008)
2nd Place IBJJF European Silver Medallist (2012, 2009, 2007)
3rd Place World Bronze Medallist (2006 / 2005 / 2004)
3rd Place European Bronze Medallist (2007* / 2005*)
Main Achievements (Colored Belts):
1st Place CBJJ Brazilian Nationals (2003 brown)
2nd Place IBJJF World Championship (2002* purple, 2003* brown)
3rd Place World Championship (2003 brown, 2002 purple)
Weight Division: Pesado (94kg/207lbs) and Super Pesado (100kg/221lbs)
Team/Association: Gracie Barra
Lucio Rodrigues "Lagarto" Biography
Lucio Rodrigues "Lagarto" was born on the 26th of October, 1980 in Rio de Janeiro – Brazil. He started practicing martial arts with his father, learning Karate while also boxing a little when he was still a child. He started getting interested in Jiu Jitsu as most of his friends practiced the sport, he started taking classes when he was 13 years old with instructor Carlos Augusto (who is a black belt under Reyson Gracie). Lagarto was a natural in BJJ, and while most of his friends stopped training, Lucio continued and reaped the benefits of hard training, pursuing a career as a competitor.
He worked his technique alongside Carlos Augusto until he received his blue belt. He then switched camps to the Gracie Academy in Barra da Tijuca, where he trained alongside the son of the founder of Gracie Jiu-Jitsu, Mr. Carlos Gracie Junior, the man who awarded all his belts from there on, including his black belt which came in 2004.
Rodrigues worked most of his life in Jiu Jitsu as both a competitor and a coach. He started his international coaching career by way of Portugal, after his master Carlos asked him to go to the southern European country and help develop the sport there. He worked there for a duration of time, but then returned to Brazil where he premiered in MMA with a submission victory over Roberto Albuquerque by armbar.
In October 2007 Lucio Rodrigues found out he was suffering from cancer in his lymphatic system, also known as Hodgkin's disease. Lucio had to undergo the grueling treatment of chemotherapy. Due to the athlete's lifestyle that Lagarto had all his life, healthy eating, not drinking and resting well, he resisted incredibly well to the treatment, and in fact, after the first month of therapy (where he was forbidden to train by his doctor) Lucio returned to the gym and started training. As the Chemo and after that radiotherapy continued, Lagarto trained and even competed! Winning an important competition (Capital Challenge).
After his battle with cancer, Lucio Rodrigues decided to have another shot at an international coaching career. As he gave a seminar in the United Kingdom, Lucio was invited to stay and coach the London full time. He accepted the challenge, and became one of the main instructors of Gracie Barra in the country, alongside illustrious coaches Braulio Estima and Roger Gracie.
In 2011, after an incredible competitive run where Lucio won the European Open, the World Pro Cup Trials (weight and absolute) and the World Pro Cup finals, many saw Rodrigues as one of the favorites to win the Worlds (World Jiu-Jitsu Championships). Unfortunately, Lagarto was denied a visa to enter the country and could not compete, a problem that has plagued many top competitors from Brazil throughout the years.
Lucio Rodrigues vs Augusto Ferrari

Lucio Rodrigues vs rafael Lovato Junior

Lucio Lagarto vs Bruno Bastos

Lucio Lagarto vs. Karim Khalifa