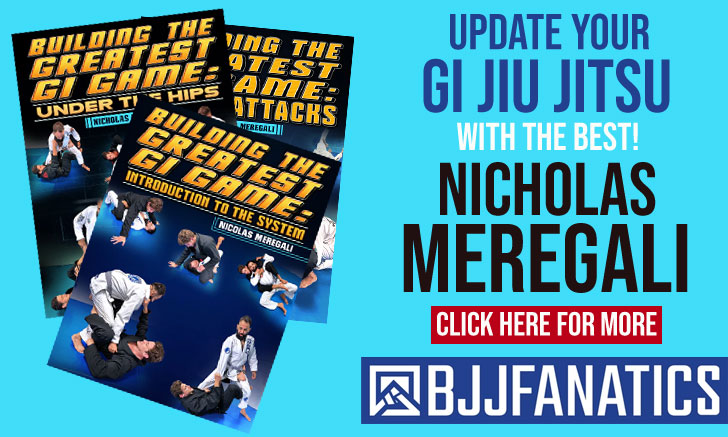 Ricardo Vieira, commonly known as "Ricardinho" or "Rico" Vieira, is a Brazilian jiu-jitsu black belt under Romero Cavalcanti and a former International Brazilian Jiu-Jitsu Federation (IBJJF) and Confederação Brasileira de Jiu-Jitsu Olimpico (CBJJO) World Champion, who is also regarded as one of the top grappling coaches in the world. Ricardo Vieira, together with his brother Leozinho Vieira leads the famous Checkmat academy.
Ricardo Vieira Jiu Jitsu
Full Name: Ricardo Alcantara Vieira
Nicknames: Ricardinho and Rico – The suffix "inho" in Portuguese is usually used as a gentle and warm way of saying someone's name. It can also mean little, like "Little Ricardo". Rico is another way of saying, Ricardo.
Lineage: Mitsuyo Maeda > Carlos Gracie > Helio Gracie > Rolls Gracie > Romero Cavalcanti > Ricardo Vieira
Main Achievements:
1st Place IBJJF World Championship (2001)
1st Place CBJJO World Championship (2004 / 2005 / 2006)
1st Place IBJJF Pans Championship (2002)
1st Place CBJJ Brazilian Nationals No-Gi (2011 Master)
Main Achievements (Colored Belts):
1st Place IBJJF World Champion (1997 / 1996 blue, 1998 purple, 1999/2000 brown)
Weight Category: Light-featherweight (64Kg – 141lbs).
Team/Association: Vieira Bros – Checkmat Jiu Jitsu
Ricardo Vieira Biography
Ricardo Vieira was born on the 9th of January 1979 in Rio de Janeiro Brazil.
Ricardo first stepped on a jiu-jitsu mat at the age of 5, joining the kids class of the legendary Romero Cavalcanti (Jacaré). Rico's natural ability for the sport shined through from the get-go, with multiple trophies, won in the junior leagues, including the Mundial (World Championships) a competition he won in every belt division he competed, from blue belt to black belt. Vieira also played football (soccer) at a high level, making the junior squad of the famous Rio de Janeiro club Flamengo, though an injury kept him from progressing further in this activity.
After two straight years in the podium of the "Mundial" as a brown belt (1998 + 1999), Ricardo was promoted to black belt by Jacaré. On his first year in jiu-jitsu's professional circuit, Vieira would face the most feared light-featherweight competitor in the history of the division, Mr. Robson Moura. This epic battle took place in 2001 World Championship's semifinals, with the victory going to Ricardinho in the final seconds, as he went on to win the title.
After a few years as a black belt with many more medals around his neck (including the World Cup – CBJJO) Ricardo Vieira slowly started fading from the Jiu-Jitsu competitive scene, this happened due to his coaching functions, assisting Cavalcanti at the team's headquarters. After his master left to the USA (where he formed an academy in Atlanta), Ricardinho took the helm, with Rodrigo "Comprido" Medeiros by his side ( "Comprido" also moved to the US later on, leaving Ricardinho to lead the Rio de Janeiro.
In 2002 Ricardo was one of the figureheads of a big split between the main black belts of the Alliance Team, and its management, taking the opportunity to form the "VB Team" with the help of his brothers (the V.B. stands for Vieira Brothers). The VB Team then associated with Brasa Clube de Jiu-Jitsu, which was also formed off the split with Alliance. Ricardo worked with Brasa for the most of 4 years, after which he left to found Checkmat Academy with his brother Leonardo Vieira.
Rico Vieira is also a synonym of charity, as he took over Fernando Tererê's project in the Cantagalo Slums of Rio de Janeiro. A project raised to take children off the streets and away from gun crime, a very common end for kids in this impoverished part of the city. The project is based on Jiu Jitsu, teaching those that cannot afford being taught for free while building their social skills and teaching them the benefits of citizenship.
In 2009 Ricardo made a reappearance to a BJJ competition in Stockholm, Sweden, winning the absolute division in the Stockholm BJJ Open, he also made another appearance in 2011 at the Brazilian National No-Gi Championship where he won the Master's division as a lightweight.
Banner photo taken by William Burkhardt of BJJ Pix.
Ricardo Vieira Grappling Record
10 WINS
BY POINTS


BY ADVANTAGES




BY SUBMISSION




BY DECISION




BY PENALTIES




BY DQ



3 SUBMISSIONS WINS
2 LOSSES
BY POINTS


BY ADVANTAGES




BY SUBMISSION




BY DECISION




BY PENALTIES




BY DQ



1 SUBMISSION LOSSES
Ricardo Vieira Fight History
ID
Opponent
W/L
Method
Competition
Weight
Stage
Year
639

Robson Moura

Robson Moura
L
Pts: 2x2, Adv
World Cup
64KG
F
2002
4986

Joao Miyao

Joao Miyao
L
Heel hook
ADCC
66KG
4F
2013
586

Andre Motta

Andre Motta
W
N/A
World Champ.
64KG
4F
2001
587

Robson Moura

Robson Moura
W
Pts: 6x5
World Champ.
64KG
SF
2001
588

Daniel Beleza

Daniel Beleza
W
Pts: 0x0, Adv
World Champ.
64KG
F
2001
638

Marco Galvao

W
Ezekiel
World Cup
64KG
SF
2002
647

Dai Yoshioka

W
Pts: 10x0
Ground Impact
64KG
SPF
2002
927

Marcelo dos Santos

W
Points
World Cup
64KG
SF
2003
928

Armando Guedes

W
Points
World Cup
64KG
F
2003
1077

Armando Guedes

W
Pts: 2x0
World Cup
64KG
F
2004
1263

Bernardo Pitel

Bernardo Pitel
W
Triangle
World Cup
64KG
F
2005
4977

Yuta Sasaki

W
Guillotine
ADCC
66KG
R1
2013
Ricardo Vieira vs Bernardo Pitel

Ricardo Vieira Fighting Video 1

Ricardo Vieira Fighting Video 2