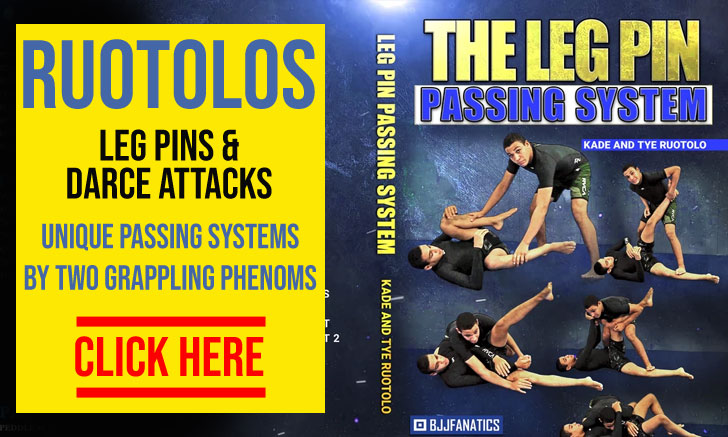 For those of you that might have not paid attention to the BJJ calender, the last stage of the "Brasileiro" – Brazilian National Jiu Jitsu Championship was this weekend. One of CBJJ's most prestigious tournaments and a chance for those that cannot travel to the United States to display their prowess. One of the greatest surprises of the tournament, however, did not come from the South American country; it came from half way across the world as Aussie competitor Michael Wilson (Gracie Barra Australia) took gold in the "Pesadissimo". Wilson didn't need to fight the final as the two semi-finalists on the other side of the bracket ("Big Mac" and Bruno Mathias) both got DQ'ed and could not proceed in the tournament.
Brasileiro BB Men's Division
GALO:
Complete domination by Malfacine who took gold with a solid 23 to 0!
PLUMA:
Ary Farias (Atos) defeated Gabriel Moraes (Pina) – points
Aryzinho had another very good tournament, solidifying himself even further as one of the top fighters of the division, he defeated Gabriel by one sweep (2-0), he had won a tough match in the semi finals against "Terere's" cousin Leandro Martins.
PENA:
A tough match for Frazatto who took the gold by making use of his dangerous guard game.
LEVE:
Bad year for (the until a few months ago undefeated in the black belt division) Michael Langhi as he suffered his second defeat of the year and again by the Sao Paulo native Leandro Pereira, who is slowly becoming Langhi's nemesis in the lightweight division.
MÉDIO:
Daniel Garcia (Nova União) defeated Augusto "Tio Chico" (Renzo Gracie) – points
One of the most exciting matches of the afternoon, Garcia makes good use of his guard to win the match by points 4×2
MEIO-PESADO:
Sergio Moraes (Alliance) defeated Nivaldo Oliveira (Checkmat) – points
Sergio continues in good form through 2011 with another win, this time over Nivaldo by 2×0
PESADO:
Antônio Carlos (Checkmat) closed the final with Paulo Tarcisio (Checkmat)
Another title for the Helder Medeiros black belt, "Cara de Sapato" who won last years Mundial in the brown belt division.
SUPERPESADO:
Ricardo Evangelista (GFTeam) defeated Antonio Peinado (Alliance) Ref. Decision
Evangelista took the win after a referee's decision.
PESADÍSSIMO:
Michael Wilson (Peter deBeen)
Awkward moment in the Brasileiro as Wilson was left with no one to fight in the final since both semi-finalists from the other side of the brackets were disqualified for stalling.
ABSOLUTE:
Brasileiro BB Women's Division
PENA:
Marina Ribeiro (Checkmat) defeated Ana Michelle (Gracie Humaitá) – points
Marina defeated the formed Nova Uniao competitor for 5×0
LEVE:
The always exciting Michelle Nicoline submitted the Cristiano Marcelo black belt within 1 minute in the only black belt final that ended in submission.
MEIO-PESADO:
Silvana Abreu (Brazil 021) defeated Fernanda Mazzelli (Striker JJ/Góes)
ABSOLUTO:
Luiza Monteiro (Checkmat) closed the final with Michelle Nicolini