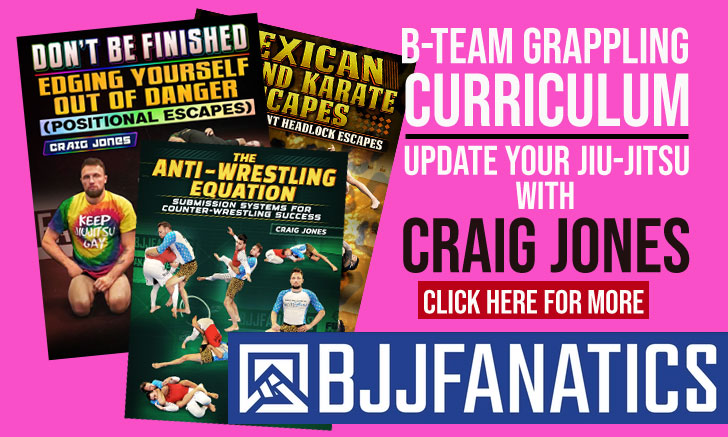 Alexandre Ribeiro, commonly known as "Xande" Ribeiro is a legendary jiu-jitsu competitor and one of the founding members of the Ribeiro Jiu-Jitsu Association. Under the tutelage of some of the world's top coaches, including Royler Gracie, Vini Aieta and Xande's own brother Saulo Ribeiro, Alexandre earned numerous grappling titles, including IBJJF and ADCC World Champion, while earning also the #1 rank in BJJ Heroes' Top BJJ Competitors of All Time list, up until 2020. Ribeiro also had a short spell fighting in mixed martial arts (MMA) in 2008, competing for the Japanese promotion Sengoku.
Alexandre Ribeiro Jiu Jitsu
Full Name: Alexandre Couceiro Ribeiro
Nickname: Xande is a common way of saying Alexandre in Brazil. The nickname was given by the Monteiro Brothers, Alexandre Ribeiro's first instructors.
Lineage: Mitsuyo Maeda > Carlos Gracie > Helio Gracie > Royler Gracie > Saulo Ribeiro > Alexandre Ribeiro
Main Achievements:
1st Place IBJJF World Championship (2004 / 2005 / 2006** / 2008** / 2015)
1st Place IBJJF World Championship No-Gi (2012** )
1st Place ADCC World Championship (2007 / 2009)
1st Place IBJJF Pan Championship (2001* / 2002 / 2005 / 2006)
2nd Place IBJJF World Championship (2005 / 2012 / 2012)
2nd Place ADCC World Championship (2009*)
3rd Place ADCC World Championship(2005 / 2017)
3rd Place IBJJF World Championship (2013)
Main Achievements (Colored Belts):
1st Place IBJJF World Championship (2000 brown belt)
* Absolute
** Weight and absolute
Favorite Position/Technique: Guard Passing
Weight Division: Heavy and Super Heavyweight
Team/Association: Ribeiro Jiu-Jitsu
Alexandre Xande Ribeiro Biography
Alexandre Ribeiro was born January 20, 1981, in Manaus – Brazil. He started his career under the tutelage of the Monteiro Brothers (Guto, Binho, Yano, and Lucio) at the age of 10. His talent rose above from the get-go and it is said that in his first 7 years of training Alexandre only lost 2 times in competition.
When he turned 18 Alexandre moved to Rio de Janeiro to study law, continuing his jiu-jitsu training at the Gracie Academy, a gym ran by Royler Gracie – in which his brother was already a star competitor. Xande went on to win two world championships and Pan Americans during the fist two years in Rio.
On March 2001 Ribeiro was awarded his jiu-jitsu black belt, a ceremony led by his own brother, Saulo Ribeiro.
Later in life, the Ribeiro brothers moved to San Diego, California – USA, where the two opened the University of Jiu-Jitsu, a space dedicated to the sharing of knowledge, regardless of team affiliation. The concept caught the attention of many illustrious competitors, including former UFC Lightweight contender Diego Sanchez who trained extensively under the Ribeiro's. Alexandre and Saulo also founded the Ribeiro Jiu-Jitsu Association which later became one of jiu-jitsu's top academies.
Relevant Information About Ribeiro's Career
Ribeiro Only Had His Guard Passed 4x In His Career:
1x @yellow belt (1991)
1x @brown belt (1999) by Renato Miragaia
2x @black belt (2005 2x) by Roger Gracie and Braulio Estima
Ribeiro Was Only Mounted 1x in his career:
1x @yellow belt (1991)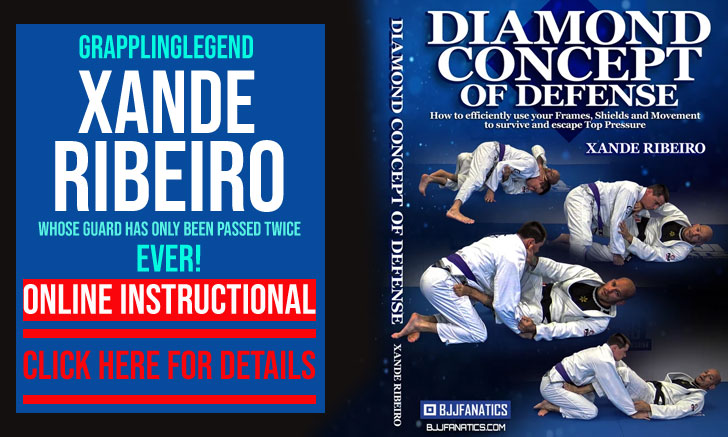 Alexandre Ribeiro Grappling Record
162 WINS
BY POINTS


BY ADVANTAGES




BY SUBMISSION




BY DECISION




BY PENALTIES




BY DQ



80 SUBMISSIONS WINS
#5AD3D1
Choke from back
10
8
#ff9124
Mounted X choke
4
3
#03861f
Bow and arrow
3
2
#03b41f
Baseball choke
1
1
#03d61f
Flying Armbar
1
1
44 LOSSES
BY POINTS


BY ADVANTAGES




BY SUBMISSION




BY DECISION




BY PENALTIES




BY DQ



6 SUBMISSIONS LOSSES
Alexandre Ribeiro Fight History
ID
Opponent
W/L
Method
Competition
Weight
Stage
Year
616

Roberto Correa

Roberto Correa
L
Points
Pan American
88KG
SF
2001
677

Jefferson Moura

Jefferson Moura
L
Injury
World Champ.
94KG
4F
2002
704

Marcio Cruz

Marcio Cruz
L
Pts: 2x0
World Champ.
ABS
SF
2002
805

A. Cacareco

L
Leg lock
ADCC
99KG
SF
2003
808

Roger Gracie

Roger Gracie
L
Pts: 3x0
ADCC
99KG
3PLC
2003
1018

Marcio Cruz

Marcio Cruz
L
Referee Decision
Best Fighters
ABS
SPF
2004
1073

Fernando Margarida

Fernando Margarida
L
Pts: 2x2, Adv
World Cup
ABS
4F
2004
1147

Marcio Cruz

Marcio Cruz
L
Pts: 2x0
Pan American
ABS
F
2005
1203

Roger Gracie

Roger Gracie
L
RNC
ADCC
99KG
SF
2005
1233

Roger Gracie

Roger Gracie
L
RNC
ADCC
ABS
SF
2005
1234

Marcelo Garcia

Marcelo Garcia
L
RNC
ADCC
ABS
3PLC
2005
1315

Roger Gracie

Roger Gracie
L
Pts: 12x2
World Champ.
100KG
F
2005
1322

Braulio Estima

Braulio Estima
L
Pts: 5x4
World Champ.
ABS
R1
2005
1394

Roger Gracie

Roger Gracie
L
Triangle
Pan American
ABS
F
2006
1658

David Avellan

L
Referee Decision
ADCC
ABS
R1
2007
1783

Romulo Barral

Romulo Barral
L
Pts: 0x0, Adv
World Champ.
ABS
SF
2007
2307

Braulio Estima

Braulio Estima
L
Injury
ADCC
ABS
F
2009
2717

Bernardo Faria

Bernardo Faria
L
Pts: 2x0
World Champ.
94KG
F
2010
2747

Romulo Barral

Romulo Barral
L
Pts: 0x0, Adv
World Champ.
ABS
SF
2010
2763

Joao Assis

Joao Assis
L
Points
GQ WBG
ABS
F
2010
2923

Lucio Rodrigues

Lucio Rodrigues
L
Points
World Pro.
O92KG
4F
2011
3287

Joao Assis

Joao Assis
L
RNC
ADCC
99KG
SF
2011
3317

Pablo Popovitch

Pablo Popovitch
L
Referee Decision
ADCC
ABS
SF
2011
3827

Andre Galvao

Andre Galvao
L
Pts: 2x0
World Pro.
ABS
SF
2012
3911

Leo Nogueira

Leo Nogueira
L
Pts: 4x0
World Champ.
ABS
4F
2012
4112

Rodolfo Vieira

Rodolfo Vieira
L
Pts: 2x2, Adv
World Champ.
94KG
F
2012
4416

Leo Nogueira

Leo Nogueira
L
Adv
Copa Podio
100KG
GP
2013
4420

Rodolfo Vieira

Rodolfo Vieira
L
Pts: 6x0
Copa Podio
100KG
GP
2013
4813

Lucas Leite

Lucas Leite
L
Referee Decision
World Champ.
94KG
SF
2013
7921

Rodolfo Vieira

Rodolfo Vieira
L
Pts: 6x0
ADCC
99KG
SF
2015
10187

Mahamed Aly

Mahamed Aly
L
Pts: 2x0, Adv
IBJJF Pro GP
ABS
4F
2016
10812

Felipe Pena

Felipe Pena
L
Pts: 4x2
Grand Slam TYO
94KG
F
2016
11093

Felipe Pena

Felipe Pena
L
Pts: 2x0
Grand Slam RJ
94KG
F
2016
11823

Nicholas Meregali

Nicholas Meregali
L
Adv
Manaus Nat. Pro
94KG
F
2017
11921

G. Braguinha

L
Pts: 2x0
Argentina Pro
ABS
F
2017
12679

Felipe Pena

Felipe Pena
L
Pts: 0x0, Adv
World Pro
94KG
SF
2017
13759

Andre Galvao

Andre Galvao
L
Pts: 0x0, Adv
IBJJF Pro GP
ABS
4F
2017
13889

Gordon Ryan

Gordon Ryan
L
Referee Decision
ADCC
88KG
SF
2017
13932

Marcus Almeida

Marcus Almeida
L
Pts: 3x0
ADCC
ABS
4F
2017
14381

Patrick Gaudio

Patrick Gaudio
L
Referee Decision
Grand Slam RJ
94KG
SF
2017
16337

Gustavo Batista

Gustavo Batista
L
Pts: 2x0
San Diego Open
94KG
F
2018
16581

Felipe Pena

Felipe Pena
L
Pts: 2x0
World Champ.
94KG
4F
2018
32983

Harryson Pereira

Harryson Pereira
L
Pts: 2x0
World Champ.
94KG
8F
2022
35036

Eoghan OFlannagan

L
Pts: 3x0
ADCC
88KG
R1
2022
605

Marcio Corleta

Marcio Corleta
W
Points
Pan American
ABS
R1
2001
606

Rodrigo Boni

W
Points
Pan American
ABS
4F
2001
607

Cassio Werneck

Cassio Werneck
W
Points
Pan American
ABS
SF
2001
608

Fabio Leopoldo

Fabio Leopoldo
W
Pts: 4x2
Pan American
ABS
F
2001
692

Roberto Ferreira

W
Choke
World Champ.
ABS
R1
2002
702

Adriano Maciel

W
Points
World Champ.
ABS
4F
2002
727

Pablo Popovitch

Pablo Popovitch
W
Triangle
Grapplers Quest
ABS
4F
2002
730

Todd Margolis

W
Points
Grapplers Quest
ABS
SF
2002
731

Jeff Monson

W
Armbar
Grapplers Quest
ABS
F
2002
799

Erik Paulson

W
Points
ADCC
99KG
R1
2003
804

Dean Lister

Dean Lister
W
Pts: 8x0
ADCC
99KG
4F
2003
985

Lenio Montanha

W
Choke from back
Golden Cup
94KG
4F
2004
986

Eduardo Telles

Eduardo Telles
W
Pts: 0x0, Adv
Golden Cup
94KG
SF
2004
987

Dennis Gomes

W
Omoplata
Golden Cup
94KG
F
2004
1032

Marcelo Garcia

Marcelo Garcia
W
Pts: 6x0
Brasileiro
ABS
F
2004
1042

Jefferson Moura

Jefferson Moura
W
Pts: 3x0
Brasileiro
94KG
F
2004
1057

Jefferson Moura

Jefferson Moura
W
Pts: 2x0
World Champ.
94KG
F
2004
1095

Rogerio Passos

W
Armbar
World Cup
100KG
4F
2004
1096

Erik Wanderlei

W
Pts: 6x0
World Cup
100KG
F
2004
1120

Elliott Marshall

W
Pts: 14x2
GQ Pro 16
ABS
4F
2005
1142

Givanildo Santana

Givanildo Santana
W
Bow and arrow
Budo Challenge
108KG
SF
2005
1143

Robert Drysdale

Robert Drysdale
W
Armbar
Budo Challenge
108KG
F
2005
1199

Michael Groth

W
Armbar
ADCC
99KG
R1
2005
1202

Jamal Peterson

W
Pts: 2x0
ADCC
99KG
4F
2005
1204

John Einimo

W
Pts: 6x0
ADCC
99KG
3PLC
2005
1224

Antoine Joude

W
Kneebar
ADCC
ABS
R1
2005
1228

Gabriel Napao

W
RNC
ADCC
ABS
4F
2005
1246

Eduardo Telles

Eduardo Telles
W
Pts: 4x2
World Cup
100KG
4F
2005
1247

Ricardo Abreu

Ricardo Abreu
W
Armbar
World Cup
100KG
SF
2005
1248

Roberto Tozi

Roberto Tozi
W
Pts: 2x2, Adv
World Cup
100KG
F
2005
1265

Bruno Bastos

Bruno Bastos
W
Choke from back
World Cup
O75KG
4F
2005
1269

Fernando Margarida

Fernando Margarida
W
Pts: 9x2
World Cup
O75KG
SF
2005
1271

Ronaldo Souza

Ronaldo Souza
W
Pts: 2x0
World Cup
O75KG
F
2005
1309

Roberto Abreu

Roberto Abreu
W
Armbar
World Champ.
100KG
R1
2005
1312

Ricardo Morais

W
Wristlock
World Champ.
100KG
4F
2005
1313

Rodrigo Comprido

Rodrigo Comprido
W
Armbar
World Champ.
100KG
SF
2005
1378

Diego Balouta

W
Kimura
Pan American
100KG
SF
2006
1379

Roger Gracie

Roger Gracie
W
Pts: 0x0, Adv
Pan American
100KG
F
2006
1387

Jorge Vidal

W
Ezekiel
Pan American
ABS
R1
2006
1391

Demian Maia

Demian Maia
W
Pts: 0x0, Adv
Pan American
ABS
4F
2006
1393

Braulio Estima

Braulio Estima
W
Points
Pan American
ABS
SF
2006
1445

Fabio Romao

W
Triangle
World Champ.
94KG
R1
2006
1446

Helvecio Penna

Helvecio Penna
W
Triangle
World Champ.
94KG
4F
2006
1447

Carlos Eduardo

W
Baseball choke
World Champ.
94KG
SF
2006
1448

T. Gaia

W
Choke from back
World Champ.
94KG
F
2006
1467

Tarsis Humphreys

Tarsis Humphreys
W
Points
World Champ.
ABS
4F
2006
1471

Roberto Abreu

Roberto Abreu
W
Mounted X choke
World Champ.
ABS
SF
2006
1473

Roger Gracie

Roger Gracie
W
Pts: 4x4, Adv
World Champ.
ABS
F
2006
1482

Vladimir Matyushenko

D
---
LA Sub-X
ABS
SPF
2006
1707

Yukissyu Ozawa

W
Submission
ADCC
99KG
R1
2007
1712

Tim Carpenter

W
Kimura
ADCC
99KG
4F
2007
1714

Robert Drysdale

Robert Drysdale
W
Points
ADCC
99KG
SF
2007
1715

Braulio Estima

Braulio Estima
W
Points
ADCC
99KG
F
2007
1760

Roberto Godoi

Roberto Godoi
W
Triangle
World Champ.
94KG
4F
2007
1763

Flavio Almeida

Flavio Almeida
W
Points
World Champ.
94KG
SF
2007
1764

Roberto Alencar

Roberto Alencar
W
Ezekiel
World Champ.
94KG
F
2007
1776

Roberto Abreu

Roberto Abreu
W
Ezekiel
World Champ.
ABS
R1
2007
1779

Joao Cunha

W
Armbar
World Champ.
ABS
R2
2007
1782

Andre Galvao

Andre Galvao
W
Pts: 2x0
World Champ.
ABS
4F
2007
1814

David Avellan

W
Pts: 8x0
Super Challenge
ABS
R1
2007
1821

Cristiano Lazzarini

Cristiano Lazzarini
W
Pts: 3x0
Super Challenge
ABS
4F
2007
1825

Andre Galvao

Andre Galvao
W
Referee Decision
Super Challenge
ABS
SF
2007
1826

Luiz Theodoro

W
Referee Decision
Super Challenge
ABS
F
2007
1959

Hugo Carioni

W
Triangle
World Champ.
94KG
4F
2008
1960

Tarsis Humphreys

Tarsis Humphreys
W
Pts: 2x0
World Champ.
94KG
SF
2008
1962

Alexandre Souza

Alexandre Souza
W
Pts: 3x2
World Champ.
94KG
F
2008
1978

Hugo Carioni

W
Armbar
World Champ.
ABS
R1
2008
1984

Raul Castillo

W
Choke
World Champ.
ABS
R2
2008
1986

Braga Neto

Braga Neto
W
Ezekiel
World Champ.
ABS
4F
2008
1989

Gabriel Vella

Gabriel Vella
W
Points
World Champ.
ABS
SF
2008
1991

Roger Gracie

Roger Gracie
W
Pts: 4x2
World Champ.
ABS
F
2008
2271

Ilir Latifi

W
Points
ADCC
99KG
R1
2009
2276

Radek Turek

Radek Turek
W
RNC
ADCC
99KG
4F
2009
2280

Vinny Magalhaes

Vinny Magalhaes
W
Points
ADCC
99KG
SF
2009
2282

Gerardi Rinaldi

Gerardi Rinaldi
W
Pts: 3x0
ADCC
99KG
F
2009
2297

Ricco Rodriguez

Ricco Rodriguez
W
Armbar
ADCC
ABS
R1
2009
2301

Andre Galvao

Andre Galvao
W
Points
ADCC
ABS
4F
2009
2305

Gunnar Nelson

Gunnar Nelson
W
Kneebar
ADCC
ABS
SF
2009
2711

Leonardo Neves

W
N/A
World Champ.
94KG
R2
2010
2714

Dan Simmler

W
Ezekiel
World Champ.
94KG
4F
2010
2716

Alexandre Souza

Alexandre Souza
W
Triangle
World Champ.
94KG
SF
2010
2746

Leo Nogueira

Leo Nogueira
W
Adv
World Champ.
ABS
4F
2010
2760

Chris Moriarity

W
Guillotine
GQ WBG
ABS
4F
2010
2762

Amir Allam

W
Pts: 9x0
GQ WBG
ABS
SF
2010
2947

Unknown

W
N/A
World P. NoGi
O92KG
N/A
2011
2948

Jose Junior

Jose Junior
W
Pts: 5x2
World P. NoGi
O92KG
F
2011
3244

Kari Petola

W
Pts: 5x0
ADCC
99KG
R1
2011
3272

Lucio Lagarto

W
RNC
ADCC
99KG
4F
2011
3293

Antonio Peinado

Antonio Peinado
W
Pts: 4x0
ADCC
99KG
3PLC
2011
3309

Jeff Monson

W
DQ
ADCC
ABS
R1
2011
3313

Gunnar Nelson

Gunnar Nelson
W
Pts: 2x0
ADCC
ABS
4F
2011
3318

Murilo Santana

Murilo Santana
W
Pts: 2x0
ADCC
ABS
3PLC
2011
3730

Romulo Barral

Romulo Barral
W
Pts: 2x0
SD World Trials
92KG
F
2012
3734

Ryan Sosa

W
Armbar
SD World Trials
ABS
4F
2012
3737

Mike Fowler

Mike Fowler
W
Cross choke
SD World Trials
ABS
SF
2012
3738

Andre Galvao

Andre Galvao
W
Pts: 4x4, Adv
SD World Trials
ABS
F
2012
3817

Antonio Carlos

Antonio Carlos
W
Armbar
World Pro.
99KG
SF
2012
3818

Bernardo Faria

Bernardo Faria
W
Pts: 2x0
World Pro.
99KG
F
2012
3887

Ryan Beaugeard

W
Pts: 0x0, Adv
World Champ.
ABS
R2
2012
3901

Adriano Ignacio

W
Armbar
World Champ.
ABS
R2
2012
4100

Eduardo Silva

W
Choke from Back
World Champ.
94KG
R2
2012
4106

Yuri Simoes

Yuri Simoes
W
Pts: 3x0
World Champ.
94KG
4F
2012
4110

Roberto Alencar

Roberto Alencar
W
Flying Armbar
World Champ.
94KG
SF
2012
4153

Dean Lister

Dean Lister
D
---
Metamoris
ABS
SPF
2012
4255

Alberto Vilanova

W
Armbar
NoGi Worlds
100KG
4F
2012
4257

Tarcisio Jardim

Tarcisio Jardim
W
Pts: 2x0
NoGi Worlds
100KG
SF
2012
4259

Joao Assis

Joao Assis
W
Referee Decision
NoGi Worlds
100KG
F
2012
4268

Vitor Oliveira

Vitor Oliveira
W
Pts: 4x0
NoGi Worlds
ABS
R1
2012
4275

Kleber Buiu

W
Pts: 9x0
NoGi Worlds
ABS
4F
2012
4279

Bernardo Faria

Bernardo Faria
W
Pts: 3x0
NoGi Worlds
ABS
SF
2012
4281

Leandro Lo

Leandro Lo
W
Pts: 0x0, Adv
NoGi Worlds
ABS
F
2012
4413

K. Cornelius

W
Pts: 4x2
Copa Podio
100KG
GP
2013
4418

Alexandre Ceconi

Alexandre Ceconi
W
Armbar
Copa Podio
100KG
GP
2013
4810

Max Freitas

W
Mounted X choke
World Champ.
94KG
4F
2013
4845

Braulio Estima

Braulio Estima
W
Points
Copa Podio
ABS
SPF
2013
5530

Alan Regis

W
Cross choke
Brasileiro
ABS
4F
2014
5533

Renato Cardoso

Renato Cardoso
W
Pts: 2x0
Brasileiro
ABS
SF
2014
5555

RIcardo Ramos

W
Pts: 9x0
Brasileiro
94KG
4F
2014
7334

Keenan Cornelius

Keenan Cornelius
D
---
Metamoris 6
ABS
SPF
2015
7489

Arnaldo Maidana

Arnaldo Maidana
W
Choke
World Champ.
94KG
8F
2015
7500

Dimitrius Souza

Dimitrius Souza
W
Pts: 2x0
World Champ.
94KG
4F
2015
7501

Jackson Sousa

Jackson Sousa
W
Pts: 6x0
World Champ.
94KG
SF
2015
7503

Lucas Leite

Lucas Leite
W
Pts: 4x2
World Champ.
94KG
F
2015
7598

Marcio Cruz

Marcio Cruz
W
Referee Decision
UFC Expo
ABS
SPF
2015
7800

AJ Sousa

AJ Sousa
W
Choke
BJJL Challenge
ABS
SPF
2015
7911

Yukiyasu Ozawa

W
Omoplata
ADCC
99KG
R1
2015
7918

Hector Lombard

W
Referee Decision
ADCC
99KG
4F
2015
10457

Karim Khalifa

W
Kimura
Grand Slam LA
94KG
4F
2016
10458

Erberth Santos

Erberth Santos
W
Referee Decision
Grand Slam LA
94KG
SF
2016
10461

Arnaldo Maidana

Arnaldo Maidana
W
Pts: 8x0
Grand Slam LA
94KG
F
2016
10809

Alexandre Ogawa

W
Choke from back
Grand Slam TYO
94KG
4F
2016
10810

Bruno Kikuchi

W
Triangle
Grand Slam TYO
94KG
SF
2016
11084

Max Gimenis

Max Gimenis
W
Choke from back
Grand Slam RJ
94KG
R1
2016
11089

Marcus Santos

W
Kimura
Grand Slam RJ
94KG
4F
2016
11092

Romulo Barral

Romulo Barral
W
Pts: 0x0, Adv
Grand Slam RJ
94KG
SF
2016
11469

Thiago Pessoa

W
Kimura
Grand Slam AD
94KG
4F
2017
11470

Basel Fanos

W
Submission
Grand Slam AD
94KG
SF
2017
11471

Adam Wardzinski

Adam Wardzinski
W
Pts: 0x0, Adv
Grand Slam AD
94KG
F
2017
11668

Socrates D.

W
Bread slicer
UAEJJF Orlando
94KG
SF
2017
11669

Jorge Rodrigues

W
Mounted X choke
UAEJJF Orlando
94KG
F
2017
11816

M. Neto

W
Submission
Manaus Nat. Pro
94KG
R1
2017
11819

Victor Neves

W
Submission
Manaus Nat. Pro
94KG
4F
2017
11821

Maciel Trindade

W
Submission
Manaus Nat. Pro
94KG
SF
2017
11912

Jose Henrique

W
Submission
Argentina Pro
94KG
4F
2017
11913

Emiliano Simone

W
Submission
Argentina Pro
94KG
SF
2017
11914

Giovanne Della

W
Submission
Argentina Pro
94KG
F
2017
11915

Emiliani Simeone

W
Submission
Argentina Pro
ABS
R1
2017
11918

Rodrigo Limera

W
Referee Decision
Argentina Pro
ABS
4F
2017
11919

Gabriel Arges

Gabriel Arges
W
Referee Decision
Argentina Pro
ABS
SF
2017
12073

Jackson Sousa

Jackson Sousa
W
Choke
Grand Slam LDN
94KG
SF
2017
12074

Adam Wardzinski

Adam Wardzinski
W
Choke from back
Grand Slam LDN
94KG
F
2017
12676

Basel Fanous

W
Bow and arrow
World Pro
94KG
4F
2017
12682

Diego Herzog

W
Bread cutter
World Pro
94KG
RPC
2017
13615

Roberto Abreu

Roberto Abreu
D
---
Copa Podio
ABS
SPF
2017
13881

John Salter

John Salter
W
Armbar
ADCC
88KG
E1
2017
13886

Rustam Chsiev

W
Armbar
ADCC
88KG
4F
2017
13890

Craig Jones

Craig Jones
W
Pts: 2x0
ADCC
88KG
3RD
2017
13924

T. Pyylampi

W
Armbar
ADCC
ABS
E1
2017
14376

Andre Santos

W
Armbar
Grand Slam RJ
94KG
R1
2017
14380

Marcos Ruiz

W
Armbar
Grand Slam RJ
94KG
4F
2017
14383

Adam Wardzinski

Adam Wardzinski
W
Pts: 2x0
Grand Slam RJ
94KG
RPC
2017
14384

Dimitrius Souza

Dimitrius Souza
W
Pts: 2x0
Grand Slam RJ
94KG
3RD
2017
16336

Rafael Vasconcelos

Rafael Vasconcelos
W
Points
San Diego Open
94KG
SF
2018
16580

W. Peroto

W
Choke from back
World Champ.
94KG
8F
2018
23802

Gabriel Almeida

Gabriel Almeida
W
Armbar
F2W 145
91KG
SPF
2020
23924

Vagner Rocha

Vagner Rocha
D
---
BJJ Bet
95KG
SPF
2020
26986

Fellipe Trovo

Fellipe Trovo
W
Referee Decision
F2W 178
92KG
SPF
2021
Xande Ribeiro on Guard Retention

Xande Ribeiro vs Dean Lister

Xande Ribeiro vs Ricardo Ramos