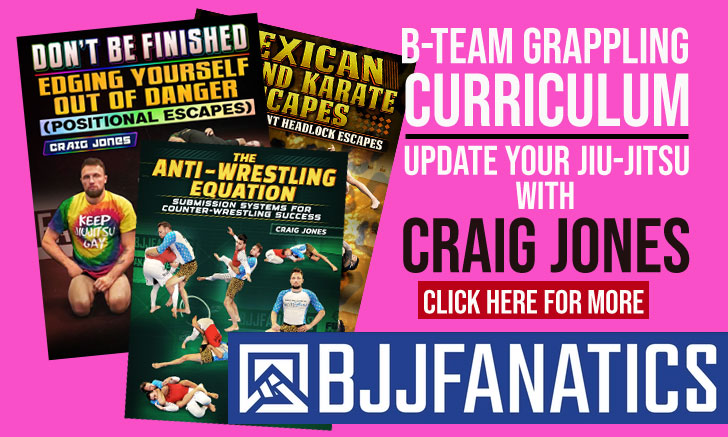 MARCH 13, 2023, LONDON, ENGLAND, this weekend we had the pleasure of watching another edition of the Abu Dhabi Jiu-Jitsu Pro (AJP) Grand Slam Tour. This year the event brought forth quite a few big names in the sport, despite there being a wide variety of important tournaments spread out across the globe this weekend.
In the adult, black belt divisions alone, the AJP London Grand Slam counted 133 matches, which resulted in 49 submission wins (37%), with the grappling stars Mica Galvão & Meyram Maquiné taking a 100% submission rate in the 77-kilogram & 62-kilogram, respectively. Maquiné and Galvão weren't the only big names on deck in England's capital this weekend, many others were there, such as Jansen Gomes, who put on a real show of forward-moving jiu-jitsu by placing double digits on the scoreboard in several matches and finishing creative submissions such as a Tarikoplata shoulder lock in the final of the 85kg weight class.
Also on the mats were names like Hiago George, Thiago Macedo, Espen Mathiesen, Tarik Hopstock, Adam Wardzinski, Catriel Oliveira, Bruno Lima, Anna Rodrigues, Gabrieli Pessanha, Julia Alves, to name a few.
Although Mica and Meyram took most of the attention from the tournament with outstanding submission sprees, arguably, the most impressive performance of the day was that of Maria Claudia, of InFight. A training partner of double gold World medalist Gabrieli Pessanha, Maria received her black belt midway through 2022, and although she had competed once in Brazil in her new rank, this was her first big test in the division. Standing on Maria Claudia's side of the bracket were two big names of the 62-kilo weight class, Gabriela Pereira and Julia Alves, which the Rio de Janeiro native took out with the assertiveness of a seasoned veteran.
Equally eye-opening was the work of Abdurahmanhaji Murtazaliev of Kyrgyzstan. We did not know too much about Abdurahmanhaji prior to this tournament as we've not seen him compete at the bigger shows on the international front, nevertheless, this young man was able to skilfully take his opponents out one by one, on his way to the final of the 85-kilo division (187 lbs), showing a cool head in tough clashes.
Below are the main match results of the ADGS London 2023, in the professional division.
PROFESSIONAL DIV: MALE BLACK BELT 55KG
Semi-Finals:
– Zayed Alkatheeri def. Welerson Goncalves via 3×3
– Yuri Hendrex def. Jonas Andrade via 1×0
Final:
– Zayed Alkatheeri def. Yuri Hendrex via 2×2
3rd Place:
– Jonas Andrade def. Welerson Goncalves via 3×2
PROFESSIONAL DIV: MALE BLACK BELT 62KG
Semi-Finals:
– Leonardo Mario def. Wagner Crispim via 4×2
– Hiago George def. Khaled Mohammed via 3×2
Final:
– Closed final between Cicero Costha teammates
3rd Place:
– Khaled Mohammed def. Omar Alfadhli via decision
PROFESSIONAL DIV: MALE BLACK BELT 69KG
Semi-Finals:
– Meyram Maquiné def. Florian Bayili via Choke from back
– Thiago Macedo def. Jobson Apolinaro via 14×1
Final:
– Meyram Maquiné def. Thiago Macedo via Choke from back
3rd Place:
– Joao Oliveira def. Julio Arantes via 5×5
PROFESSIONAL DIV: MALE BLACK BELT 77KG
Semi-Finals:
– Max Lindblad def. Lucas Protasio via 5×2
– Mica Galvão def. Andre Cantanhede via RNC
Final:
– Mica Galvão def. Max Lindblad via Choke from back
3rd Place:
– Lucas Protasio def. Andre Cantanhede via decision
PROFESSIONAL DIV: MALE BLACK BELT 85KG
Semi-Finals:
– Jansen Gomes def. Fredrik Widgren via Submission
– A. Murtazaliev def. Erick Souza via 2×1
Final:
– Jansen Gomes def. A. Murtazaliev via Tarikoplata
3rd Place:
– Faris Lamkadem def. Erick Souza via 5×1
PROFESSIONAL DIV: MALE BLACK BELT 94KG
Semi-Finals:
– Bruno Lima def. Adam Wardzinski via 1×0
– Catriel Oliveira def. Igor Sousa via 5×3
Final:
– Catriel Oliveira def. Bruno Lima via 1×0
3rd Place:
– Adam Wardzinski def. Igor Sousa via Choke from back
PROFESSIONAL DIV: MALE BLACK BELT 120KG
Semi-Finals:
– Yatan Bueno def. Omar Frederick via Choke from back
– Helton Jose def. Rodrigo Ribeiro via 1×0
Final:
– Yatan Bueno def. Helton Jose via 9×0
3rd Place:
– Paulo Brasil def. Omar Frederick via 3×0
PROFESSIONAL DIV: FEMALE BROWN & BLACK BELT 49KG
Semi-Finals:
– Thaynara Victoria def. Scout Feitosa via 2×1
– Diana Teixeira def. Serena Gabrielli via Submission
Final:
– Diana Teixeira def. Thaynara Victoria via 4×3
3rd Place:
– Scout Feitosa def. Serena Gabrielli via 2×1
PROFESSIONAL DIV: FEMALE BROWN & BLACK BELT 55KG
Semi-Finals:
– Anna Rodrigues def. Rose Sharouni via Hashimoto choke
– Alexa Yanes def. Emily Nicholson via Triangle
Final:
– Anna Rodrigues def. Alexa Yanes via 4×0
3rd Place:
– Rose Sharouni def. Emily Nicholson via 3×0
PROFESSIONAL DIV: FEMALE BROWN & BLACK BELT 62KG
Semi-Finals:
– Maria Claudia def. Gabriela Pereira via decision
– Julia Alves def. Astrid Scholin via 1×0
Final:
– Maria Claudia def. Julia Alves via Kneebar
3rd Place:
– Gabriela Pereira def. Zafeiria S. via 3×2
PROFESSIONAL DIV: FEMALE BROWN & BLACK BELT 70KG
Semi-Finals:
– Izadora Cristina def. Maria Carolina via 2×0
– Ingridd Alves def. Ane Svendsen via Submission
Final:
– Izadora Cristina def. Ingridd Alves via 2×2
3rd Place:
– Maria Carolina def. Nia Blackman via 2×1
PROFESSIONAL DIV: FEMALE BROWN & BLACK BELT 95KG
Semi-Finals:
– Gabrieli Pessanha def. Yasmira Dias via Clock choke
– Mayara Moreira def. Silvia Scomparin via Straight ankle lock
Final:
– Gabrieli Pessanha def. Mayara Moreira via RNC
3rd Place:
– Yasmira Dias def. Silvia Scomparin via Submission