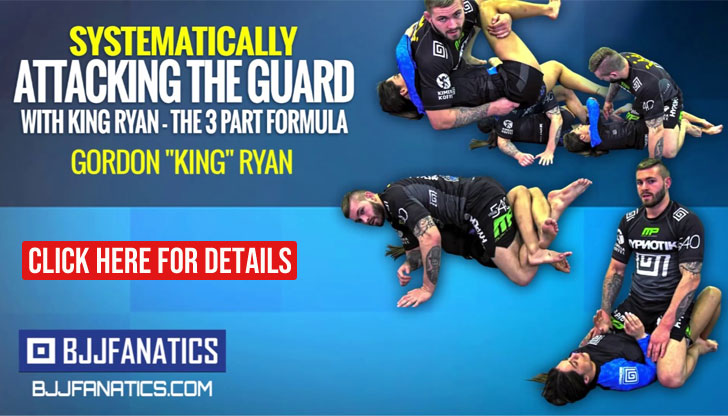 2015 was a tremendous year for mixed martial arts (MMA) fans. From the crowning of the controversial Conor McGregor as the interim and undisputed featherweight champion of the Ultimate Fighting Championship (UFC) to the fall of the organization's most popular champion – Ronda Rousy.
But on this website we follow jiu jitsu and submission grappling. Knowing the UFC as the gold standard in MMA, we decided to strip down a few of the organization's stats – particularly those regarding submission holds, displaying them here for the grappling audience to analyse.
UFC Match Results Totals
Although mixed martial arts' unified rules book pays somewhat of a disservice to submission orientated fighters, we still witnessed plenty of submissions in the UFC this year. 89 subs to be precise. Here is the distribution of the UFC's 2015 results: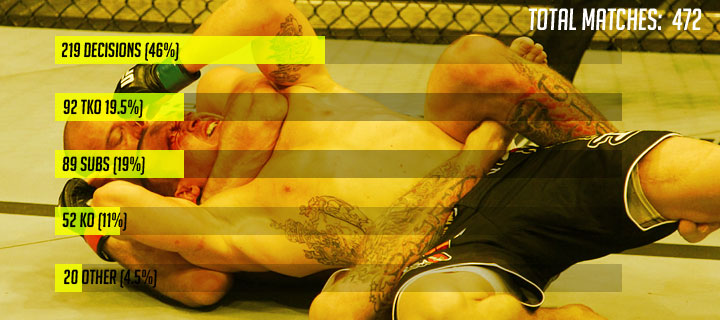 "Other" meaning: Draws, doctor stoppage and injuries/nc.
After looking at last year's UFC data, we see 503 matches, 31 more than this year, everything else (as Mike Goldberg would say) is "virtually identical" with 96 of those ending with submissions: 19% just like 2015. The consistency is maintained across the board with 19% TKO's (97 in total) and 10.5% KO's (53 in total).
But which Submissions are used the most in MMA?
Chokes rule the sport's submission ratio being the rear-naked-choke the most utilized strangle-hold of 2015. Another interesting aspect of the data is the lack of lower limb finishes, as we saw no kneebars, straight ankle locks, heel hooks, calf slicers or toe holds this year. Zero.
Top 5 submissions in the UFC during 2015: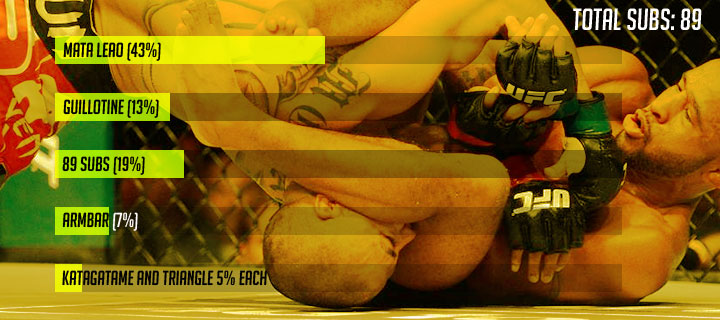 Where the sport of jiu jitsu has grown tremendously in the submission only format in 2015, the majority of submissions registered have come from positional dominance, which also explains why there has been such a lack of successful leg attacks. Here are the total of 2015's submission finishes in the Ultimate Fighting Championship and their ratio:
This is even more interesting when looking at the data from 2014, where we see the same pattern, with the same positions ruling the submission game in the exact same order:
41x Mata leao 43%
13x Guillotine 13%
7x Armbar 7%
5x Katagatame 5%
5x Triangle 5% (+ 2 inverted triangles)
2014 did bring one finish by heel hook (Ian Entwistle over Anthony Birchak), the first footlock since the UFC released Rousimar Palhares, MMA's most successful footlock specialist in the sport.
Lastly a mention to the promotion's most successful finishers of 2015. They were (with 2 submissions each):
Warlley Alves, Tony Ferguson, Rose Namajunas, Nikita Krylov, Charles Oliveira, Aljamain Sterling.
With many of our sport's biggest figures having planned moves to MMA in 2016, names such as Michelle Nicolini, Marcus Buchecha, Rodolfo Vieira, it will be interesting to see if these numbers will increase when these athletes make it to the big stage.