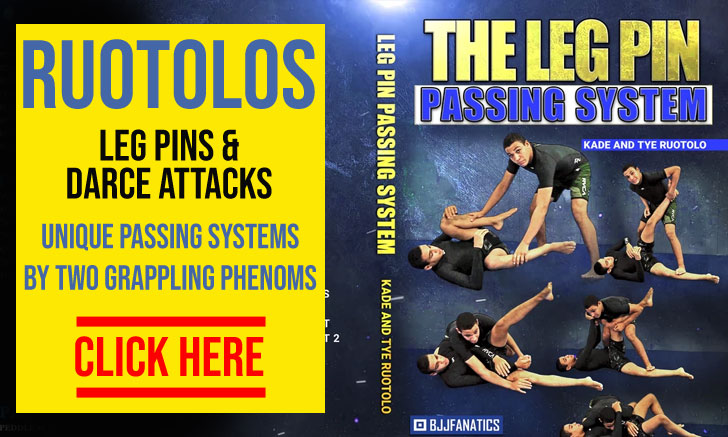 Daniel Correia, commonly known as Daniel "Moraes" is a Brazilian Jiu Jitsu black belt under Royler Gracie and Marcelo Clemente, being known as one of the best lightweight competitors of his generation through his numerous titles such as World jiu jitsu champion and Pan American jiu jitsu champion. Once Daniel left his native Brazil to move to the USA he became a head coach at the Relson Gracie academy, where he was revered for his important work.
Daniel Moraes Jiu Jitsu
Full Name: Daniel Correia
Nickname: "Moraes" is not actually Daniel's last name and is more of a nickname Daniel acquired as a child in association with his highly respected uncle Jose Moraes
Lineage: Mitsuyo Maeda > Carlos Gracie > Helio Gracie > Royler Gracie > Daniel Moraes
Main Achievements:
World Champion (1999 blue, 2000 purple, 2003, 2004)
Pan American Champion (2004)
ADCC Brazilian Trials Champion (2003)
World No Gi Champion (2008)
Brazilian NoGi National Champion (2007, 2006, 2005)
Copa America Champion (2010, 2009, 2008)
Gracie World's Champion (2007, 2006, 2005)
World No-Gi Silver Medallist (2010)
Favourite Position/Technique: Pressure Passing
Weight Division: Peso Leve (76kg/167lbs)
Team/Association: Relson Gracie
Daniel Moraes Biography
Daniel "Moraes" Correira was born on the 18th of August 1981 in Rio de Janeiro, Brazil.
Daniel's first experience with grappling happened at the Iate Clube Jardim Guanabara, when he was 5 years old at the club's jiu jitsu program.
Royler Gracie and Marcelo Clemente were Moraes' coaches throughout the course of his jiu jitsu career in Brazil, being awarded his black belt by the pair in 2002.
Once Daniel decided to move from his native Brazil, to the United States following his dream of becoming a professional jiu jitsu coach, he sought out Relson Gracie, becoming a Relson Gracie Academy affiliate.
Daniel also competed in mixed martial arts (MMA), having a very positive run from 2006 to 2008 where he picked up a submission win over UFC veteran Matt Brown.
Daniel Moraes Grappling Record
80 WINS
BY POINTS


BY ADVANTAGES




BY SUBMISSION




BY DECISION




BY PENALTIES




BY DQ



14 SUBMISSIONS WINS
22 LOSSES
BY POINTS


BY ADVANTAGES




BY SUBMISSION




BY DECISION




BY PENALTIES




BY DQ



2 SUBMISSIONS LOSSES
#86e620
Choke from back
50
1
Daniel Moraes Fight History
ID
Opponent
W/L
Method
Competition
Weight
Stage
Year
622

Marcio Feitosa

Marcio Feitosa
L
Points
Arnold Classic
73KG
F
2001
628

Vitor Shaolin

Vitor Shaolin
L
Points
Arnold Classic
73KG
F
2002
714

Carlos Portugues

Carlos Portugues
L
Adv
Pan American
73KG
F
2002
724

Alexandre Dantas

Alexandre Dantas
L
Points
Estadual RJ
88KG
4F
2002
738

Suyan Queiroz

Suyan Queiroz
L
Adv
Liga Niteroi
73KG
F
2002
754

Otto Olsen

L
Points
ADCC Trials
77KG
F
2003
835

Vitor Shaolin

Vitor Shaolin
L
Pts: 2x0
Arnold Classic
73KG
SF
2003
963

Wagney Fabiano

L
Points
Arnold Classic
73KG
R1
2004
1112

Reinaldo Ribeiro

Reinaldo Ribeiro
L
Choke from back
GP Blackbelt
70KG
SF
2004
1288

Tiago Alves

Tiago Alves
L
Points
World Champ.
76KG
R1
2005
1342

Andre Bastos

L
DQ
Liga Niterói
76KG
4F
2005
1345

Kurt Pellegrino

L
Referee Decision
Arnold Classic
73KG
SF
2005
1436

Marcelo Garcia

Marcelo Garcia
L
DQ
World Champ.
82KG
SF
2006
1645

Andre Galvao

Andre Galvao
L
Pts: 16x2
ADCC Trials
77KG
F
2007
1812

Pablo Popovitch

Pablo Popovitch
L
Points
World NoGi
79KG
F
2007
2216

Murilo Santana

Murilo Santana
L
Points
ADCC Trials
77KG
SF
2009
2424

Carlos Ferreira

L
Points
NoGi Worlds
79KG
SF
2009
2599

Marcus Almeida

Marcus Almeida
L
RNC
Copa America
ABS
SF
2010
2616

Pablo Popovitch

Pablo Popovitch
L
Pts: 6x0
No Gi Worlds
86KG
F
2010
6997

Delson Heleno

Delson Heleno
L
Pts: 6x0
ADCC RJ
88KG
8F
2015
7008

Romulo Azevedo

Romulo Azevedo
L
Points
Aberto de verão
88KG
F
2015
7324

Gregor Gracie

Gregor Gracie
L
Points
Copa Podio
ABS
SPF
2015
619

Hermes Franca

W
Points
Arnold Classic
73KG
R1
2001
620

Jeff Curran

W
Points
Arnold Classic
73KG
4F
2001
621

Anthony Tolene

W
Points
Arnold Classic
73KG
SF
2001
625

Shawn Williams

Shawn Williams
W
Points
Arnold Classic
73KG
R1
2002
626

Jeff Curran

W
Points
Arnold Classic
73KG
4F
2002
627

Alberto Crane

Alberto Crane
W
Pts: 11x0
Arnold Classic
73KG
SF
2002
711

Wander Braga

Wander Braga
W
Pts: 6x0
Pan American
73KG
R1
2002
712

Marcelo Queiroz

W
Submission
Pan American
73KG
4F
2002
713

Alberto Crane

Alberto Crane
W
Pts: 3x0
Pan American
73KG
SF
2002
735

Joao Silva

W
Pts: 8x2
Gracie Pac. Rim
ABS
4F
2002
736

Baret Yoshida

Baret Yoshida
W
Pts: 11x0
Gracie Pac. Rim
ABS
SF
2002
737

Gabriel Willcox

W
Points
Liga Niteroi
73KG
SF
2002
739

Pedro Brandao

W
Points
Bud Cup
ABS
SF
2002
740

Carlos Lemos

Carlos Lemos
W
Points
Bud Cup
ABS
F
2002
750

Johil de Oliveira

W
Pts: 21x0
ADCC Trials
77KG
R1
2003
752

Fernando Terere

Fernando Terere
W
Pts: 2x0
ADCC Trials
77KG
4F
2003
753

Marcelo Garcia

Marcelo Garcia
W
Pen
ADCC Trials
77KG
SF
2003
830

Jorge Gurgel

W
Pts: 8x0
Bud Cup
73KG
SPF
2003
832

Jeff Curran

W
Points
Arnold Classic
73KG
R1
2003
834

N. Phungephorn

W
Pts: 6x0
Arnold Classic
73KG
4F
2003
876

Pete deBeen

W
Injury
World Champ.
76KG
R1
2003
878

Frederico Ribeiro

W
Pts: 5x0
World Champ.
76KG
4F
2003
880

Bruno de Paula

W
Points
World Champ.
76KG
SF
2003
881

Marcio Feitosa

Marcio Feitosa
W
Adv
World Champ.
76KG
F
2003
994

Armando Guedes

W
Submission
Pan American
76KG
4F
2004
997

Edson Diniz

Edson Diniz
W
Pts: 14x0
Pan American
76KG
SF
2004
998

Carlos Portugues

Carlos Portugues
W
Referee Decision
Pan American
76KG
F
2004
1052

Diego Asenjo

W
Points
World Champ.
76KG
4F
2004
1053

Bruno de Paula

W
Pts: 4x0
World Champ.
76KG
SF
2004
1054

Rodrigo Magalhaes

W
Pts: 4x0
World Champ.
76KG
F
2004
1104

Ocimar Costa

W
Pts: 13x0
GP Blackbelt
70KG
R1
2004
1110

Mario Reis

Mario Reis
W
Adv
GP Blackbelt
70KG
4F
2004
1122

Rafael Assuncao

W
Points
Arnold Classic
73KG
4F
2005
1123

Jack McVicker

Jack McVicker
W
Points
Arnold Classic
73KG
SF
2005
1124

Edson Diniz

Edson Diniz
W
Points
Arnold Classic
73KG
F
2005
1330

Rodrigo Damm

W
Pts: 5x0
Copa Cyclone
ABS
SPF
2005
1341

Theodoro Canal

Theodoro Canal
W
Submission
Liga Niterói
76KG
R1
2005
1343

Chris Moriaty

W
Referee Decision
Arnold Classic
73KG
R1
2005
1344

Matt Jones

W
Submission
Arnold Classic
73KG
4F
2005
1428

Mike Fowler

Mike Fowler
W
Pts: 5x0
World Champ.
82KG
R1
2006
1434

Yan Cabral

W
Pts: 3x0
World Champ.
82KG
4F
2006
1474

Rodrigo Damm

W
Points
Copa Cyclone
SPF
77KG
2006
1541

Edson Chulapa

W
RNC
Copa Cyclone
77KG
SPF
2006
1640

Carlos Eduardo

W
Points
ADCC Trials
77KG
R1
2007
1641

Bernardo Magalhaes

W
Submission
ADCC Trials
77KG
8F
2007
1642

Marcelo Azevedo

Marcelo Azevedo
W
Points
ADCC Trials
77KG
4F
2007
1644

Lucas Leite

Lucas Leite
W
Points
ADCC Trials
77KG
SF
2007
1809

V. Rocha

W
Points
World NoGi
79KG
4F
2007
1811

Bill Cooper

Bill Cooper
W
Guillotine
World NoGi
79KG
SF
2007
1828

Bruno de Paula

W
Points
FILA Trials
77KG
SF
2007
1829

Denilson Soldani

W
Points
FILA Trials
77KG
F
2007
2010

Raphael Chaves

Raphael Chaves
W
Referee Decision
NoGi Worlds
79KG
R1
2008
2012

Jonatas Novaes

W
Pts: 11x0
NoGi Worlds
79KG
4F
2008
2013

Carlos Ferreira

W
Points
NoGi Worlds
79KG
SF
2008
2015

Lucas Lepri

Lucas Lepri
W
Pts: 0x0, Adv
NoGi Worlds
79KG
F
2008
2214

Alexandre Pulga

Alexandre Pulga
W
Submission
ADCC Trials
77KG
4F
2009
2400

Roberto Abreu

Roberto Abreu
W
Points
Copa America
ABS
SF
2009
2401

Mike deBartolo

W
Submission
Copa America
ABS
F
2009
2417

Nik Ruben

W
Points
NoGi Worlds
79KG
8F
2009
2420

Marcelo Mafra

Marcelo Mafra
W
Referee Decision
NoGi Worlds
79KG
4F
2009
2447

Alan Berube

W
Submission
Copa America
ABS
4F
2009
2448

Matt Aroyo

W
Points
Copa America
ABS
SF
2009
2449

Reby Donofrio

W
Points
Copa America
ABS
F
2009
2468

Jordan Schultz

W
Points
GQ Europa
77KG
4F
2010
2469

Andrew Mcinnes

W
Points
GQ Europa
77KG
SF
2010
2471

Enrico Cocco

Enrico Cocco
W
Points
GQ Europa
77KG
F
2010
2593

James Clingerman

W
Submission
No Gi Panams
79KG
R1
2010
2594

Bruno Tostes

W
Submission
No Gi Panams
79KG
8F
2010
2595

Mike Camarillo

W
Points
No Gi Panams
79KG
4F
2010
2596

Reby Donofrio

W
Points
Copa America
ABS
R1
2010
2597

Matt Aroyo

W
Points
Copa America
ABS
8F
2010
2598

Fred Moncaio

W
Points
Copa America
ABS
4F
2010
2614

Kleber Buiú

W
Pts: 8x0
No Gi Worlds
86KG
SF
2010
2819

Tony Tipton

W
Pts: 3x0
Rupture Houston
92KG
4F
2010
2820

Carlo Prater

W
Pts: 4x0
Rupture Houston
92KG
SF
2010
2821

Frost Murphy

W
Pts: 20x0
Rupture Houston
92KG
F
2010
5222

Jonathan Valle

W
Pts: 9x0
Ilha Sports
ABS
SPF
2014
7007

Marcos Grael

W
Pts: 5x0
Aberto de verão
88KG
SF
2015
9478

Leonardo Ramos

W
Submission
Copa Helio Gracie
82KG
SF
2016
9479

Everton Luis

W
Submission
Copa Helio Gracie
82KG
F
2016
Daniel Moraes vs Allen Berube "Monstah"

Daniel Moraes vs Denilson Soldani

Daniel Moraes vs Lucas Lepri

Daniel Moraes vs Matt Arroyo