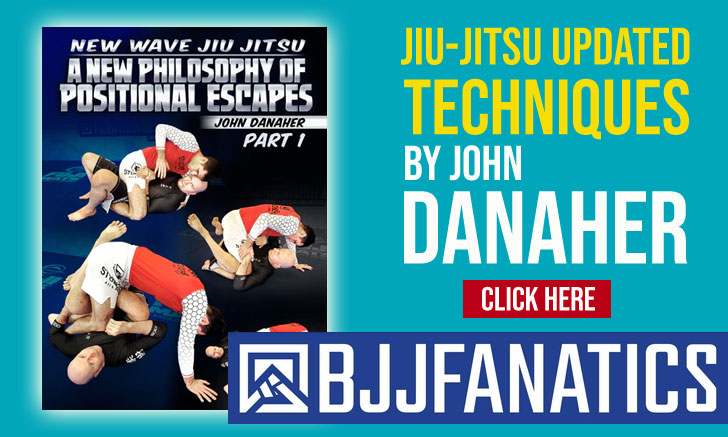 Jan Buatim is a Brazilian jiu jitsu black belt under Leandro Lo, who's also trained extensively with Pedro Mello. One of the rising stars of the 'New School Brotherhood' academy, Buatim became a respected competitor while battling in Brazil's national grappling circuit, conquering medals in important tournaments such as the South Brazilian Championships, Floripa Open and Brazil National Pro.
Jan Buatim Jiu Jitsu
Full Name: Jan Buatim Wamser
Nickname: n/a
Lineage: Mitsuyo Maeda > Carlos Gracie > Helio Gracie > Rickson Gracie > Marcelo Behring > Waldomiro Perez> Roberto Godoi > Marco Barbosa > Cicero Costha > Leandro Lo > Jan Buatim
Main Achievements:
Premium Cup Champion (2016 brown)
Interstate MG/SP Champion (2016 black weight + absolute)
Taboão da Serra Champion (2016 brown weight + absolute)
São José Cup Champion (2014 purple weight + absolute )
Copa Blumenau Champion (2014 purple weight + absolute)
Copa Stance Champion (2014 brown)
Brazil Open Champion (2014 purple)
South Brazilian Championship Runner-up (2014 purple)
San Francisco International Open Runner-up (2014 purple)
Floripa International Open Championship Runner-up (2013 purple)
South Brazilian Championship 3rd Place (2012 purple)
San Francisco International Open 3rd Place (2013 purple weight + absolute)
Houston International Open 3rd Place (2013 purple)
Floripa International Open 3rd Place (2016 black)
FIVE Grappling California 1 3rd place (2014 purple)
Brazil National Pro 3rd Place (2016 brown)
Premium Cup 3rd Place (2016 brown absolute)
Favorite Position/Technique: Berimbolo
Weight Division: Peso Leve (76kg/168lbs) – Peso Médio (82kg/181lbs)
Team/Association: NS Brotherhood
Jan Buatim Biography
Jan Buatim was born on the 20th of December, 1989 in Blumenau, Santa Catarina – Brazil.
Jan was introduced to martial arts at the age of 5, starting with judo. A sport he practised regularly for 6 years, reaching his purple belt before a switch to taekwondo at 12. Two years into his TKD training Buatim decided to stop his athletic endeavours, going on to lead a sedentary lifestyle of video games and fast food. This new approach to life led to obesity in his mid teens, nearing 100kg (221lbs) at the age of 14.
It was around then that Jan decided to make a change in his life, joining a health club where he started lifting weights. At this same gym, Buatim met Juliano Wandalen a jiu jitsu coach who also worked out there.
Juliano, commonly known as "Ninja", was in shape and highly popular with members of the opposite sex, quickly becoming a strong influence for a young and impressionable Buatim, who decided to join his jiu jitsu class.
Through jiu jitsu Jan lost 20kg (44lbs). Travelling, hanging around his academy's colleagues and going to tournaments with them transformed Buatim in a more independent and extrovert teenager. At 16 years of age Jan Buatim travelled to Niterói on his own, to compete at the CBJJO World Cup (where he reached a second place). This was another big step for the youngster, who realised then the potential jiu jitsu had in his life. The places, experiences and opportunities the sport offered.
Once Jan joined the University of UFSC in Florianópolis, he dropped jiu jitsu, finding it hard to reconcile his academic life with sports, particularly due to the lack of high level training near him. He would return to the sport two years  later, at Pedro Mello's academy. One of the top coaches in Santa Catarina.
Under Mello's guidance, Jan returned to competition, travelling around the country while also making his first trips abroad to train with the Mendes brothers at the Art of Jiu Jitsu academy (AOJ) and compete, earning his brown belt from Pedro shortly after his first Pan American Championship experience in 2014.
After graduating from university as a chemical engineer (June 2016), Buatim started working in the industry – while daydreaming about jiu jitsu. The desire to be on the mats drove Buatim to quit his job and move to Sao Paulo, where the sport is stronger than in Santa Catarina. A few of Jan's training partners had moved to the (then) newly founded New School Brotherhood, and Buatim decided to join them on October 2015.
Under Leandro Lo's guidance, the leader of NSB, Jan Buatim grew as a competitor, earning his black belt from Lo on July 1, 2016.
Jan Buatim Grappling Record
22 WINS
BY POINTS


BY ADVANTAGES




BY SUBMISSION




BY DECISION




BY PENALTIES




BY DQ



8 SUBMISSIONS WINS
#214eb8
Choke from back
25
2
#5AD3D1
Knee on belly/choke
13
1
#224aba
Bow and arrow
13
1
23 LOSSES
BY POINTS


BY ADVANTAGES




BY SUBMISSION




BY DECISION




BY PENALTIES




BY DQ



7 SUBMISSIONS LOSSES
#214eb8
Choke from back
29
2
#5AD3D1
Bow and arrow
14
1
Jan Buatim Fight History
ID
Opponent
W/L
Method
Competition
Weight
Stage
Year
10575

Jaime Canuto

Jaime Canuto
L
Armbar
Sao Paulo Open
82KG
8F
2016
10601

Pedro Martins

L
Points
Brasilia Open
76KG
SF
2016
10728

Luciano Bernert

L
Pts: 8x8, Adv
Floripa Open
82KG
SF
2016
11046

Rodrigo Conceicao

Rodrigo Conceicao
L
Points
Grand Slam RJ
77KG
R2
2016
12151

Andris Brunovskis

Andris Brunovskis
L
Bow and arrow
Pan American
76KG
R1
2017
12428

Fabio Caloi

Fabio Caloi
L
Omoplata
Floripa Fall Open
76KG
SF
2017
12762

Fabio Caloi

Fabio Caloi
L
Estima lock
Brasileiro
76KG
8F
2017
12993

Luciano Bernert

L
Pts: 2x2, Adv
Curitiba Fall Open
76KG
SF
2017
13474

Otavio Sousa

Otavio Sousa
L
Choke from back
ACBJJ World
85KG
F
2017
14117

Hugo Marques

Hugo Marques
L
Pts: 2x0
Floripa Sp. Open
82KG
SF
2017
14339

Hugo Marques

Hugo Marques
L
Pts: 7x0
Grand Slam RJ
77KG
R1
2017
14467

Luciano Macedo

L
Points
South American
76KG
4F
2017
14513

Eduardo Vieira

L
N/A
Brasilia Open
76KG
F
2017
15496

K. Schorabski

L
Pts: 3x2
Grand Slam LDN
77KG
R1
2018
15556

Bruno Borges

L
Choke
ACB European
75KG
R1
2018
15940

Victor Matos

L
Pts: 2x2, Adv
Curitiba Open
76KG
SF
2018
16217

Julio Muniz

L
Points
Brasileiro
76KG
R1
2018
16494

Masahiro Iwasaki

Masahiro Iwasaki
L
Pts: 0x0, Adv
World Champ.
76KG
R2
2018
17908

Fernando Pessoa

L
N/A
Curitiba SPO
82KG
4F
2018
18361

Alexandre Jesus

Alexandre Jesus
L
Choke from back
South American
82KG
R1
2018
18555

Joao Soares

L
N/A
BH Sp Open
ABS
4F
2018
18743

Jhonny Loureiro

Jhonny Loureiro
L
Points
Porto Alegre Open
82KG
F
2018
21436

Lucas Valle

L
N/A
Las Vegas Open
82KG
4F
2019
10557

Unknown

W
Pts: 2x0
Interstate SP-MG
ABS
SF
2016
10558

Unknown

W
Choke
Interstate SP-MG
ABS
SF
2016
10574

Áquila Paula

W
Pts: 2x0
Sao Paulo Open
82KG
R1
2016
10600

A. Vieira

W
Pts: 12x4
Brasilia Open
76KG
4F
2016
10727

Fernando Silveira

W
Knee on belly/choke
Floripa Open
82KG
4F
2016
11241

Unknown

W
Referee Decision
South American
82KG
R1
2016
12423

Anderson Prazeres

W
Pts: 4x2
Floripa Fall Open
76KG
R1
2017
12425

Thiago Abreu

Thiago Abreu
W
Referee Decision
Floripa Fall Open
76KG
4F
2017
12747

Gustavo Debortoli

W
Pts: 7x0
Brasileiro
76KG
R1
2017
12756

Eduardo Souza

W
Triangle
Brasileiro
76KG
R2
2017
12992

Carlos Makla

W
Armbar
Curitiba Fall Open
76KG
4F
2017
13473

Mustakov Aiazbek

W
Points
ACBJJ World
85KG
SF
2017
14115

Moises Cavalcante

W
Choke from back
Floripa Sp. Open
82KG
4F
2017
14466

Andre Ferreira

W
Submission
South American
76KG
R1
2017
14511

Carlos Makla

W
N/A
Brasilia Open
76KG
4F
2017
14512

Italo Gules

W
N/A
Brasilia Open
76KG
SF
2017
15253

Alberto Serrano

W
Choke from back
Mexico Winter Open
76KG
F
2018
15939

Osmar Gustavo

W
Pts: 7x2
Curitiba Open
76KG
4F
2018
16398

Fernando Latorre

W
Pts: 10x8
Miami SPO
82KG
SF
2018
16399

Athos Miranda

W
Bow and arrow
Miami SPO
82KG
F
2018
18552

Thales Oliveira

W
Points
BH Sp Open
ABS
R1
2018
21434

Samuel Wells

W
N/A
Las Vegas Open
82KG
R1
2019
Jan Buatim Position from ½ Spider Guard

Jan Buatim @Houston Open – IBJJF

Jan Buatim @FIVE Grappling