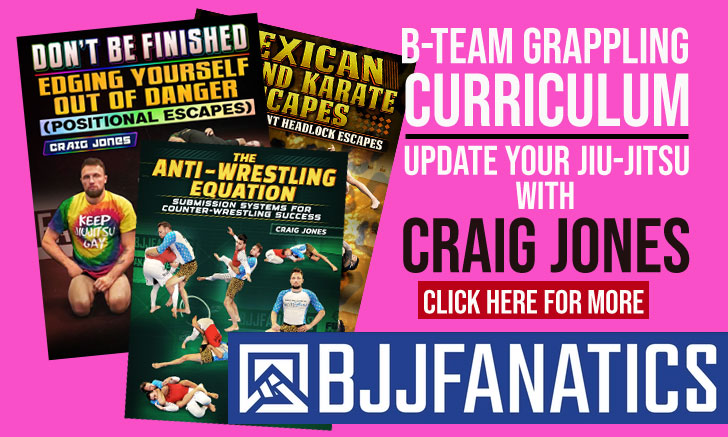 Eduardo Santoro, also known as Eduardo "Português" (Portuguese), is one of the top medium heavyweight jiu jitsu competitors of his generation. A black belt under Max Trombini from Cia Paulista, Eduardo Santoro won some of the most important Brazilian jiu jitsu tournaments in the world, such as the Brazilian National, the Pan American and the World Championships (on two separate organizations), Eduardo Santoro has also defeated some of the toughest competitors of his generation, such as Sergio Moraes and Yan Cabral.
Eduardo Santoro "Portuguese" Jiu Jitsu
Full Name: Eduardo Santoro de Camargo
Nickname: Portuguese/Português, the reason for the nickname has not been disclosed.
Lineage: Mitsuyo Maeda > Carlos Gracie > Helio Gracie > Rickson Gracie > Marcelo Behring > Valdomiro Junior > Milton Maximiliano > Eduardo Santoro
Main Achievements:
Brazilian National Champion (2008, 2012 CBJJ)
World Cup Champion (2010 weight & absolute)
IBJJF World Champion (1999 purple, absolute)
CBJJE World Champion (2008)
Pan American Champion (2000, 2001)
International Masters & Seniors Champion (2008 absolute)
Sao Paulo State Champion (2009, 2007)
II Black Belt Challenge Champion (2003)
World Pro Cup Brazilian Trials Winner (2011)
Pan American Silver Medallist (2011, 2002)
IBJJF World Bronze Medallist (2011, 2003, 2001 brown)
Brazilian National Bronze Medallist (2009)
Favourite Position/Technique: Closed Guard
Weight Division: Meio Pesado (88kg/195lbs)
Team/Association: Cia Paulista (Companhia Paulista)
Eduardo Santoro "Portugues" Biography
Eduardo Santoro was born on the 26 of April, 1976 in Sao Paulo, Brazil. Santoro started training jiu jitsu when he was 18 years old in his native city. He progressed through the ranks in Cia Paulista becoming one of the team's main competitors.
When Eduardo Santoro reached his purple belt, jiu jitsu was already the main ambition in his life, this was why he decided to start teaching BJJ as an assistant instructor at the academy, and it was also when Portuguese was a purple belt that he conquered one of his most prestigious titles at the world championships, becoming the open weight champion (1998), settling himself as one of the hottest prospects in the sport.
Eduardo Santoro received his black belt in 2001 from the hands of Max Trombini, one of Cia Paulista's leading figures. Eduardo continued testing himself in tournaments all around the world being famous for competing regularly in the adult division (and medaling consistently) when well in his 30's.
Eduardo Santoro vs Sergio Moraes

Eduardo Santoro vs Renan Vital

Eduardo Santoro vs Yan Cabral