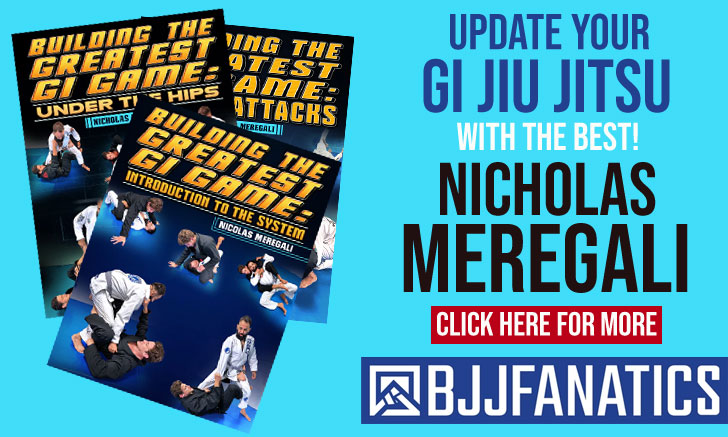 Gerard Labinski is a Polish-born Brazilian jiu-jitsu black belt under Leandro Lo, being a strong representative of the New School Brotherhood team in this sport/martial art's international circuit. Labinski is also widely regarded as one of the top European grapplers of his generation, a reputation conquered through his important wins in the colored belt divisions and further cemented as a black belt.
Gerard Labinski Jiu-Jitsu
Full Name: Gerard Piotr Labinski
Nickname: Gerard is sometimes referenced simply as "G".
Lineage: Carlos Gracie > Helio Gracie > Rickson Gracie > Marcelo Behring > Waldomiro Perez> Roberto Godoi > Marco Barbosa > Cicero Costha > Leandro Lo > Gerard Labinski
Main Achievements:
1st Place IBJJF South Brazilian Championship (2019)
1st Place IBJJF Curitiba Summer Open (2019)
1st Place UAEJJF Grand Slam – RJ (2017)
2nd Place UAEJJF Grand Slam – LDN (2018)
3rd Place CBJJ Brazilian Nationals (2019)
3rd Place IBJJF European Open (2020)
Main Achievements (Colored Belts):
1st Place IBJJF Pans Championship (2017 brown)
1st Place IBJJF South American Championship (2017 brown)
1st Place IBJJF American Nationals (2017 brown)
2nd Place IBJJF World Championship (2017 brown)
2nd Place IBJJF World Championship (2016 brown)
Favorite Position/Technique: Worm Guard
Weight Division: Super Pesado (100,50 kg / 222.0 lbs)
Team/Association: New School Brotherhood
Gerard Labinski Biography
Gerard Labinski was born in Poland on March 19, 1994.
Labinski's father, Przemyslaw was a strong competitor in the Polish judo scene and it was he who introduced young Gerard to the art of throwing in 1999 – a sport he practiced throughout his childhood, all the way to his mid-teens.
Although judo was well embedded in his family's culture, Gerard never felt the drive to seriously pursue that avenue. This changed when he started watching jiu jitsu tutorials online during his teenage years, which developed his curiosity for the ground game.
Since the rules for groundwork in judo limited a lot of what Gerard was discovering through these online jiu-jitsu videos, at the age of 15 he decided to look for a BJJ gym where he could test and expand on these moves finding it in Warsaw's Copacabana Academy – an affiliate of Braulio Estima.
Copacabana's teaching method was very free and open-minded. Students were left to drill as they pleased and Labinski was very much a self-taught during this period, learning from a few of Braulio Estima's seminars and rolls with the higher belts – Mieszko Maciejewski, in particular, was an important source of knowledge.
Once Gerard became more invested in competition he befriended a fellow Polish athlete by the name of Filip Sadowski. The two shared a great curiosity for BJJ and started traveling through Europe, competing and training where they could. Gerard and Filip would later decide on a trip to Las Vegas – USA, staying at Robert Drysdale's academy who then became another important figure in Gerard's development as a grappler.
Although Gerard traveled regularly through Europe, the United States and later Japan, his promotions were all done by the hands of Braulio Estima, in Warsaw. This was until Labinski's brown belt, a time when he moved to Brazil where he joined Leandro Lo's New School Brotherhood – another academy with a very loose curriculum.
At NS Brotherhood Gerard Labinski found his home, training and competing regularly in one of the toughest grappling circuits in the world. This experience would lead to his black belt promotion by Leandro Lo, which happened in June 2017.
Photo produced by UAEJJF during the Abu Dhabi Grand Slam Tour – RJ (2017).
Gerard Labinski Grappling Record
31 WINS
BY POINTS


BY ADVANTAGES




BY SUBMISSION




BY DECISION




BY PENALTIES




BY DQ



11 SUBMISSIONS WINS
17 LOSSES
BY POINTS


BY ADVANTAGES




BY SUBMISSION




BY DECISION




BY PENALTIES




BY DQ



3 SUBMISSIONS LOSSES
#214eb8
Triangle armbar
33
1
Gerard Labinski Fight History
ID
Opponent
W/L
Method
Competition
Weight
Stage
Year
15537

Thiago Sa

Thiago Sa
L
Referee Decision
Grand Slam LDN
110KG
F
2018
17078

Joao Oliveira

L
Points
Vitoria Open
94KG
SF
2018
17629

Erberth Santos

Erberth Santos
L
Pts: 2x0
King of Mats
110KG
RR
2018
17635

Jackson Sousa

Jackson Sousa
L
Pts: 2x0
King of Mats
110KG
RR
2018
18373

Hygor Brito

Hygor Brito
L
Pts: 2x0
South American
94KG
F
2018
18931

Fellipe Andrew

Fellipe Andrew
L
Triangle armbar
European Open
100KG
4F
2019
20330

Vinicius Trator

Vinicius Trator
L
Referee Decision
Brasileiro
94KG
SF
2019
20683

Adam Wardzinski

Adam Wardzinski
L
Pts: 9x0
World Champ.
94KG
R1
2019
20746

Jackson Sousa

Jackson Sousa
L
Pts: 4x2
King of Mats
110KG
RR
2019
20749

Joao Rocha

Joao Rocha
L
Pts: 5x0
King of Mats
110KG
RR
2019
21052

Helton Jose

Helton Jose
L
Referee Decision
ACB World Champ.
95KG
4F
2019
21705

R. Evangelista

R. Evangelista
L
Pts: 4x2
Grand Slam LA
120KG
F
2019
22349

Rafael Massage

L
Referee Decision
Grand Slam RJ
120KG
4F
2019
23011

Rodrigo Ribeiro

Rodrigo Ribeiro
L
Pts: 3x1
Grand Slam AD
120KG
SF
2020
23144

Fellipe Andrew

Fellipe Andrew
L
Pts: 13x0
European Open
100KG
SF
2020
29296

Lucas Barbosa

Lucas Barbosa
L
Armbar
Raw GC
ABS
SPF
2021
29388

Roosevelt Sousa

Roosevelt Sousa
L
Botinha
King Of Mats
120KG
RR
2021
14388

Diego Braz

W
Pts: 4x0
Grand Slam RJ
110KG
4F
2017
14390

A. Netto

W
Pts: 12x0
Grand Slam RJ
110KG
SF
2017
14391

Igor Silva

Igor Silva
W
Pts: 0x0, Adv
Grand Slam RJ
110KG
F
2017
15336

S. Varshavskiy

W
Kneebar
London WO
100KG
F
2018
15536

Matt Leighton

Matt Leighton
W
Referee Decision
Grand Slam LDN
110KG
SF
2018
17641

Alexandre Ceconi

Alexandre Ceconi
W
Pts: 2x0
King of Mats
110KG
RR
2018
18370

Pedro Peres

W
Adv
South American
94KG
4F
2018
18372

Filipe Pinheiro

W
Pts: 7x2
South American
94KG
SF
2018
18435

Wilker Costa

W
Pts: 5x0
Salvador SPO.
94KG
SF
2018
18436

Julio Viotti

W
RNC
Salvador SPO.
94KG
F
2018
18549

Luis Quinteiro

W
N/A
BH Sp Open
94KG
SF
2018
18990

Gesuel Aguiar

W
Submission
Guarapari Pro
94KG
SF
2019
18991

Elkjaer Lourenco

W
Submission
Guarapari Pro
94KG
F
2019
19060

Luis Felipe

W
N/A
South Brazilian
94KG
4F
2019
19063

Richard Goncalves

W
N/A
South Brazilian
94KG
SF
2019
19245

Hugo Silva

W
Pts: 5x0
Brazil Nat. Pro
94KG
4F
2019
19246

Lucas Campelo

W
Pts: 6x0
Brazil Nat. Pro
94KG
SF
2019
19248

Henrique Lima

W
Submission
Brazil Nat. Pro
94KG
F
2019
19305

Christofer Biude

W
Pts: 5x0
Curitiba SMO
94KG
4F
2019
19306

Henrique Lima

W
Pts: 3x0
Curitiba SMO
94KG
SF
2019
19307

Vitor Toledo

Vitor Toledo
W
Pts: 4x2
Curitiba SMO
94KG
F
2019
19725

Lawrence Lagos

W
Pts: 6x0
Floripa Fall Open
94KG
4F
2019
19726

Henrique Lima

W
Kneebar
Floripa Fall Open
94KG
F
2019
20324

Felipe Pinheiro

W
RNC
Brasileiro
94KG
R1
2019
20328

Daniel Alves

W
Toe hold
Brasileiro
94KG
4F
2019
20754

Igor Silva

Igor Silva
W
Pts: 2x0
King of Mats
110KG
RR
2019
21250

Daewong Lee

W
RNC
Grand Slam TYO
120KG
SF
2019
21251

Victor Hugo

Victor Hugo
W
Pts: 2x0
Grand Slam TYO
120KG
F
2019
21704

Gustavo Dias

Gustavo Dias
W
Toe hold
Grand Slam LA
120KG
SF
2019
22597

Paulo Dantas

W
Kneebar
South American
100KG
4F
2019
22599

Harryson Pereira

Harryson Pereira
W
Points
South American
100KG
SF
2019