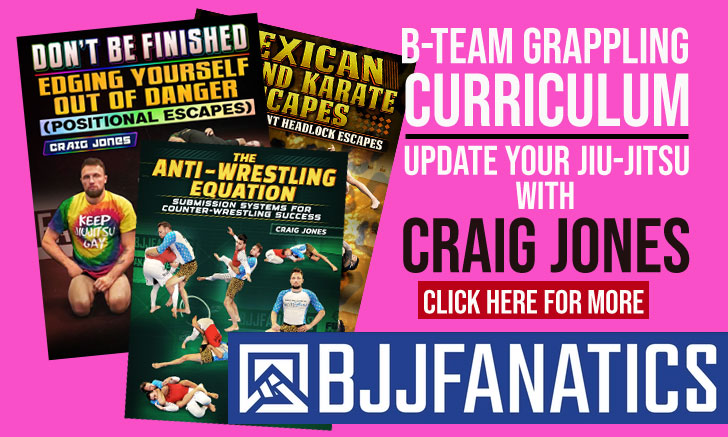 Marcos Vinicius Martins, often referenced as Marcos "Petcho", is a Brazilian jiu-jitsu black belt under Marco Barbosa and Diego Martins, as well a representative of São Paulo Brazil-based team, B9. Martins became widely recognized as one of the top athletes of his generation after his wins at big events of the International Brazilian Jiu-Jitsu Federation (IBJJF) and Confederação Brasileira de Jiu-Jitsu (CBJJ) calendar, the sport's most competitive circuit.
Marcos Petcho Jiu-Jitsu
Full Name: Marcos Vinicius de Oliveira Martins
Nickname: "Petcho" was a name that Marcos' brothers gave him during childhood. Martins' siblings were very dark-skinned (in Portuguese "Preto"), though Marcos was of a much lighter tone. They would joke around saying Martins wasn't a real "Preto", but rather a mix, a "Petcho". The name remained associated with the young man throughout his formative years and into adulthood.
Lineage: Carlos Gracie > Helio Gracie > Rickson Gracie > Marcelo Behring > Waldomiro Perez > Roberto Godoi > Marco Barbosa (> Diego Martins) > Marcos Martins
Main Achievements:
1st Place IBJJF South Brazil Championship (2019)
1st Place IBJJF Rio Open (2019)
2nd Place CBJJ Brazilian Nationals (2021)
2nd Place CBJJ Brazilian Nationals NOGI (2019)
2nd Place Big Deal Pro Grand Prix (2021)
3rd Place CBJJ Brazilian Nationals (2019)
Main Achievements (Colored Belts):
1st Place IBJJF Brazilian National (2016 purple)
1st Place IBJJF Brazilian No-Gi National (2016/2017 purple, 2018 brown)
1st Place IBJJF European No-Gi Open (2018 brown)
1st Place IBJJF South American (2016 purple, 2017/2018 brown)
1st Place UAEJJF Grand Slam Rio de Janeiro (2017 brown)
1st Place UAEJJF Grand Slam Abu Dhabi (2018 brown)
1st Place São Paulo No-Gi Open (2018 brown)
3rd Place São Paulo Open (2018 brown)
3rd Place UAEJJF Grand Slam London (2018 brown)
3rd Place IBJJF Brazilian No-Gi National (2015 purple)
Favorite Position/Technique: Triangle
Weight Division: Meio Pesado (88,30 kg / 195.0 lbs)
Team/Association: Barbosa JJ (B9)
Marcos Petcho Biography
Marcos Martins was born on February 8, 1997, in São Bernardo do Campo, a Brazilian municipality in the state of São Paulo.
Marcos' connection with sports grew from a non-profit, community based, social project that operated in Martins' neighborhood. The objective of this enterprise was to occupy local kids while their parents were at work, and it offered a variety of activities from which the children could choose three (3) to focus. Petcho first started learning how to skateboard and parkour, while also joining the theatre group.
At the age of 12 (2009), also through the aforementioned social project, Marcos Petcho discovered jiu-jitsu, starting his learning with coach Anderson de Oliveira. Martins soon became a more committed BJJ student and joined a CIA Paulista affiliated gym, where he learned from "Costela", also known as Fernando Silva. It was Silva who awarded Marcos his blue belt.
As a blue belt, Marcos decided he wanted to pursue a career in jiu-jitsu. To pursue this objective Martins decided to follow a more tournament-focused team, finding it at a Barbosa Jiu-Jitsu (B9) affiliate gym with coach Diego Martins. His commitment to this BJJ dream took an extra step forward when he turned 18 and decided to move to the state capital, São Paulo, and joined B9 head coach Marco Barbosa.
Although taking every step towards one day becoming an IBJJF World Champion, Marcos Petcho's goal was stopped short every year during his colored belt campaigns due to the United States – where the competition occurs, denying the young São Paulo native his visa. Having conquered every title available on a national stage, on December 8, 2018, Martins was promoted to black belt by coach Barbosa. A ceremony that took place with coach Diego Martins' blessing.
Marcos Martins Grappling Record
76 WINS
BY POINTS


BY ADVANTAGES




BY SUBMISSION




BY DECISION




BY PENALTIES




BY DQ



41 SUBMISSIONS WINS
#86e620
Choke from back
15
6
#ff9124
No arm triangle
5
2
#bf1f6c
North south choke
5
2
#039a1f
Arm in Ezekiel
2
1
#03b41f
Triangle armbar
2
1
23 LOSSES
BY POINTS


BY ADVANTAGES




BY SUBMISSION




BY DECISION




BY PENALTIES




BY DQ



1 SUBMISSION LOSSES
Marcos Martins Fight History
ID
Opponent
W/L
Method
Competition
Weight
Stage
Year
19078

Gabriel Lima

L
DQ
S. Brazilian NG
85KG
SF
2019
19359

Igor Schneider

Igor Schneider
L
Pts: 4x0
CBJJE NG Pan
ABS
SF
2019
19720

Manoel Porto

L
Pts: 4x0
Floripa Fall Open
88KG
4F
2019
19928

Igor Verissimo

Igor Verissimo
L
Kneebar
Curitiba Pro
82KG
SF
2019
20304

Claudio Calasans

Claudio Calasans
L
Pts: 4x0
Brasileiro
82KG
SF
2019
21014

Alexandre Jesus

Alexandre Jesus
L
Pts: 3x2
SP BJJ Pro
82KG
SF
2019
21205

Matheus Spirandeli

Matheus Spirandeli
L
Pts: 6x4
Mundial CBJJE
88KG
F
2019
21288

Rafael Paganini

Rafael Paganini
L
Pts: 0x0, Adv
Vitoria Open
88KG
SF
2019
21306

Leon Brito

Leon Brito
L
Pts: 8x4
Vitoria Open
ABS
F
2019
21341

Fabio Alano

Fabio Alano
L
Pts: 2x0
Floripa WO
88KG
SF
2019
21799

Pedro Rocha

Pedro Rocha
L
Pts: 2x2, Adv
Brasileiro NoGi
85KG
F
2019
22326

Rafael Paganini

Rafael Paganini
L
Pts: 9x4
Grand Slam RJ
85KG
4F
2019
25164

Matheus Spirandeli

Matheus Spirandeli
L
Pts: 2x0
Big Deal Pro 2
85KG
F
2021
25779

Leonardo Lara

Leonardo Lara
L
Pts: 2x0
The New Star
82KG
R1
2021
28072

Mauricio Oliveira

Mauricio Oliveira
L
Pts: 2x0
Brasileiro
88KG
F
2021
28438

Servio Tulio

Servio Tulio
D
---
Fenajitsu
88KG
SPF
2021
28439

Servio Tulio

Servio Tulio
L
Pts: 2x0
Fenajitsu
88KG
SPF
2021
28440

Servio Tulio

Servio Tulio
D
---
Fenajitsu
88KG
SPF
2021
28553

Athos Miranda

L
Pts: 5x2
Grand Slam RJ
85KG
8F
2021
32730

Davi Souza

L
Referee Decision
Salvador Open
ABS
SF
2022
35769

Jansen Gomes

Jansen Gomes
L
Referee Decision
BJJ Stars
88KG
SPF
2022
37217

Pedro Machado

Pedro Machado
L
Pts: 2x0
European Open
88KG
SF
2023
40307

Manuel Ribamar

Manuel Ribamar
L
Referee Decision
World Champ.
88KG
8F
2023
40615

Luan Carvalho

Luan Carvalho
L
Pts: 1x1
Grand Slam RJ
85KG
8F
2023
42754

Vinicius Liberati

Vinicius Liberati
L
Pts: 2x0
Sul Americano
94KG
4F
2023
18011

N/A

W
Toe hold
B9 Interno
O80KG
R1
2018
18012

Ivan Tomic

W
Points
B9 Interno
O80KG
4F
2018
18013

Andre Simoes

W
Pts: 0x0, Adv
B9 Interno
O80KG
SF
2018
18014

M. Onda

W
Triangle armbar
B9 Interno
O80KG
F
2018
18493

N/A

W
Pts: 4x0
Brasilia Open
88KG
R1
2018
18494

N/A

W
Kneebar
Brasilia Open
88KG
4F
2018
18495

Rodrigo Reis

W
RNC
Brasilia Open
88KG
F
2018
18503

Chaise Olimpio

W
Pts: 4x0
Brasilia NGO
85KG
SF
2018
18504

Filipe Salles

W
RNC
Brasilia NGO
85KG
F
2018
19013

N/A

W
Pressure
CBJJE NoGi
85KG
4F
2019
19014

N/A

W
Triangle
CBJJE NoGi
85KG
SF
2019
19015

N/A

W
Triangle
CBJJE NoGi
85KG
F
2019
19056

Edjonson Rodrigues

W
Adv
South Brazilian
88KG
4F
2019
19058

A. Vieira

W
N/A
South Brazilian
88KG
SF
2019
19059

Ruan Oliveira

Ruan Oliveira
W
No arm triangle
South Brazilian
88KG
F
2019
19077

Marcos Ourique

W
Submission
S. Brazilian NG
85KG
4F
2019
19356

N/A

W
Toe hold
CBJJE NG Pan
85KG
4F
2019
19357

N/A

W
No arm triangle
CBJJE NG Pan
85KG
SF
2019
19358

N/A

W
Toe hold
CBJJE NG Pan
85KG
F
2019
19740

Andrey Andrade

W
DQ
Floripa Fall NGO
83KG
SF
2019
19741

Gustavo Borges

W
RNC
Floripa Fall NGO
83KG
F
2019
19922

Victor Matos

W
Injury
Curitiba Pro
82KG
R1
2019
19926

Caio Caetano

Caio Caetano
W
North south choke
Curitiba Pro
82KG
4F
2019
20288

Bruno Santos

W
Choke
Brasileiro
82KG
R1
2019
20300

Caio Caetano

Caio Caetano
W
Choke
Brasileiro
82KG
4F
2019
20819

Leon Brito

Leon Brito
W
Toe hold
Rio Open
88KG
R1
2019
20821

Eric Lopes

W
Pts: 7x2
Rio Open
88KG
4F
2019
20822

A. Vieira

W
Guillotine
Rio Open
88KG
SF
2019
20823

Henrique Moreira

W
Guillotine
Rio Open
88KG
F
2019
21013

Leonardo Lara

Leonardo Lara
W
Referee Decision
SP BJJ Pro
82KG
4F
2019
21100

Eric Lopez

W
Pts: 7x2
BH Winter Open
88KG
4F
2019
21103

Lucas Alves

Lucas Alves
W
Pts: 2x0
BH Winter Open
88KG
SF
2019
21104

Rafael Paganini

Rafael Paganini
W
Pts: 4x2
BH Winter Open
88KG
F
2019
21113

Rodrigo Tatu

Rodrigo Tatu
W
Points
BH Winter NGO
85KG
SF
2019
21202

Plinio Leme

W
Submission
Mundial CBJJE
88KG
4F
2019
21204

R. Sousa

W
N/A
Mundial CBJJE
88KG
SF
2019
21287

Marcelo Vitorino

W
Choke from back
Vitoria Open
88KG
4F
2019
21296

W. Sebastiao

W
Choke from back
Vitoria Open
ABS
R1
2019
21303

Lucas Jose

W
DQ
Vitoria Open
ABS
4F
2019
21307

Marcelo Vitorino

W
RNC
Vitoria NGO
85KG
SF
2019
21308

Lucas Jose

W
Pts: 2x0
Vitoria NGO
85KG
F
2019
21312

D. Novello

W
Guillotine
Vitoria NGO
ABS
SF
2019
21313

Thiago Silva

W
RNC
Vitoria NGO
ABS
F
2019
21340

Eduardo Alexandre

W
Choke from back
Floripa WO
88KG
4F
2019
21751

Karol Kania

W
RNC
Sao Paulo NGO
85KG
SF
2019
21752

Lucas Alves

Lucas Alves
W
Pts: 2x0
Sao Paulo NGO
85KG
F
2019
21795

Lucas Oliveira

W
RNC
Brasileiro NoGi
85KG
4F
2019
21797

Pedro Pimenta

W
Pts: 4x0
Brasileiro NoGi
85KG
SF
2019
22028

Matheus Spirandeli

Matheus Spirandeli
W
Adv
BJJ Stars
88KG
SPF
2019
22318

Victor Deschamps

W
Choke from back
Grand Slam RJ
85KG
R1
2019
22324

Diego Siqueira

W
Submission
Grand Slam RJ
85KG
R2
2019
22885

Ronaldo Junior

Ronaldo Junior
W
Points
NoGi Worlds
85KG
R1
2019
23869

Alexandre Jesus

Alexandre Jesus
W
Pts: 4x0
BJJ Stars
N/A
SPF
2020
23923

Servio Tulio

Servio Tulio
W
Choke from back
BJJ Bet
85KG
SPF
2020
24729

Claudio Calasans

Claudio Calasans
W
Pts: 2x1
Grand Slam RJ
85KG
R1
2020
24737

Gabriel Costa

Gabriel Costa
W
Pts: 2x0
Grand Slam RJ
85KG
8F
2020
24742

Rafael Paganini

Rafael Paganini
W
Pts: 4x2
Grand Slam RJ
85KG
4F
2020
25159

Douglas Pittan

W
Katagatame
Big Deal Pro 2
85KG
4F
2021
25162

Rafael Mansur

Rafael Mansur
W
Pts: 0x0, Adv
Big Deal Pro 2
85KG
SF
2021
26841

Alex Munis

Alex Munis
W
Pts: 0x0, Adv
Big Deal Pro 3
88KG
SPF
2021
28069

Rafael Paganini

Rafael Paganini
W
Pts: 0x0, Adv
Brasileiro
88KG
4F
2021
28071

Matheus Spirandeli

Matheus Spirandeli
W
Pts: 0x0, Adv
Brasileiro
88KG
SF
2021
28546

Rafael Paganini

Rafael Paganini
W
Referee Decision
Grand Slam RJ
85KG
R1
2021
32053

Lucas Protasio

Lucas Protasio
W
Guillotine
BJJ Stars
88KG
SPF
2022
32714

Jose Neto

W
Triangle
Salvador Open
88KG
4F
2022
32718

Sebastiao Batista

W
North south choke
Salvador Open
88KG
SF
2022
32719

Eduardo Macedo

W
Pts: 11x4
Salvador Open
88KG
F
2022
32724

Breno Guimaraes

W
Choke from back
Salvador Open
ABS
R1
2022
32729

Sergio Diniz

W
Armbar
Salvador Open
ABS
4F
2022
37211

Ian Cerqueira

W
Pts: 6x0
European Open
88KG
R2
2023
37216

Pedro Cadete

W
Pts: 4x2
European Open
88KG
4F
2023
40127

Guilherme Vilhalba

W
Arm in Ezekiel
Floripa FO
94KG
SF
2023
40129

Gabriel Volante

Gabriel Volante
W
Pts: 2x0
Floripa FO
94KG
F
2023
40139

Estevao Nogara

W
Choke
Floripa FO
ABS
8F
2023
40294

Rodrigo Tatu

Rodrigo Tatu
W
Armbar
World Champ.
88KG
R1
2023
40608

Matheus Rodrigues

W
Pts: 3x2
Grand Slam RJ
85KG
R1
2023