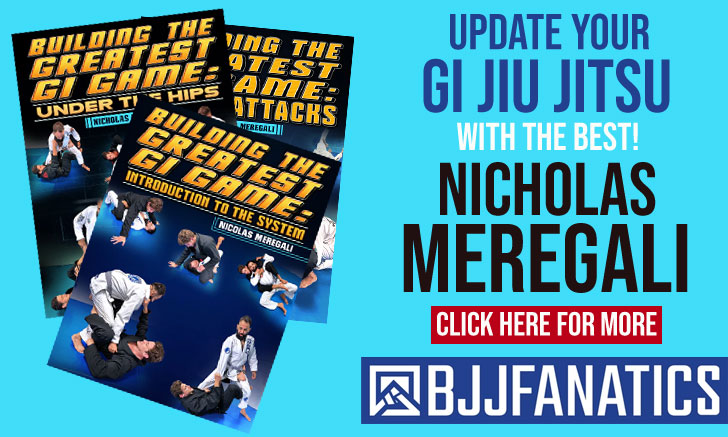 Roberto Alencar, also known as 'Tussa', is a Brazilian born Jiu Jitsu black belt under Carlinhos Gracie from the Gracie Barra academy. Residing in the United States, this World No Gi and Pan American champion is famous for his flying triangle chokes and for being one of the toughest grapplers of his generation.
Roberto Tussa Jiu Jitsu
Full Name: Roberto Camargo de Alencar
Nickname: "Tussa" is short for "dentuça" (the letter "ç" is read out as "ss" in Portuguese), which means "Big Teeth". The nickname was given by his friends as a child because of his grill.
Lineage: Mitsuyo Maeda > Carlos Gracie Sr. > Helio Gracie > Carlos Gracie Junior > Roberto Alencar
Main Achievements:
World No Gi Champion (2009, 2008, 2007, 2012)
World Masters Champion (2016 Master 1*)
Pan American Champion (2009)
World Silver Medal (2007)
World No Gi Silver Medal (2015)
Pan American Silver Medal (2008)
Brazilian National Silver Medal (2004 brown absolute)
World Bronze Medal (2010, 2008)
Pan American Bronze Medal (2010, 2007)
* Close out with team mate.
Weight Division: Peso Pesado 94kg-207lbs (also fights at Super Pesado)
Favourite Position: Flying Triangle
Team/Association: Gracie Barra
Roberto Tussa Alencar Biography
Roberto Alencar was born on the 15th of May, 1981 in Brasília (Distrito Federal). He started training Jiu Jitsu when he was 14 years old, influenced by Royce Gracie's performances in the UFC. Tussa's first coach was Gabriel Ramos in Brasilia, though his time with Mr Ramos was short-lived. His tuition was then picked up by the famous "Jucao" aka Ailson Brites. He received his blue and purple belts from Brites, though his brown belt was given by Eliezer Dutra (also a member of the Gracie Barra family), finally, his black belt was handed by the Gracie Barra leader himself, Carlinhos Gracie.
In 2006 Roberto Tussa decided to move to the United States of America, encouraged by one of his former coaches, Fábio Costa. Since the move to Atlanta – US, Fábio had realized the potential of bringing a fighter and coach of the calibre of Roberto Alencar to the country, and after a little persuasion, Tussa finally made up his mind and moved, settling himself in Albuquerque, New Mexico, where he runs a Gracie Barra affiliated gym.
Roberto Alencar Grappling Record
51 WINS
BY POINTS


BY ADVANTAGES




BY SUBMISSION




BY DECISION




BY PENALTIES




BY DQ



17 SUBMISSIONS WINS
35 LOSSES
BY POINTS


BY ADVANTAGES




BY SUBMISSION




BY DECISION




BY PENALTIES




BY DQ



15 SUBMISSIONS LOSSES
#5AD3D1
Choke from back
13
2
#d1212a
Flying Armbar
7
1
#fad11b
Bow and arrow
7
1
#ff9124
Arm in Ezekiel
7
1
#22c9a5
Flying Triangle
7
1
Roberto Alencar Fight History
ID
Opponent
W/L
Method
Competition
Weight
Stage
Year
1579

Rick Macauley

L
Heel hook
GQ All Star Pro
90KG
SF
2007
1764

Alexandre Ribeiro

Alexandre Ribeiro
L
Ezekiel
World Champ.
94KG
F
2007
1794

Eduardo Telles

Eduardo Telles
L
Points
NoGi Pan Am.
100KG
4F
2007
1881

Rafael Lovato

Rafael Lovato
L
Adv
Pan American
94KG
F
2008
1961

Alexandre Souza

Alexandre Souza
L
Points
World Champ.
94KG
SF
2008
2222

Bruno Bastos

Bruno Bastos
L
Armbar
ADCC Trials
88KG
4F
2009
2571

Braga Neto

Braga Neto
L
Choke from back
Pan American
100KG
SF
2010
2587

Antonio Peinado

Antonio Peinado
L
Choke
Pan American
ABS
4F
2010
2618

Rafael Lovato

Rafael Lovato
L
Referee Decision
No Gi Worlds
94KG
F
2010
2628

Lucas Leite

Lucas Leite
L
Points
No Gi Worlds
ABS
8F
2010
2725

Ricardo Abreu

Ricardo Abreu
L
Choke
World Champ.
100KG
SF
2010
2893

Bernardo Faria

Bernardo Faria
L
Armbar
Pan American
94KG
SF
2011
2986

Braga Neto

Braga Neto
L
Referee Decision
World Champ.
ABS
R2
2011
3122

Antonio Carlos

Antonio Carlos
L
Pts: 4x2
World Champ.
94KG
4F
2011
3387

Lucas Leite

Lucas Leite
L
Adv
No Gi Worlds
94KG
F
2011
3518

Rodolfo Vieira

Rodolfo Vieira
L
Arm in Ezekiel
European Open
94KG
F
2012
3525

Bernardo Faria

Bernardo Faria
L
Omoplata
European Open
ABS
4F
2012
3812

Rodolfo Vieira

Rodolfo Vieira
L
Armbar
World Pro.
94KG
F
2012
3907

Marcus Almeida

Marcus Almeida
L
Flying Triangle
World Champ.
ABS
R2
2012
4110

Alexandre Ribeiro

Alexandre Ribeiro
L
Flying Armbar
World Champ.
94KG
SF
2012
4272

DJ Jackson

DJ Jackson
L
Pts: 4x0
NoGi Worlds
ABS
8F
2012
4494

K. Cornelius

L
Points
NYC World Trials
92KG
F
2013
4669

Rodolfo Vieira

Rodolfo Vieira
L
Points
World Pro
94KG
SF
2013
4811

Lucas Leite

Lucas Leite
L
Pts: 16x0
World Champ.
94KG
4F
2013
5136

Jackson Sousa

Jackson Sousa
L
Pts: 0x0, Adv
IBJJF Pro League
94KG
SF
2013
5404

Lucas Leite

Lucas Leite
L
Choke from back
Pan American
94KG
SF
2014
6053

Tim Spriggs

Tim Spriggs
L
Pts: 0x0, Adv
NoGi Worlds
94KG
4F
2014
6092

Keenan Cornelius

Keenan Cornelius
L
Pts: 12x0
IBJJF Pro League
94KG
SF
2014
7390

Bernardo Faria

Bernardo Faria
L
Bow and arrow
World Champ.
ABS
8F
2015
7506

Igor Silva

Igor Silva
L
Choke
World Champ.
100KG
4F
2015
7912

Felipe Pena

Felipe Pena
L
Pts: 3x0
ADCC
99KG
R1
2015
8469

Joao Assis

Joao Assis
L
Pts: 4x0
NoGi Worlds
97KG
F
2015
12562

Paul Ardila

Paul Ardila
L
Pts: 3x0
ADCC WC Trials
99KG
SF
2017
18998

Dominique Bell

Dominique Bell
L
Adv
Austin W. Open
88KG
F
2019
22895

Devhonte Johnson

Devhonte Johnson
L
Pts: 2x0
NoGi Worlds
91KG
4F
2019
1576

Jason Ebarb

W
Armbar
GQ All Star Pro
90KG
4F
2007
1761

Roberto Tozi

Roberto Tozi
W
Pts: 10x0
World Champ.
94KG
4F
2007
1762

T. Gaia

W
Triangle
World Champ.
94KG
SF
2007
1879

Roberto Tozi

Roberto Tozi
W
Adv
Pan American
94KG
SF
2008
1957

Fernando Piero

Fernando Piero
W
Pts: 6x2
World Champ.
94KG
4F
2008
2022

Cameron Diffley

W
Pts: 21x0
NoGi Worlds
94KG
4F
2008
2023

Bruno Bastos

Bruno Bastos
W
Pts: 2x0
NoGi Worlds
94KG
F
2008
2218

Unknown

W
Points
ADCC Trials
88KG
R1
2009
2427

Rodrigo Teixeira

W
Pts: 0x0, Adv
NoGi Worlds
94KG
8F
2009
2428

Travis Lutter

Travis Lutter
W
Points
NoGi Worlds
94KG
4F
2009
2429

Joao Assis

Joao Assis
W
Kimura
NoGi Worlds
94KG
SF
2009
2430

Marcel Lousado

W
Triangle
NoGi Worlds
94KG
F
2009
2438

Braga Neto

Braga Neto
W
Points
NoGi Worlds
ABS
F
2009
2567

Diego Herzog

W
Points
Pan American
100KG
R1
2010
2570

Rodrigo Pinheiro

Rodrigo Pinheiro
W
Points
Pan American
100KG
4F
2010
2574

Kouichirou Oka

W
Brabo choke
Pan American
ABS
R1
2010
2617

Rafael Bettega

W
Armbar
No Gi Worlds
94KG
SF
2010
2719

Charles Leite

W
Points
World Champ.
100KG
R2
2010
2722

Marcel Fortuna

Marcel Fortuna
W
Pts: 2x2, Adv
World Champ.
100KG
4F
2010
3074

Matheus Serafim

W
Triangle
World Champ.
94KG
RDS
2011
3080

Unknown

W
N/A
World Champ.
94KG
RDS
2011
3362

Leo Davila

W
N/A
No Gi Worlds
94KG
4F
2011
3377

Kevin Casey

W
DQ
No Gi Worlds
94KG
SF
2011
3516

Rafael Lovato

Rafael Lovato
W
N/A
European Open
94KG
SF
2012
3809

Vladimiro Afonso

W
Brabo Choke
World Pro.
94KG
4F
2012
3810

Pedro Lott

W
Submission
World Pro.
94KG
SF
2012
3899

Paulo Pinto

W
Pts: 7x0
World Champ.
ABS
R2
2012
4092

Adriano Inacio Rosa

W
N/A
World Champ.
94KG
R1
2012
4101

Wagner Oliveira

W
N/A
World Champ.
94KG
R2
2012
4107

Tarsis Humphreys

Tarsis Humphreys
W
Pts: 0x0
World Champ.
94KG
4F
2012
4250

Eduardo Telles

Eduardo Telles
W
Points
NoGi Worlds
94KG
4F
2012
4252

Diego Herzog

W
Points
NoGi Worlds
94KG
SF
2012
4253

Rafael Lovato

Rafael Lovato
W
Referee Decision
NoGi Worlds
94KG
F
2012
4493

Unknown

W
Ezekiel
NYC World Trials
92KG
SF
2013
4616

Unknown

W
Kimura
Pan American
88KG
R1
2013
4620

Bernardo Filho

W
N/A
Pan American
88KG
4F
2013
4622

Tarcisio Jardim

Tarcisio Jardim
W
Submission
Pan American
88KG
SF
2013
4623

Nivaldo Oliveira

Nivaldo Oliveira
W
Adv
Pan American
88KG
F
2013
5397

Guilherme Santos

W
Points
Pan American
94KG
8F
2014
5401

Fabiano Leite

W
Pts: 4x2
Pan American
94KG
4F
2014
7003

Márcio Pedra

W
Pts: 2x0
ADCC RJ
99KG
R1
2015
7004

Rodrigo Cavaca

Rodrigo Cavaca
W
Pts: 3x0
ADCC RJ
99KG
4F
2015
7005

Aleksandro Souza

W
RNC
ADCC RJ
99KG
SF
2015
7006

Marcus Vinicius

W
Pts: 3x0
ADCC RJ
99KG
F
2015
7380

Tanner Rice

Tanner Rice
W
Adv
World Champ.
ABS
R1
2015
8466

James Quinlan

W
Guillotine
NoGi Worlds
97KG
4F
2015
8468

Guybson Sa

Guybson Sa
W
Kimura
NoGi Worlds
97KG
SF
2015
12548

Charles Rooney

W
Toe hold
ADCC WC Trials
99KG
R1
2017
12557

Andy Burke

W
Pts: 6x0
ADCC WC Trials
99KG
8F
2017
12559

Kevin Gallagher

W
RNC
ADCC WC Trials
99KG
4F
2017
18997

Josh McKinney

W
Points
Austin W. Open
88KG
SF
2019
Roberto Tussa vs Rodrigo Ribeiro

Roberto Tussa Flying Triangle

Roberto Tussa Flying Triangle 2