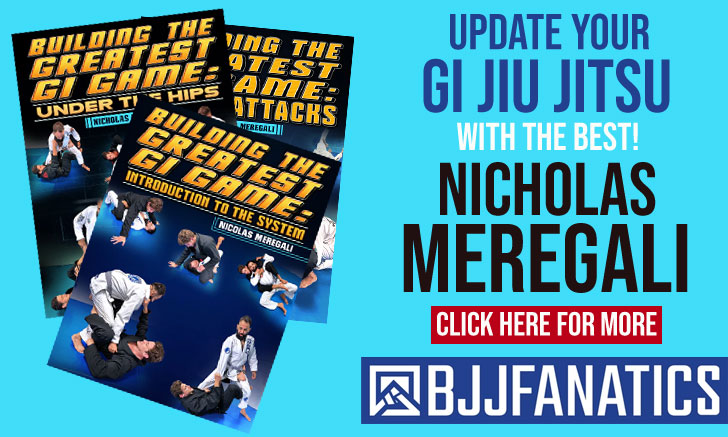 The under 88kg (194lbs) division is home to three of the last four ADCC open weight tournament champions, a testament to this weight class' importance in the event's history, being traditionally one of the most talent dense brackets on the show. This year is no different with the division holding 6 very strong candidates to the title.
One of the big stories of the 2017 ADCC finals in Helsinki, Finland will be the anticipated debut of Gordon Ryan under these rules. The well known Danaher Death Squad team member has shown terrific promise while competing under the sub-only format – particularly EBI, and is somewhat of a standard-bearer for this style of grappling.
Another serious challenger who is outside the usual BJJ standard is Russian powerhouse Rustam Chsiev. Rustam brings a style totally opposed to the aforementioned Ryan, one based on positional control and submission defense – and almost never attempting the submission himself. Chsiev conquered a bronze medal at 2015's ADCC tournament and will pose a serious challenge to gold.
Below is a description of each ADCC 88 kilogram challenger, as well as an assessment of the past events.
ADCC 88kg Numbers
ADCC 88kg Champions Runs
ADCC 88kg 2017 Competitors List
This division has been home to some of the world's most competent grapplers and the numbers reflect the level playing field of the category with some of the lowest submission ration in the ADCC – 33.50% to be precise. In 137 matches recorded from this tournament's finals we have seen 46 submissions.
Another testament to this division's toughness is that no one has ever successfully submitted his way to gold (winning the division by submitting all its opponents). But where many struggled to finish Rafael Lovato Jr found his way, being the man with the most taps in the history of the tournament (6) at 88kg.
Probably not by coincidence, another legend of the tournament is Lovato's own Master Saulo Ribeiro, who has 14 wins at 88kg (2 by submission) the most wins in weight class, carrying only two losses. This year Saulo's younger brother Xande Ribeiro will be carrying the family torch.
In the submission's department there is a great balance across the board, one of the most well spread distribution of finishing moves in all the divisions.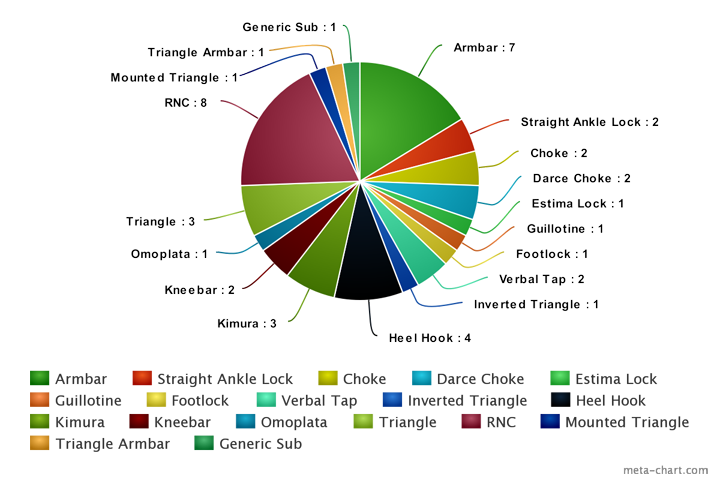 Armbars (x7), Straight Ankle Locks (x2), Chokes (x4), Darce chokes (x2), Estima lock (1x), Footlock (1x), Guillotine (x1), Heel Hooks (x4), Verbal Tap/Injury (x2), Inverted triangle (x1), Kimura (x3), Kneebar (x2), RNC (x8), Mounted Triangle (x1), Omoplata (1x), Submission/Undefined (x1), Triangle (x3), Triangle-armbar (x1)
This division also stands out as the first to crown an European (1999) and a Japanese (2001) champion, those having been Kareem Barchlov and Sanae Kikuta, respectively.
ADCC 88kg Division Champion Runs
1998 ADCC Champion – Rodrigo Gracie
Champion Run:
⅛ Final: Adrian Serrano (choke)
¼ Final: Carlos Newton (6×0)
Semi: Ahmad Faraj (armbar)
Final: Kareem Barkalev (points)
1999 ADCC Champion – Kareem Barchlov
Champion Run:
⅛ Final: Renato Verissimo (2×0)
¼ Final: Amaury Bitetti (2×0)
Semi: Egan Inoue (2×0)
Final: "Sasha" Savko (2×0)
2000 ADCC Champion – Saulo Ribeiro
Champion Run:
⅛ Final: Jerry Bolander (2×0)
¼ Final: Dave Menne (RNC)
Semi: "Sasha" Savko (3×2)
Final: Ricardo Liborio (penalty)
2001 ADCC Champion – Sanae Kikuta
Champion Run:
⅛ Final: Evan Tanner (6×0)
¼ Final: Chris Brown (2×0)
Semi: Enson Inoue (3×0)
Final: Saulo Ribeiro (3×0)
2003 ADCC Champion – Saulo Ribeiro
Champion Run:
⅛ Final: Yuki Sasaki (points)
¼ Final: Rodrigo Comprido (2×0)
Semi: David Terrell (judge decision)
Final: Ronaldo Souza (3×0)
2005 ADCC Champion – Ronaldo Souza
Champion Run:
⅛ Final: David Bielkheden (kimura)
¼ Final: Robert Sulski (triangle)
Semi: Dennis Hallman (armbar)
Final: Demian Maia (penalties)
2007 ADCC Champion – Demian Maia
Champion Run:
⅛ Final: Yushin Okami (points)
¼ Final: Rafael Lovato Jr (points)
Semi: Tarsis Humphreys (points)
Final: Flávio Almeida (armbar)
2009 ADCC Champion – Braulio Estima
Champion Run:
⅛ Final: Yuji Arai (RNC)
¼ Final: James Brasco (points)
Semi: Rafael Lovato Jr (estima lock)
Final: Andre Galvao (inverted triangle)
2011 ADCC Champion – Andre Galvao
Champion Run:
⅛ Final: Don Ortega (points)
¼ Final: Gunnar Nelson (3×0)
Semi: Pablo Popovitch (2×0)
Final: Rousimar Palhares (9×4)
2013 ADCC Champion – Romulo Barral
Champion Run:
⅛ Final: Kim Dong (kneebar)
¼ Final: Lucas Leite (points)
Semi: Keenan Cornelius (points)
Final: Rafael Lovato Jr (points)
2015 ADCC Champion – Yuri Simoes
Champion Run:
⅛ Final: Ricardo Mesquita (3×0)
¼ Final: Zbigniew Tyszka (RNC)
Semi:  Romulo Barral (3×0)
Final: Claudio Calasans (ref. decision)
ADCC 88kg 2017 Competitors List
List of grapplers due to participate in the 2017 edition of the ADCC, in Helsinki, Finland  (23-24 September).
1st Asia & Oceania Trials Winner: CRAIG JONES (Australia)
Style: BJJ
Team: Absolute MMA
We haven't seen the Australian compete very often as of yet. He is a recently promoted black belt who we saw taking very good care of himself at EBI earlier this year, so expect Jones to come in well adapted to the no-gi game. Craig is an ADCC veteran, having entered the last event as a purple belt.
2nd Asia & Oceania Winner: KIT DALE (Australia)
Style: BJJ
Team: Unknown
To anyone who didn't believe the hype in the Australian a couple of years ago, Dale has been slowly shutting down the naysayers having conquered his way on to the ADCC finals with a dominant performance at the trials. Dale is a top shelf counter grappler and may surprise a few people on this event.
1st European Trials Winner: JESSE URHOLIN (Finland)
Style: BJJ
Team: Alliance
A repeat offender at the event is the European ADCC trials, Finland's own Jesse Urholin who won the event on two occasions (2014/2016). Jesse have the home advantage, while bringing a very tight top game and a tough mentality to the mats, he will also be one of the very few athletes on the event who does not work full time on his grappling career, having a day job in IT.
2nd European Trials Winner: PIOTR FRECHOWICZ (Poland)
Style: BJJ
Team: Berserkers
Out of the 4 Polish Grapplers who qualified for the ADCC tournament finals in Finland, 3 train at the Berserkers team in Warsaw, a team that seems to hold the key to success. Piotr earned his black belt this year after a successful campaign as a brown belt where he earned a gold medal at the European No-Gi Open and bronze at European Open with the gi. Solid grappler with a bright future ahead.
1st North American Trials Winner: JAMES BRASCO (USA)
Style: Wrestling/NoGi
Team: Fight Sports
The veteran ADCC competitor and animal rights activist returns to the big show after he refused to compete in China (2013) due to the lack of animal rights laws in the Asian country. At 43 years of age, Brasco is showing no signs of slowing down bringing a wealth of experience in the event and being one of the hardest athletes to score on under these rules.
2nd North American Trials Winner: JOHN SALTER (USA)
Style: MMA
Team: Dethrone Training Camp
We admit John Slater has not been in our radar for long. A mixed martial arts fighter for Bellator MMA, the first time we saw him compete in grappling was at the US ADCC trials. He proved to be an outstanding grappler with strong wrestling and good jiu jitsu skills. We are looking forward to seeing and analysing his game as the tournament finals develop.
1st South American Trials Winner: MURILO SANTANA (Brazil)
Style: BJJ
Team: Unity
A veteran of the game, there isn't a whole lot in jiu jitsu that this 34 year old hasn't seen. The repeat ADCC challenger Santana did not compete a whole lot this year, but when he did, he made it count. Murilo is the head coach of Unity JJ in New York, having helped to place 2 athletes in this tournament, while conquering his own place. A masterful pressure passer and butterfly guard player, two games that he's adapted extremely well to his no-gi game.
2nd South American Trials Winner: KAYNAN DUARTE (Brazil)
Style: BJJ
Team: Atos
The biggest surprise in the tournament was Kaynan, the purple belt prodigy who won the Brazilian ADCC trials. At purple belt Duarte conquered double gold at the IBJJF No-Gi World and Pans Championship as well as a gold medal at the Worlds. He has since earned his brown belt and is expected to have a bright future ahead in this sport.
Invited: ROMULO BARRAL (Brazil)
Style: BJJ
Team: Gracie Barra
One of the legends of the sport is 34 year old Romulo Barral, who has nothing left to prove in jiu jitsu. ADCC Champion (2013) IBJJF World Champion (2014/2013/2012/2009/2007), IBJJF World No-Gi Champion (2009) always expect Barral to be a title contender, even when coming off a ghastly injury as the one he suffered earlier this year (Worlds semi-final 2017).
Strong wrestling, great knee cut passing and an impassable guard are among Barral's strongest weapons.
Invited: KEENAN CORNELIUS (USA)
Style: BJJ
Team: Atos
25 years old Keenan Cornelius has gotten so very close to the gold medal on so many occasions that it would be a travesty not to see him wearing ADCC gold around his neck at some in his career. 1 silver and 2 bronze medals in the past two events, expect Cornelius to come in more focused than ever, ready to claim that which has narrowly escaped him.
Although highly reliant on his lapel when playing with the gi, Keenan has adapted very well to the no-gi game with solid takedowns and passing being a big part of his ADCC repertoire.
Invited: GORDON RYAN (USA)
Style: Sub-only
Team: Renzo Gracie/DDS
One of the youngest competitors in his division, Gordon Ryan's rise to the top has been nothing but impressive. At 22 years of age, Ryan has wins over very big names while stacking one of the best submission ratios in the sport (85%).
Ryan is part of a new breed of competitor, the new school of American jiu jitsu. No longer associated with wrestling, this movement is growing from the sub-only circuit held in the northern hemisphere, away from the buzz of the IBJJF. Gordon's ADCC debut is met with great anticipation, as this will be the first time we will see his game matched in a tournament where the outcome is predominantly measured by positional dominance – since reaching his black belt status.
Invited: PABLO POPOVITCH (Brazil/USA)
Style: No-Gi
Team: Team Popovitch
The always tough former ADCC Champion (2009) and ADCC runner-up (2011) Pablo Popovitch returns to the big stage. The 37 year old exited the event prematurely in the very first round back in 2015, with a lacklustre performance. Given the history Popovitch has had in the tournament, he has been called back to redeem himself.
Invited: ALEXANDRE RIBEIRO (Brazil)
Style: BJJ
Team: Ribeiro JJ
Another legend of the sport, the world does not have enough adjectives to quantify the importance of Xande's career in jiu jitsu. Historically 'Xande' opted to compete at 99 kilogram, having always been one of the smaller athletes in that weight class, but this year – with his team mate Rafael Lovato Jr going up in weight, the 36 year old Ribeiro decided to drop to his natural division.
Alexandre has one of the most complete grappling games in the sport, with and without the gi, and is coming from a draw against Roberto Cyborg earlier this month, where he looked outstanding.
Invited: LEANDRO LO (Brazil)
Style: BJJ
Team: Ns Brotherhood
The most anticipated debut of the year will be that of Leandro Lo who, even though he never competed in an ADCC tournament before, is already seen as a clear contender to the crown.
With dominant performances with the gi over the past 6 years, Leandro will be testing his skills against the top no-gi grapplers in the world, a test many would not be prepared to take. Lo is seen as one of the 'All Time Greats' (ATG) with the kimono already, if he pulls this off the 28 year old will certainly be upgraded to ATG in the sport, regardless of uniform.
Invited: DILLON DANIS (USA)
Style: BJJ
Team: Unaffiliated
The super talented 23 year old New Yorker has had a rough competitive year with only two wins (both against 66 kilogram challenger AJ Agazarm) and 5 losses. Danis should be arriving to Finland with extra motivation, and if he manages to regain his BJJ 'mojo' he will prove he's still one of the best prospects in the division.
Invited: RUSTAM CHSIEV (Russia)
Style: Wrestling/MMA
Team: K-Dojo
Very competent grappler and ADCC veteran (3rd place 2015) is the Russian, Chsiev. Although not a crowd pleaser Rustam's conservative style has earned him wins over some of the top grapplers in the world.
Rustam likes to slow down the pace of a match, plays exclusively from the top (usually anchored to the ground by the knees) and is very hard to score on. He may not be the most technical, but he knows how to win matches better than most and will be a threat to the podium.