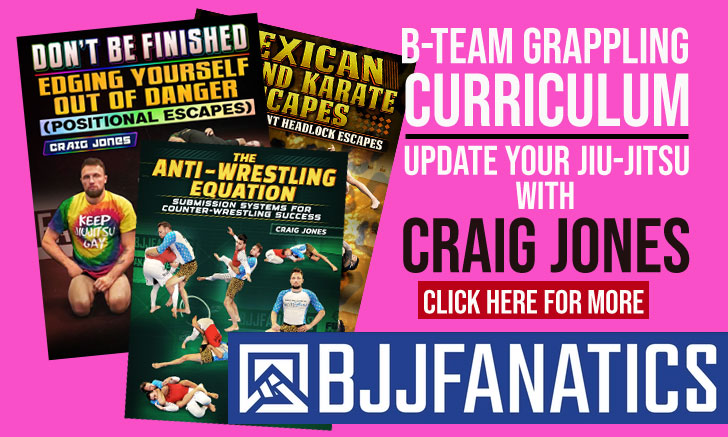 Thibaut Olivier is one of three French brothers (Maxime, Rodolphe and Thibaut) who are amongst the top Brazilian jiu jitsu competitors in Europe. Thibaut Olivier has represented France all around the world, earning medals in important tournaments such as the IBJJF European Open Championship, the UAEJJF Abu Dhabi World Pro Trials and NAGA. The Olivier brothers have also founded one of the top academies in France, the Gokudo, while Thibaut has also coached the "Cercle Tissier".
Thibaut Olivier Jiu Jitsu
Full Name: Thibaut Olivier
Nickname: N/A
Lineage: Mitsuyo Maeda > Carlos Gracie > Helio Gracie > Rolls Gracie > Romero Cavalcanti > Ricardo Vieira> Thibaut Olivier
Main Achievements:
French Nationals Champion ( Black Belt, Adult, 2016)

JUST JJB Champion ( Black Belt, Adult, 2016)

CFJJB Pro League champion ( Black Belt, Adult, 2015)

French Nationals Champion ( Black Belt, Adult, 2015)

French Nationals 2nd place ( Black Belt, Adult, 2014)

IBJJF Asian Open 3rd place ( Black Belt, Adult, 2013)

NAGA Europe Champion ( Black Belt, Adult, 2012)

French Nationals Champion ( Black Belt, Adult, 2012)

Spirit Challenge Pro Champion ( Black Belt, Adult, 2011)

Abu Dhabi Europe Trials London Champion ( Black Belt, Adult, 2010)

IBJJF European Open Bronze Medallist ( Black Belt, Adult, 2009)
Favourite Position/Technique: Spider Guard
Weight Division: Peso Leve (76kg/167lbs)
Team/Association: Gokudo / Cercle Tissier
Thibaut Olivier Biography
Thibaut Olivier was born on the 6th of September, 1977 in France. Thibaut discovered jiu jitsu at the end of 1995 through a video of the first two Ultimate Fighting Championship. He was immediately fascinated by the dominance of Royce Gracie in the tournament and for weeks him and his brother Rodolphe would try and reproduce the techniques the Brazilian icon had displayed inside the octagon.
Just a few months after the screening of the UFC tapes, on June 1996, Thibaut had his first true taste of Brazilian Jiu-Jitsu at a seminar organized in Paris, with Royce and Rorion Gracie. At this time there were no BJJ academies in France, so the Olivier brothers just practiced the techniques learnt amongst themselves. In 2001, Thibaut heard of a club opening near his home where Patrick Bittan taught (student of Flavio Behring), Thibaut started training there daily from there on.
Having trained extensively the basic techniques of the Gracies for the past few years, Thibaut reached the level of blue belt after only two months at the academy, participating in his first competition and winning it against much higher belts then himself. He Continued competing regularly in merged belts divisions, proving time and time again that the relentless drilling of basic techniques paid off by winning several competitions and reaching the level of purple belt in a relative short amont of time.
Having defeated most "big name" opponents in France, Thibaut receives his brown belt and decides to test himself against the top talent of Brazil. In 2006 he travels to Rio de Janeiro to compete at the world cup. In Brazil he seeks Rico Vieira and Rodrigo Comprido's BJJ academy, training relentlesly at their gym in Copacabana. Thibaut ends up losing at the world cup against Gilbert Burns (Durinho) after a very good start in the competition.
Uppon his return to France, Thibaut and his brothers decide to open their own gym, the Gokudo, breaking the bond that held the Olivier Brothers with Patrick Bittan. The Olivier's return to Brazil to compete on several occasions, becoming official members of the Checkmat Team after one of those trips. In 2009 Thibaut made it to the podium of the European Open (bronze medal), becoming the first French person to reach the podium of that competition in the adult black belt male division.
Thibaut continued to compete regularly in the adult division while being over 40 years old. In 2017 he was invited to become the head coach in one of the oldest BJJ academies in Europe: The Cercle Tissier, managing this academy and 5 different coache.
Thibaut Olivier vs Julien Fouche

Thibaut Olivier vs Daniel Strauss

Thibaut Olivier vs Wim de Puter