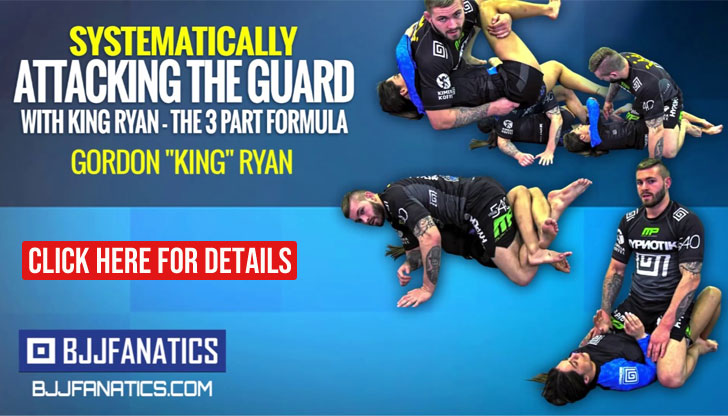 Leonardo Leite, also known as Léo, is possibly the most successful Judoka to have entered the world of Brazilian Jiu Jitsu. The Brazilian National Judo Team representative is also a BJJ black belt under Alexandre "Gigi" Paiva from the Alliance Rio de Janeiro academy having won 2 world BJJ championships and 3 Brazilian Jiu Jitsu National gold medals. Leo Leite also competed in mixed martial arts (MMA), having debuted in 2013 with a submission victory over Alessandro Macedo.
Leo Leite Jiu Jitsu
Full Name: Leonardo Gergis F. Leite
Nickname: Léo, which is a shorter way of saying Leonardo in Portuguese.
Lineage: Mitsuyo Maeda > Carlos Gracie > Helio Gracie > Rolls Gracie > Romero Cavalcanti > Alexandre Paiva Leonardo Leite
Main Achievements (Jiu-Jitsu):
IBJJF World Champion (1999/2000)
CBJJ Brazilian National Champion (2000/2009)
IBJJF World Championship 2nd Place (2003/2006/2008)
Weight Division: Pesadíssimo (+100kg-221lbs)
Favorite Position/Technique: Knee Slide Guard Pass and Relógio Choke
Team/Association: Alliance
Leonardo Leite Biography
Leonardo Leite was born on March 25, 1978, in Rio de Janeiro, Brazil.
Leonardo first entered the world of martial arts through Judo. Leite's father practiced Brazilian Jiu Jitsu for most of his life, but decided to take him to the "Clube Federal" to practice the Japanese martial art with professor Omar. Leonardo was around 6 years old then. He trained and competed in internal tournaments at the "Clube Federal" but opted to change after a while as the club could not take part in tournaments organized by the National Federation.
Leonardo moved to the Flamengo club, then the AABB in Lagoa (Rio de Janeiro), Gama Filho and Tijuca Tenis Clube. When Leo Leite was 16 years old, his father took him to the Alliance Academy in Rio de Janeiro, where Leo was introduced to the art of submissions by Alexandre Paiva. The knowledge of submissions was a big boost for Leo Leite's Judo, and his interest in BJJ grew. He decided to compete in Brazilian Jiu Jitsu when he was a blue belt adding success in that field to his already impressive Judo resume.
In 1999 Leite decided to compete in the Mundial, Jiu Jitsu's most important competition, for the first time. He was a brown belt then and he believed that he would be competing in that division, but his master "Gigi" Paiva had other plans for him, and two weeks before the event he promoted him to black belt. Even though Leonardo did not believe he was ready for such a big challenge his master proved him wrong and Leonardo Leite won the competition, winning in the final against a legend in the sport, Zé Mario Sperry.
Leonardo Leite has been involved with the Judo National Team (Brazil), though he always finds time to compete in BJJ from time to time and to achieve the podium in big tournaments such as the Brazilian Nationals (2009). Leo Leite is also recognized for his former relationship with World Champion female fighter, and TV spokesperson Kyra Gracie.
Leonardo Leite Grappling Record
20 WINS
BY POINTS


BY ADVANTAGES




BY SUBMISSION




BY DECISION




BY PENALTIES




BY DQ



4 SUBMISSIONS WINS
13 LOSSES
BY POINTS


BY ADVANTAGES




BY SUBMISSION




BY DECISION




BY PENALTIES




BY DQ



6 SUBMISSIONS LOSSES
#d1212a
Choke from back
17
1
Leonardo Leite Fight History
ID
Opponent
W/L
Method
Competition
Weight
Stage
Year
381

Fernando Margarida

Fernando Margarida
L
Pts: 9x2
World Champ.
ABS
SF
2000
852

Fabricio Werdum

Fabricio Werdum
L
Points
World Champ.
O100KG
F
2003
1462

Gabriel Gonzaga

Gabriel Gonzaga
L
Pts: 4x0
World Champ.
O100KG
F
2006
1975

Roger Gracie

Roger Gracie
L
Cross choke
World Champ.
O100KG
F
2008
2049

Charles Cachoeira

L
Points
Capital Challenge
O99KG
SF
2008
2077

Braulio Estima

Braulio Estima
L
Points
Capital Challenge
ABS
F
2008
2226

Leo Chocolate

L
Referee Decision
ADCC Trials
99KG
SF
2009
3857

T. Gaia

L
Choke
Brasileiro
O100KG
SF
2012
4147

Marcus Almeida

Marcus Almeida
L
Armbar
World Champ.
O100KG
F
2012
4687

Rodolfo Vieira

Rodolfo Vieira
L
Armbar
Copa Podio
94KG
SPF
2013
4761

Rodolfo Vieira

Rodolfo Vieira
L
Armbar
World Champ.
ABS
SF
2013
4818

Joao Rocha

Joao Rocha
L
Choke from back
World Champ.
100KG
4F
2013
4846

Rodolfo Vieira

Rodolfo Vieira
L
Pts: 14x2
Copa Podio
ABS
SPF
2013
296

Mario Sperry

Mario Sperry
W
Pts: 4x0
World Champ.
100KG
F
1999
403

Aurelio Fernandes

W
Points
World Champ.
O100KG
F
2000
847

Ronald Bauer

W
Points
World Champ.
O100KG
R1
2003
848

Francisco Fernandes

Francisco Fernandes
W
N/A
World Champ.
O100KG
4F
2003
851

Marcio Corleta

Marcio Corleta
W
Pts: 4x2
World Champ.
O100KG
SF
2003
943

Aurelio Fernandes

W
Pts: 2x0
World Cup
O100KG
SF
2003
945

Fabricio Werdum

Fabricio Werdum
W
N/A
World Cup
O100KG
F
2003
1024

Marco Vilela

W
Armbar
Team Nationals
O88KG
F
2004
1243

Adriano Pires

W
Points
World Cup
O100KG
SF
2005
1244

Gabriel Napao

W
Pts: 4x0
World Cup
O100KG
F
2005
1458

Mauro Jorge

W
Submission
World Champ.
O100KG
4F
2006
1461

Lucio Rodrigues

Lucio Rodrigues
W
RNC
World Champ.
O100KG
SF
2006
1971

Asa Fuller

W
Choke
World Champ.
O100KG
R1
2008
2051

Fabricio Werdum

Fabricio Werdum
W
Points
Capital Challenge
O99KG
3PLC
2008
4138

Unknown

W
N/A
World Champ.
O100KG
R2
2012
4143

R. Evangelista

R. Evangelista
W
Pts: 2x2, Adv
World Champ.
O100KG
4F
2012
4146

Alexander Trans

Alexander Trans
W
Pts: 2x0
World Champ.
O100KG
SF
2012
4746

Anderson Lima

W
N/A
World Champ.
ABS
RDS
2013
4755

DJ Jackson

DJ Jackson
W
Points
World Champ.
ABS
RDS
2013
4759

Andre Galvao

Andre Galvao
W
Referee Decision
World Champ.
ABS
4F
2013
Leo Leite vs Paulo Ricardo

Leo Leite vs Thiago Ferreira

Leo Leite vs Homklin (Judo)

Leo Leite vs Diosman Jacare (MMA)