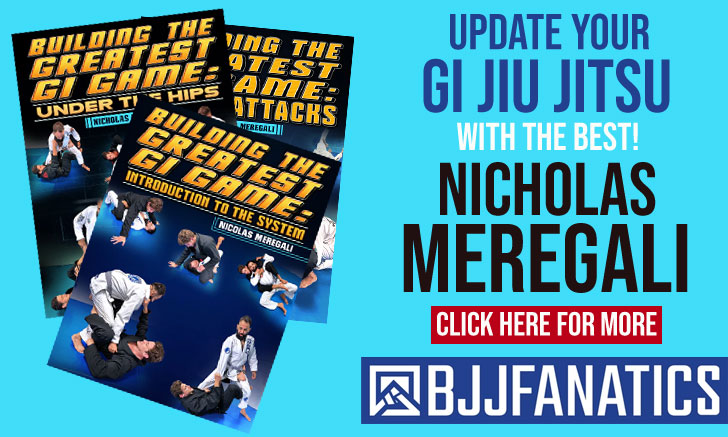 Marcos Silva Tinoco, also known as "Lekinho", is a Brazilian jiu-jitsu black belt under Marcelo Garcia, who belongs to a fantastic generation of competitors developed by the legendary "Marcelinho". A member of the multiple-time world champion team Alliance in New York, and a former pupil of Juarez Soares in Brazil, Marcos turned heads his way after an incredible 2014 brown belt campaign, where he won important tournaments such as the world championships and the New York Pro.
Marcos Tinoco Jiu-Jitsu
Full Name: Marcos Vinícius da Silva Tinoco
Nickname: "Lekinho" is a jovial or upbeat way of saying "Muleke" or "Muleque" which stands for "young" in Brazilian slang. This is usually attributed to a person with a playful personality.
Lineage: Mitsuyo Maeda > Carlos Gracie > Helio Gracie > Rolls Gracie > Romero Cavalcanti > Fabio Gurgel > Marcelo Garcia > Marcos Tinoco
Main Achievements:
1st Place CBJJ Brazilian Nationals (2018)
1st Place IBJJF European Open (2018/2017)
1st Place IBJJF Pan Championship No-Gi (2018/2015)
1st Place IBJJF New York Summer Open (2017)
2nd Place IBJJF World Championship (2017)
2nd Place IBJJF World Championship No-Gi (2018/2016)
2nd Place UAEJJF Grand Slam – LA (2019)
2nd Place IBJJF New York Summer Open (2017*)
3rd Place IBJJF World Championship (2018)
Main Achievements (Colored Belts):
1st Place IBJJF World Championship (2014 brown)
1st Place IBJJF NYC Pro Championship (2014 brown)
1st Place IBJJF New York Summer  Open (2014** brown)
2nd Place IBJJF World Championship (2011** purple, 2013 brown)
2nd Place IBJJF Abu Dhabi Pro (2012 purple)
* Absolute
* Weight and absolute
Favorite Position/Technique: Lasso Guard and Armbar
Weight Division: Peso Médio (181lbs/82kg)
Team/Association: Alliance
Marcos Tinoco Biography
Marcos Tinoco was born on the 18th of December, 1988, in Araruama – state of Rio de Janeiro. Marcos started his jiu-jitsu training at the age of 16 under Master Juarez Soares' guidance, himself a former student of Monir Salomao, a legendary coach who graded GFTeam's Julio Cesar and world champion Marcos Barreto.
At Araruama Jiu-Jitsu, the team founded by Juarez Soares, Marcos Silva Tinoco found a tournament driven team, led by one of the top coaches in the region. Being raised in such a tenacious environment, Marcos soon became a tough competitor himself, winning a substantial amount of tournaments, local and statewide.
Always trying to improve on previous goals, Marcos started seeking tougher tournaments to compete in. With the help of his teammates André de Freitas and Bruno Lima, Tinoco managed to get the funding and the visa permit that allowed him to travel to the US, where he participated in the Pan American Jiu-Jitsu Championship (purple belt). Shortly after the tournament, Tinoco accepted an offer that allowed him to stay in America and work as a coach, the offer was made by his friend Eder Perciliano.
During the World Pro Championship of 2012 in Abu Dhabi, Marcos met a girl (Hana) that would later become his wife. Hana worked for a Marcelo Garcia affiliate gym (MBJJ in Memphis) and pushed for Marcos Silva to go and train with Marcelo Garcia. After a few training sessions at the MG headquarters in New York, Marcos decided to stay, switching teams with the full consent of his former instructor Soares in 2013.
With the help of Marcelo Garcia and the support of the team, Tinoco's jiu-jitsu blossomed, earning him important titles such as the world title in 2014. This fantastic year would lead to his black belt, awarded on the 19th of January, 2015 by Marcelo Garcia, on the same day as Jonathan Satava, another great competitor from the MG camp.
Marcos Tinoco Grappling Record
79 WINS
BY POINTS


BY ADVANTAGES




BY SUBMISSION




BY DECISION




BY PENALTIES




BY DQ



23 SUBMISSIONS WINS
#86e620
North south choke
17
4
#224aba
Straight ankle lock
4
1
#ff9124
Choke from back
4
1
34 LOSSES
BY POINTS


BY ADVANTAGES




BY SUBMISSION




BY DECISION




BY PENALTIES




BY DQ



11 SUBMISSIONS LOSSES
#214eb8
Choke from back
45
5
#f58822
Choke from mount
9
1
#224aba
North south choke
9
1
Marcos Tinoco Fight History
ID
Opponent
W/L
Method
Competition
Weight
Stage
Year
6582

Jaime Canuto

Jaime Canuto
L
Referee Decision
European
82KG
4F
2015
6832

Otavio Sousa

Otavio Sousa
L
Pts: 4x4, Adv
Pan American
82KG
R3
2015
7452

C. Negromonte

C. Negromonte
L
Choke from back
World Champ.
82KG
R1
2015
7561

Michael Liera

Michael Liera
D
---
Sub Series Pro
ABS
SPF
2015
7665

Francisco Iturralde

Francisco Iturralde
L
Points
NY Summer Open
82KG
SF
2015
8120

Alec Baulding

Alec Baulding
L
Choke from back
Dallas Open
88KG
F
2015
8137

Lucas Barbosa

Lucas Barbosa
L
Pts: 2x0
Dallas NoGi Open
88KG
F
2015
8446

C. Negromonte

C. Negromonte
L
Armbar
NoGi Worlds
85KG
4F
2015
9103

Felipe Cesar

Felipe Cesar
L
Pts: 4x2
UAEJJF NYC Pro
77KG
SF
2016
9121

Felipe Cesar

Felipe Cesar
L
Pts: 4x2
UAEJJF NYC Pro
LWABS
SF
2016
9303

JT Torres

JT Torres
L
Pts: 10x0
Pan American
82KG
4F
2016
9366

Murilo Santana

Murilo Santana
L
Points
Pan American
ABS
R1
2016
9581

Davi Ramos

Davi Ramos
L
Pts: 4x2
World Pro
77KG
R1
2016
10018

Gabriel Arges

Gabriel Arges
L
Kneebar
World Champ.
82KG
SF
2016
10662

Felipe Cesar

Felipe Cesar
L
Footlock
NoGi Pan Ams
79KG
SF
2016
10920

Marcelo Mafra

Marcelo Mafra
L
Pts: 0x0, Adv
NoGi Worlds
79KG
SF
2016
11135

Otavio Souza

L
Pts: 12x0
NY BJJ Pro
82KG
F
2016
12184

John Combs

John Combs
L
Guillotine
Pan American
82KG
R1
2017
13156

Gabriel Arges

Gabriel Arges
L
Choke from back
World Champ.
82KG
F
2017
13425

Mahamed Aly

Mahamed Aly
L
Choke from mount
NY Summer Open
ABS
F
2017
14413

Manuel Ribamar

Manuel Ribamar
L
Pts: 2x2, Adv
BJJ NY Pro
82KG
SF
2017
15420

Gabriel Arges

Gabriel Arges
L
Pts: 0x0, Adv
Pan American
82KG
F
2018
15775

Thomas Keenan

L
Points
Washington SPO
82KG
SF
2018
16552

Tommy Langaker

Tommy Langaker
L
Choke from back
World Champ.
82KG
SF
2018
17388

Tim Spriggs

Tim Spriggs
L
Pts: 0x0, Adv
Washington SU.O.
ABS
SF
2018
18666

Josh Hinger

Josh Hinger
L
North south choke
NoGi Worlds
85KG
F
2018
19372

Claudio Calasans

Claudio Calasans
L
Pts: 6x0
Spyder Inv.
100KG
4F
2019
20657

Gabriel Arges

Gabriel Arges
L
Pts: 2x0
World Champ.
82KG
SF
2019
21510

Tommy Langaker

Tommy Langaker
L
Referee Decision
Polaris 11
85KG
SPF
2019
21625

Gustavo Batista

Gustavo Batista
L
Pts: 14x0
King Of Mats
85KG
RR
2019
21637

Isaque Bahiense

Isaque Bahiense
L
Pts: 4x4, Adv
King Of Mats
85KG
SF
2019
21690

Manuel Ribamar

Manuel Ribamar
L
Pts: 2x2, Adv
Grand Slam LA
85KG
F
2019
31122

Bradley Hill

L
Choke from back
Grand Slam LDN
85KG
8F
2022
34627

Manuel Ribamar

Manuel Ribamar
L
Pts: 4x0
Grand Slam MIA
85KG
SF
2022
34631

Enderson Dias

Enderson Dias
L
Pts: 4x3
Grand Slam MIA
85KG
RPC
2022
6568

A. Vieira

W
Armbar
European
82KG
R1
2015
6576

E. Dimitropoulos

W
Armbar
European
82KG
R2
2015
6819

Sergio da Silva

W
Pts: 2x0
Pan American
82KG
R1
2015
7664

Youngam Noh

W
Pts: 2x0
NY Summer Open
82KG
4F
2015
7681

Jordan Lutsky

W
Pts: 8x0
NY No Gi Open
88KG
SF
2015
7682

Brian Beaury

Brian Beaury
W
Pts: 7x4
NY No Gi Open
88KG
F
2015
8117

Lucas Barbosa

Lucas Barbosa
W
Pts: 6x2
Dallas Open
88KG
4F
2015
8119

Manuel Diaz

W
Points
Dallas Open
88KG
SF
2015
8136

Philip Miller

W
Pts: 6x0
Dallas NoGi Open
88KG
SF
2015
8187

David Raab

David Raab
W
Pts: 2x0
NoGi Pan Ams
88KG
4F
2015
8189

Thiago Sa

Thiago Sa
W
Pts: 2x0
NoGi Pan Ams
88KG
SF
2015
8440

Gabriel Vieira

W
Kneebar
NoGi Worlds
85KG
8F
2015
8537

Thiago Sa

Thiago Sa
W
Pts: 2x2, Adv
IBJJF NY Pro
94KG
SF
2015
8538

Rafael Barbosa

Rafael Barbosa
W
Pts: 4x2
IBJJF NY Pro
94KG
F
2015
9102

Sean Fisher

W
Pts: 2x0
UAEJJF NYC Pro
77KG
4F
2016
9287

Victor Silverio

Victor Silverio
W
Referee Decision
Pan American
82KG
R1
2016
9299

Magid Hage

W
Pts: 2x0
Pan American
82KG
8F
2016
9471

Sean Fisher

W
N/A
NY Spring Open
82KG
SF
2016
9991

Victor Estima

Victor Estima
W
Pts: 6x4
World Champ.
82KG
R2
2016
10016

Lucas Leite

Lucas Leite
W
Pts: 2x2, Adv
World Champ.
82KG
4F
2016
10274

Tex Johnson

Tex Johnson
W
Points
NY Summer Open
ABS
4F
2016
10276

Paulo Miyao

Paulo Miyao
W
Pts: 0x0, Adv
NY Summer Open
ABS
SF
2016
10660

Dustin Akbari

W
DQ
NoGi Pan Ams
79KG
4F
2016
10913

Dustin Akbari

W
Straight ankle lock
NoGi Worlds
79KG
R1
2016
10918

Brian Morizi

W
Pts: 10x0
NoGi Worlds
79KG
4F
2016
11132

Joao Ferreira

W
Armbar
NY BJJ Pro
82KG
4F
2016
11133

Felipe Cesar

Felipe Cesar
W
Pts: 2x0
NY BJJ Pro
82KG
SF
2016
11584

Thiago Goiabeira

W
Pts: 8x0
European Open
82KG
8F
2017
11590

Oliver Geddes

Oliver Geddes
W
Pts: 6x0
European Open
82KG
4F
2017
11593

Jaime Canuto

Jaime Canuto
W
Pts: 6x4
European Open
82KG
SF
2017
11594

Alec Baulding

Alec Baulding
W
Pts: 4x2
European Open
82KG
F
2017
13133

Oliver Geddes

Oliver Geddes
W
Pts: 5x0
World Champ.
82KG
R1
2017
13143

Javier Yamuni

W
Armbar
World Champ.
82KG
8F
2017
13151

Matheus Spirandeli

Matheus Spirandeli
W
Pts: 4x2
World Champ.
82KG
4F
2017
13155

Otavio Sousa

Otavio Sousa
W
Pts: 2x0, Adv
World Champ.
82KG
SF
2017
13419

Thiago Sousa

W
Cross choke
NY Summer Open
94KG
SF
2017
13420

Todd Mueckenheim

W
Points
NY Summer Open
94KG
F
2017
13424

DJ Jackson

DJ Jackson
W
Referee Decision
NY Summer Open
ABS
SF
2017
14189

Thomas Keenan

W
Referee Decision
F2W 51
82KG
SPF
2017
14410

Lucas Valle

W
North south choke
BJJ NY Pro
82KG
4F
2017
14933

Tommy Langaker

Tommy Langaker
W
North south choke
European Open
82KG
4F
2018
14935

Nathan Mendelsohn

Nathan Mendelsohn
W
Pts: 2x0
European Open
82KG
SF
2018
15053

Joshua Bacallao

W
Pts: 5x0
Atlanta W. Open
82KG
SF
2018
15054

Vitor Oliveira

Vitor Oliveira
W
Pts: 0x0, Adv
Atlanta W. Open
82KG
F
2018
15061

Rennick Kama

W
North south choke
Atlanta W. Open
ABS
4F
2018
15063

Inacio Neto

Inacio Neto
W
Adv
Atlanta W. Open
ABS
4F
2018
15411

Michael Perez

Michael Perez
W
Choke from back
Pan American
82KG
8F
2018
15419

Otavio Sousa

Otavio Sousa
W
Pts: 2x0
Pan American
82KG
SF
2018
15544

Jose Llanas

W
Cross choke
F2W 66
82KG
SPF
2018
15594

A. Mustakov

W
Choke
Chicago Sp. Open
82KG
SF
2018
15596

Dante Leon

Dante Leon
W
Adv
Chicago Sp. Open
82KG
F
2018
15970

Manuel Ribamar

Manuel Ribamar
W
Pts: 2x0
NY Spring Open
82KG
SF
2018
15974

Nicolas Penzer

W
Armbar
NY Spring Open
ABS
4F
2018
15977

Felipe Cesar

Felipe Cesar
W
Pts: 0x0, Adv
NY Spring Open
ABS
SF
2018
15979

Murilo Santana

Murilo Santana
W
Pts: 2x0
NY Spring Open
ABS
F
2018
16236

Unknown

W
Armbar
Brasileiro
82KG
R1
2018
16248

Andre Jose Costa

W
Botinha
Brasileiro
82KG
8F
2018
16250

Fabricio Barbarotti

Fabricio Barbarotti
W
North south choke
Brasileiro
82KG
4F
2018
16254

Romualdo Andrade

W
Points
Brasileiro
82KG
SF
2018
16255

Yago Souza

Yago Souza
W
Pts: 0x0, Adv
Brasileiro
82KG
F
2018
16526

Oliver Geddes

Oliver Geddes
W
Pts: 2x0
World Champ.
82KG
R2
2018
16540

Thomas Mietz

W
Pts: 6x0
World Champ.
82KG
8F
2018
16549

Yago Souza

Yago Souza
W
Referee Decision
World Champ.
82KG
4F
2018
17382

Gilvan Costa

W
Armbar
Washington SU.O.
88KG
F
2018
17442

Piotr Marcin

W
Estima lock
No Gi Pan Am.
85KG
4F
2018
17445

Isaiah Right

W
Armlock
No Gi Pan Am.
85KG
SF
2018
17446

Nick Calvanese

Nick Calvanese
W
Referee Decision
No Gi Pan Am.
85KG
F
2018
18654

Kalil Muriel

W
Pts: 2x0
NoGi Worlds
85KG
R2
2018
18663

Gabriel Arges

Gabriel Arges
W
Pts: 6x4
NoGi Worlds
85KG
4F
2018
18665

Murilo Santana

Murilo Santana
W
Pts: 0x0, Adv
NoGi Worlds
85KG
SF
2018
19789

Romulo Barral

Romulo Barral
W
Pts: 4x1
Kasai 5
79KG
SPF
2019
20647

Felipe Cesar

Felipe Cesar
W
Pts: 2x0
World Champ.
82KG
R2
2019
20653

Michael Liera

Michael Liera
W
Pts: 5x0
World Champ.
82KG
4F
2019
21626

Diego Ramalho

Diego Ramalho
W
Footlock
King Of Mats
85KG
RR
2019
21628

Tommy Langaker

Tommy Langaker
W
Referee Decision
King Of Mats
85KG
RR
2019
21638

Max Lindblad

Max Lindblad
W
Estima lock
King Of Mats
85KG
3RD
2019
21689

Mauricio Oliveira

Mauricio Oliveira
W
Pts: 0x0, Pen
Grand Slam LA
85KG
SF
2019
26528

Rodrigo Tatu

Rodrigo Tatu
W
Footlock
F2W 173
83KG
SPF
2021
34624

Pedro Cadete

W
Pts: 7x4
Grand Slam MIA
85KG
4F
2022
Marcos Tinoco @ European Open