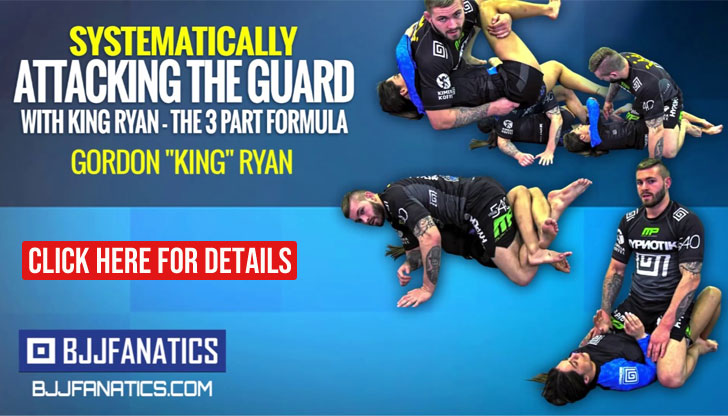 Masahiro Iwasaki is a Brazilian jiu-jitsu black belt under Marco Barbosa (as well as a former student of Yasuhiro Miyamoto) who is regarded as one of the top Japanese grappling competitors of his generation; known also as a member of the prestigious Tokyo based academy Carpe Diem. As a black belt Masahiro Iwasaki conquered medals in the IBJJF European International Open, IBJJF Asian Open as well as at the ASJJF All Japan Championship.
Masahiro Iwasaki Jiu-Jitsu
Full Name: Masahiro Iwasaki
Nickname: n/a
Lineage: Carlos Gracie > Helio Gracie > Rickson Gracie > Marcelo Behring > Waldomiro Perez > Roberto Godoi > Marco Barbosa > Masahiro Iwasaki
Main Achievements:
1st Place ASJJF All Japan Championship (2016)
1st Place IBJJF Nagoya Championship (2015)
2nd Place IBJJF European Open (2018)
2nd Place IBJJF Asian Open (2015/2016/2017)
2nd Place IBJJF NY Spring Open (2016)
3rd Place IBJJF European Open (2017)
Position/Technique: Deep Half-Guard
Weight Division: Peso Leve (76,00 kg / 168.0 lbs)
Team/Association: Carpe Diem
Masahiro Iwasaki Biography
Masahiro Iwasaki was born on January 27, 1989 in Kobe – the capital city of Hyōgo Prefecture located in the Osaka Bay of Japan.
While growing up Iwasaki became fascinated by martial arts, starting his combat training early in life through karate. His love for fighting grew exponentially with the growth of the legendary Japanese mixed martial arts (MMA) promotion: Pride FC, which reached its popularity peak during Masahiro's teenage years.
The style of Brazilian jiu jitsu stood out to Iwasaki after the epic 2002 MMA battle between Antonio Rodrigo Nogueira (Minotauro) and Bob Sapp – who outweighed Minotauro by 127 pounds (57,60 kg). The masterful display of heart and technique by the victorious Rodrigo convinced Masahiro of grappling's efficiency, and led him to start training at the age of 15.
Masahiro's first jiu jitsu instructor was Yasuhiro Miyamoto, one of the top grappling coaches in Iwasaki's home town (Kobe). It was under Miyamoto that the young Masahiro Iwasaki climbed up BJJ's belt system all the way to brown, the black belt being awarded by Marco Barbosa on December 2010.
After being promoted to black belt Masahiro spent time abroad, even picking up a coaching career in Australia (2011) before returning to Japan. When established in his home country, Iwasaki decided to join the prestigious Carpe Diem in Tokyo. One of the most successful and thriving jiu jitsu gyms in Asia.
Masahiro Iwasaki Grappling Record
30 WINS
BY POINTS


BY ADVANTAGES




BY SUBMISSION




BY DECISION




BY PENALTIES




BY DQ



1 SUBMISSION WINS
#214eb8
Choke from back
100
1
26 LOSSES
BY POINTS


BY ADVANTAGES




BY SUBMISSION




BY DECISION




BY PENALTIES




BY DQ



12 SUBMISSIONS LOSSES
#5AD3D1
Choke from back
8
1
#d1212a
Bow and arrow
8
1
Masahiro Iwasaki Fight History
ID
Opponent
W/L
Method
Competition
Weight
Stage
Year
3467

Roberto Satoshi

Roberto Satoshi
L
Triangle
Dumau NE
76KG
F
2012
4428

Leo Nogueira

Leo Nogueira
L
Choke from back
European Open
ABS
R2
2013
4444

Augusto Mendes

Augusto Mendes
L
Armbar
European Open
70KG
4F
2013
4548

Mario Reis

Mario Reis
L
Points
Pan American
70KG
R1
2013
6535

Marcio Andre

Marcio Andre
L
Referee Decision
European
70KG
4F
2015
8044

Isaque Paiva

Isaque Paiva
L
Triangle
Asian Open
70KG
F
2015
8526

Kim Terra

Kim Terra
L
Bow and arrow
IBJJF NY Pro
70KG
4F
2015
8919

Paulo Miyao

Paulo Miyao
L
Pts: 5x0
European Open
70KG
4F
2016
9266

Rodrigo Freitas

Rodrigo Freitas
L
Pts: 7x0
Pan American
76KG
8F
2016
9469

Gianni Grippo

Gianni Grippo
L
Pts: 2x0
NY Spring Open
76KG
F
2016
9977

Lucas Lepri

Lucas Lepri
L
Marceloplata
World Champ.
76KG
R2
2016
10524

Rodrigo Caporal

Rodrigo Caporal
L
Pts: 3x2
Asian Open
76KG
F
2016
11577

Luan Carvalho

Luan Carvalho
L
Triangle
European Open
76KG
SF
2017
12152

Marcus Wilson

L
Toe hold
Pan American
76KG
R1
2017
13119

Lucas Lepri

Lucas Lepri
L
Pts: 0x0, Adv
World Champ.
76KG
8F
2017
13690

Andris Brunovskis

Andris Brunovskis
L
Omoplata
Asian Open
76KG
F
2017
14923

Michael Langhi

Michael Langhi
L
Pts: 0x0, Adv
European Open
76KG
F
2018
15400

Vitor Oliveira

Vitor Oliveira
L
Pts: 0x0, Adv
Pan American
76KG
8F
2018
15628

Roberto Satoshi

Roberto Satoshi
D
---
Quintet FN
ABS
F
2018
16015

Isaque Bahiense

Isaque Bahiense
L
Submission
Marianas Open
81KG
SF
2018
16506

Victor Silverio

Victor Silverio
L
Adv
World Champ.
76KG
R3
2018
17235

Vagner Rocha

Vagner Rocha
L
Heel hook
Kasai Pro 3
77KG
RR
2018
17246

M. Lutes

L
Pts: 2x1
Kasai Pro 3
77KG
RR
2018
18091

J. Alves

L
Armbar
Spyder Inv. Final
76KG
SF
2018
18603

Gianni Grippo

Gianni Grippo
L
Pts: 0x0, Adv
NoGi Worlds
73KG
R1
2018
18897

Alexandre Molinaro

Alexandre Molinaro
L
Referee Decision
European Open
76KG
4F
2019
20439

Lachlan Giles

Lachlan Giles
L
Referee Decision
ADCC Asia Trials
77KG
SF
2019
22731

Wanki Chae

Wanki Chae
D
---
Quintet FN4
ABS
RR
2019
3468

Shimasaki Koji

W
Pts: 3x2
Dumau Kansai
76KG
SPF
2012
4426

Andre Monteiro

Andre Monteiro
W
Pts: 2x0
European Open
ABS
R1
2013
5205

K. Nishibayashi

W
Points
JJ Priest Cup
76KG
SPF
2013
5221

Y. Itami

W
Choke from back
Kosen vs BJJ
NA
SPF
2014
6381

Yasuto Nakatsuka

W
Points
All Japan
70KG
F
2015
6382

Tatsuya Kaneko

W
Points
Nagoya Open
76KG
F
2015
6529

Tuomas Tammiletho

W
Pts: 8x0
European
70KG
R1
2015
8042

Ichitaro Tsukada

W
Points
Asian Open
70KG
SF
2015
8916

Renan Sancar

W
Pts: 2x0
European Open
70KG
R1
2016
9262

Kevin Mahecha

Kevin Mahecha
W
Pts: 4x2
Pan American
76KG
R1
2016
9468

Mansher Khera

Mansher Khera
W
Pts: 4x2
NY Spring Open
76KG
SF
2016
9971

Caio Almeida

Caio Almeida
W
Pts: 2x2, Adv
World Champ.
76KG
R1
2016
10511

Robson Tano

W
Pts: 0x0, Adv
All Japan
76KG
F
2016
10523

Tanno Odilio

W
Points
Asian Open
76KG
SF
2016
11571

Thibaut Olivier

Thibaut Olivier
W
Pts: 2x0
European Open
76KG
8F
2017
11575

Kacper Rot

W
Pts: 2x0
European Open
76KG
4F
2017
13111

Diego Bispo

Diego Bispo
W
Pts: 0x0, Adv
World Champ.
76KG
R1
2017
13687

Ali Monfaradi

Ali Monfaradi
W
Points
Asian Open
76KG
4F
2017
13689

Kleber Koike

W
N/A
Asian Open
76KG
SF
2017
14914

Ali Monfaradi

Ali Monfaradi
W
Pts: 2x0
European Open
76KG
R1
2018
14917

Renato Canuto

Renato Canuto
W
Pts: 2x0
European Open
76KG
4F
2018
14921

Edwin Najmi

Edwin Najmi
W
Pts: 2x0
European Open
76KG
SF
2018
15620

Takumi Yano

D
---
Quintet FN
ABS
SF
2018
16011

Gilbert Burns

Gilbert Burns
W
Pts: 0x0
Marianas Open
81KG
4F
2018
16018

Servio Tulio

Servio Tulio
W
Pts: 2x0
Marianas Open
81KG
3RD
2018
16494

Jan Buatim

Jan Buatim
W
Pts: 0x0, Adv
World Champ.
76KG
R2
2018
16935

Hugo Marques

Hugo Marques
W
Pts: 2x0
Spider Inv. 4F
76KG
SPF
2018
17242

Marcin Held

W
Pts: 3x0
Kasai Pro 3
77KG
RR
2018
18890

Jeremy Jackson

Jeremy Jackson
W
Pts: 3x0
European Open
70KG
F
2019
20435

S. LeGourrierec

W
Pts: 11x0
ADCC Asia Trials
77KG
R1
2019
20438

Jon Schwartz

W
Pts: 4x0
ADCC Asia Trials
77KG
4F
2019
24296

Grant Bogdanov

D
---
Quintet FN5
ABS
SF
2020
24298

Masanori Kanehara

D
---
Quintet FN5
ABS
F
2020
Masahiro Iwasaki vs Robson Tano

Masahiro Iwasaki vs Kohei Nishibayashi