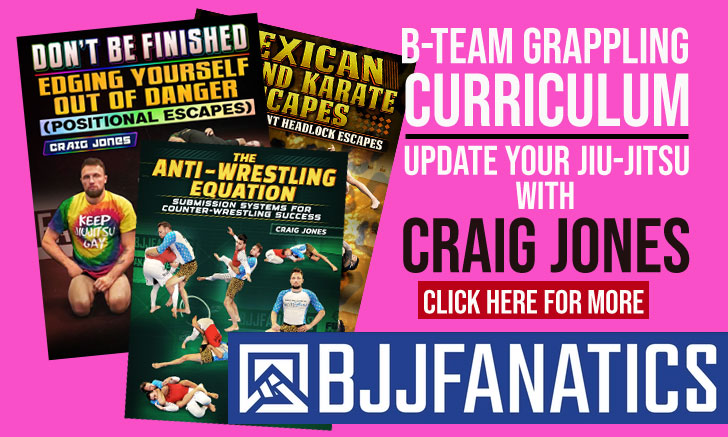 As per usual, the 2nd most important competition in the jiu jitsu world did not disappoint. Missing some of its biggest starts from the get-go, the enigma lying underneath the 20th edition of the Pan American Jiu Jitsu Championship was: "who will rise up to the occasion and take over the wholes left by the bigger names?" And many did. The one that stood out the most may very well have been Leandro Lo, but Leandro's deed (gold at middleweight and silver at the absolute) was somewhat over shadowed by the fact that this year's tournament had four non Brazilian gold medallists at the men's adult black belt division and 6 finalists (5 of those Americans). A sign of good things to come for both the American and European crowd, who saw JT Torres, Keenan Cornelius, Gianni Grippo (Grippo with a by from his team mate Vitor Genovesi) and Alexander Trans dominate their divisions in great fashion.
Another fundamental figure in the 2015 Pan American Championship was Bernardo Faria who did the unthinkable, submitting (and passing the guard of) Leandro Lo as Leandro was set to be the lightest man in the history of our sport to win gold at the Pan American absolute division.
Below are the results of all the fights that occurred at the adult black belt divisions, male and female.
Under 57kg/127lbs, Galo Men's division
Under 64kg/141.5lbs, Pluma Men's division
| Winner | Loser | Score | Round | Weight |
| --- | --- | --- | --- | --- |
| Yoshihiko Matsumoto | Dai Yoshioka | WO | Rd 1 | U64kg |
| Paulo Filho | Mark Ramos | Points | Rd 1 | U64kg |
| Gustavo Caceres | Tsuyoshi Tamaki | 5x2 | Rd 1 | U64kg |
| Joao Miyao | Paulo Filho | Choke from back | 1/4 final | U64kg |
| Rafael Freitas | Gustavo Caceres | 6x4 | 1/4 final | U64kg |
| Paulo Miyao | Yoshihiko Matsumoto | Choke from back | 1/4 final | U64kg |
| Joao Pedro Oliveira | Yuto Hirao | Referee decision | 1/4 final | U64kg |
| Joao Miyao | Rafael Freitas | Choke/Injury? | Semi f. | U64kg |
| Paulo Miyao | João Rodrigues | Armlock | Semi f. | U64kg |
| Paulo Miyao | Joao Miyao | Close out | Final | U64kg |
Under 70kg/154.5, Pena Men's division
| Winner | Loser | Score | Round | Weight |
| --- | --- | --- | --- | --- |
| Victor Genovesi | Gustavo Dantas | Kimura | Rd 1 | U70kg |
| Oswaldo Queixinho | Vitor Atalla | Choke from back | Rd 1 | U70kg |
| Leo Saggioro | Sergio Hernandez | 3x0 | Rd 1 | U70kg |
| Vitor Paschoal | Thiago Lemos | 2x0 | Rd 1 | U70kg |
| Oswaldo Queixinho | Vitor Atalla | Choke from back | Rd 1 | U70kg |
| Kim Terra | Spencer Gilliam | 9x0 | Rd 1 | U70kg |
| Gianni Grippo | Davin Maxwell | WO | Rd 1 | U70kg |
| Mayko Borges | Jared Shapiro | 12x2 | Rd 1 | U70kg |
| Leo Saggioro | Vitor Paschoal | 5x2 | 1/4 final | U70kg |
| Victor Genovesi | Kim Terra | 4x4 Ref decision | 1/4 final | U70kg |
| Gianni Grippo | Mayko Borges | Choke from back | 1/4 final | U70kg |
| Oswaldo Queixinho | Fabio Caloi | 2x0 Adv | 1/4 final | U70kg |
| Oswaldo Queixinho | Leo Saggioro | 0x0 (adv) | Semi f. | U70kg |
| Gianni Grippo | Victor Genovesi | Gentlemen's agreement | Semi f. | U70kg |
| Gianni Grippo | Oswaldo Queixinho | 6x4 | Final | U70kg |
Under 76kg/168lbs, Leve Men's division
| Winner | Loser | Score | Round | Weight |
| --- | --- | --- | --- | --- |
| Andris Brunovskis | Tagarela | Advantages | Rd 1 | U76kg |
| Vitor Matos | Zach Adamson | 6x4 | Rd 1 | U76kg |
| Kevin Mahecha | Brian Miller | Armlock | Rd 1 | U76kg |
| Luan Alves | Rodrigo Caporal | Adv | Rd 1 | U76kg |
| Rafael Pereira | Choi Won Choi | 1x0 penalties | Rd 2 | U76kg |
| Kevin Mahecha | Mario Reis | WO | Rd 2 | U76kg |
| AJ Agazarm | Luan Alves | 4x2 | Rd 2 | U76kg |
| Gabriel Pontes | Victor Matos | Choke | Rd 2 | U76kg |
| Sergio Benini | Michael Liera Jr | WO | Rd 2 | U76kg |
| JT Torres | Julian Vega | Choke from back | Rd 2 | U76kg |
| Andris Brunovskis | Juan Caio Kamezawa | 4x4 (1x0 adv) | Rd 2 | U76kg |
| Thiago Aragão | Rodrigo Freitas | Toe hold | Rd 2 | U76kg |
| JT Torres | Rafael Pereira | Choke from back | 1/4 final | U76kg |
| Andris Brunovskis | Thiago Aragão | 5x1 adv | 1/4 final | U76kg |
| AJ Agazarm | Kevin Mahecha | Points | 1/4 final | U76kg |
| Gabriel Pontes | Sergio Benini | Bow & Arrow choke | 1/4 final | U76kg |
| JT Torres | Andris Brunovskis | Gentlemen's agreement | Semi f. | U76kg |
| AJ Agazarm | Gabriel Pontes | 2x0 | Semi f. | U76kg |
| JT Torres | AJ Agazarm | 10x0 | Final | U76kg |
Under 82kg/181.5lbs, Médio Men's division
Under 88kg/194lbs, Meio Pesado Men's division
Under 94kg/208lbs, Pesado Men's division
| Winner | Loser | Score | Round | Weight |
| --- | --- | --- | --- | --- |
| Vitor Schlosser | David Cobb | Armbar | Rd 1 | U94kg |
| Rodrigo Silva | Roberto Torralbas | 2x0 | Rd 1 | U94kg |
| Jeff Boudreaux | Sardar Babar | WO | Rd 1 | U94kg |
| Lucas Leite | Vitor Schlosser | Choke from back | Rd 2 | U94kg |
| Vitor Toledo | Jason Ackerman | Points | Rd 2 | U94kg |
| Lucas Rocha | Jeffery Boudreaux | ?? | Rd 2 | U94kg |
| Rodrigo Silva | Alexandre Ceconi | 6x4 | Rd 2 | U94kg |
| Tim Spriggs | Elliot Kelly | 2x0 | Rd 2 | U94kg |
| Bruno Cuppari | Felipe Bueno | Ref Decision | Rd 2 | U94kg |
| Marcelo Mafra | Jurandir Conceicao | Points | Rd 2 | U94kg |
| Lucas Leite | Vitor Toledo | 8x0 | 1/4 final | U94kg |
| Lucas Rocha | Karim Khalifa | points | 1/4 final | U94kg |
| Tim Spriggs | Marcelo Mafra | Choke from back | 1/4 final | U94kg |
| Lucas Leite | Rodrigo Silva | 5x0 | Semi f. | U94kg |
| Lucas Rocha | Tim Spriggs | 2x0 | Semi f. | U94kg |
| Lucas Leite | Lucas Rocha | 20x2 | Final | U94kg |
Under 100kg/221lbs, Super Pesado Men's division
Over 100kg/221lbs, Pesadíssimo Men's division
Absolute/Open Weight Men's division
Absolute/Open Weight Women's division
| Winner | Looser | Score | Weight | Round |
| --- | --- | --- | --- | --- |
| Leanna Dittrich | Charlene Coats | Points | Absolute | Rd 1 |
| Megan Nevill | Marcela Lawton | Armbar | Absolute | Rd 1 |
| Luiza Monteiro | Fabiana Borges | WO | Absolute | 1/4 final |
| Tammy Griego | Monique Elias | Injury | Absolute | 1/4 final |
| Gabi Garcia | Leanna Dittrich | Choke | Absolute | 1/4 final |
| Mackenzie Dern | Megan Nevill | Referee decision | Absolute | 1/4 final |
| Gabi Garcia | Luiza Monteiro | Choke | Absolute | Semi f. |
| Mackenzie Dern | Tammy Griego | Leglock | Absolute | Semi f. |
| Gabi Garcia | Mackenzie Dern | Bread cutter | Absolute | Final |
Women's divisions (combined)
| Winner | Loser | Score | Round | Weight |
| --- | --- | --- | --- | --- |
| Marcela Lawton | Sofia Amarante | WO | Final | U48kg |
| Gezary Matuda | Ariadne Oliveira | 4x4 (9x0 adv) | Semi f. | U53kg |
| Gezary Matuda | Bibiana Silva | Bow & Arrow | Final | U53kg |
| Chelsea Bainbridge-Donner | Kiri Liao | Choke | 1/4 final | U58Kg |
| Ana Carolina Schmitt | Karen Borges | Adv. | 1/4 final | U58Kg |
| Mackenzie Dern | Chelsea Bainbridge-Donner | Ezekiel | Semi f. | U58Kg |
| Tammi Musumeci | Ana Carolina Schmitt | 4x0 | Semi f. | U58Kg |
| Mackenzie Dern | Tammi Musumeci | Toe Hold/Leglock | Final | U58Kg |
| Nyjah Easton | Laurah Hallock | 10x0 | 1/4 final | U64kg |
| Angelica Galvão | Yasmine Wilson | 8x6 | 1/4 final | U64kg |
| Monique Elias | Marilia Vieira | Omoplata | 1/4 final | U69kg |
| Megan Neville | Bruna Ribeiro | Armlock | 1/4 final | U69kg |
| Bia Mesquita | Angelica Galvão | 0x0 (4x2 adv) | Final | U69kg |
| Leanna Dittrich | Charlene Coats | WO | 1/4 final | U69kg |
| Monique Elias | Megan Neville | Triangle | Semi f. | U69kg |
| Luiza Monteiro | Leanna Dittrich | 9x4 | Semi f. | U69kg |
| Monique Elias | Luiza Monteiro | 6x4 | Final | U69kg |
| Ana Laura Cordeiro | Andresa Correa | Ezekiel | Final | U74kg |
| Dominyka Obelenyte | Tammy Griego | Gogoplata | Final | O74kg |