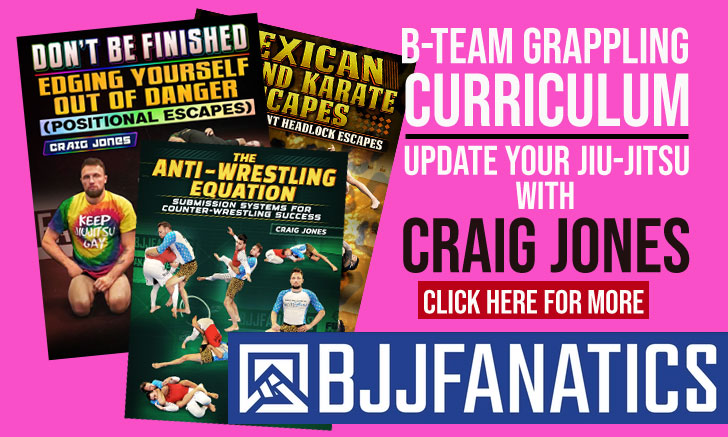 DECEMBER 3, 2017 today was EBI day. The well known submission only promotion presented its last show of the year, and with it EBI's open weight champion.
EBI 14 "The Absolutes" gathered 16 athletes of different grappling backgrounds, having in 3x EBI champion Gordon Ryan the biggest name on the set. As hinted in our preview piece, the card didn't offer too much of an opposition for Ryan who dominated his side of the brackets with ease, having in brown belt Cassey Hellenberg his only real challenge on the way to the final (although Ryan did control most of the action then also). Also as predicted, and with similar effortless disposition to Ryan's, Australian sensation Craig Jones dominated his side of the brackets, earning a spot in the final and making it look easy with less than 90 seconds of mat time.
The final was an even match with no clear submission opportunities, and both athletes exchanging top and bottom positions at will. The match went to over time where Gordon's superior horsepower made a big difference in controlling Jones' movement and dominating the positional exchange. Craig did have an absolute killer armbar on Ryan on the 2nd round of over-time which Ryan narrowly escaped (surely with some pops on his extended arm), but in the end victory was his by RNC on round 2.
EBI 14 THE ABSOLUTES FULL-RESULTS
Round 1:
Gordon Ryan defeated Dan Borovic by outside heel-hook
Patrick Donabedian defeated Daniel O'Brien by outside heel-hook
Casey Hellenberg defeated Karen Darabedyan by triangle-armbar
Chesseray Childrey defeated Adam Sachnof by kimura
Andrew Kimler defeated Rustam Chsiev in over-time
Aaron Johnson defetaed Matt Kirchwhem in over-time
Marcel Goncalves defeated Travis Moore by one handed RNC
Craig Jones defeated Andy Burke by inside heel-hook
Quarter Finals:
Gordon Ryan defeated Patrick Donabedian by armbar
Casey Hellenberg defeated Chesseray Childrey by armbar
Aaron Johnson defeated Andrew Kimler by armbar
Craig Jones defeated Marcel Goncalves by inside  heel-hook
Semi Finals:
Gordon Ryan defeated Casey Hellenberg in over-time
Craig Jones defeated Aaron Johnson by inside heel-hook
Final:
Gordon Ryan defeated  Craig Jones in over-time.
Cover photo by Blanca Marisa Garcia.