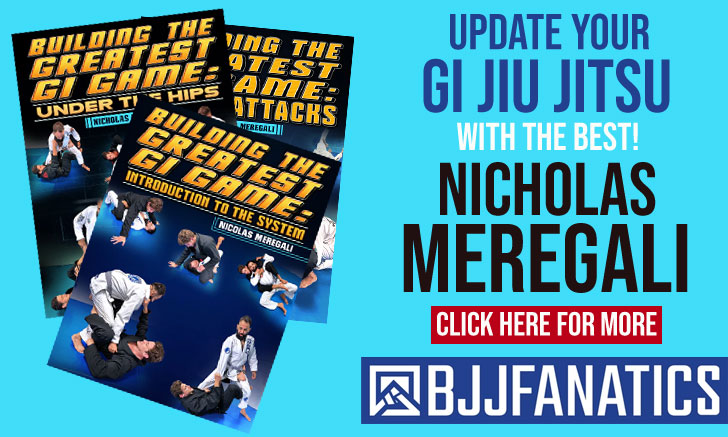 Gabriel Moraes, most commonly known as Gabrielzinho Moraes, is a historical figure for Brazilian Jiu Jitsu, having won the world championship on three separate occasions while being the first and only competitor to date to win BJJ's most prestigious tournament consecutively as a blue belt (2003) and as a black belt the following year (2004), jumping two belt categories in the process. Gabriel Moraes is also one of the very selected group of competitors to have submitted Caio Terra in competition.
Gabriel Moraes Jiu Jitsu
Full Name: Gabriel Moraes
Nickname: Moraes is usually called "Gabrielzinho", which is a friendly was of saying Gabriel.
Lineage: Mitsuyo Maeda > Carlos Gracie > Helio Gracie > Royler Gracie/Rolker Gracie > Guto Monteiro > Gabriel Moraes
Main Achievements:
World Champion (2002*, 2003 blue, 2004 & 2013 black)
Brazilian National Champion (2004 purple)
Amazing Meeting Champion (2011**)
World Championship Runner-up (2005 black)
Pan American Championship Runner-up (2016)
* closed bracket with team mate Fernando Vieira.
**closed bracket with team mate Carlos Vieira Holanda.
Favourite Technique: Choke from Back.
Weight Division: Peso Galo (58kg/126lbs)
Team/Association: Alliance
Gabriel Moraes Biography
Gabriel Moraes started practicing Brazilian Jiu Jitsu at the age of 15 in his city of Manaus. He was taught by the Monteiro Brothers who ran one of the strongest teams in the Amazonas region, the "Academia Monteiro", where Gabriel quickly made a name for himself has a talented competitor in the lower ranks. After winning the world championship tournament as a blue belt twice, Gabriel was promoted to purple belt, he quickly became one of the most successful purple belts in the country, winning the Brazilian National Championship.
Gabriel Moraes' career was also heavily influenced by Carlos Vieira Holanda, who accompanied Moraes regularly on his trips to compete around the country. Shortly after Gabriel Moraes won the purple belt national championship, he was ready to quit jiu jitsu, finding no sponsors and no way to sustain the lifestyle of a competitor in Jiu Jitsu, however, on Gabriel's return to Manaus, his long time coach Augusto "Guto" Monteiro awarded the young prodigy his black belt, jumping from purple straight to black belt, a rare case in BJJ (although not unheard of as were the cases of: Sergio Penha and Fredson Paixao).
Being a black belt, opened the doors for sponsorships (helped by the good contacts of Carlos Holanda), these sponsorships helped maintain Gabriel Moraes' in Jiu Jitsu. It was also Carlos Holanda who introduced Gabriel to Ricardo Vieira and Checkmat, a team he trained with during his trips to Rio de Janeiro and which he started representing in competitions up until 2015.
In 2004, only a few months after he received his black belt, Gabriel Moraes won the world championships, an unprecedented event that catapulted the Gabrielzinho to the rings of BJJ history.
Regarding Gabriel Moraes Record
Please note the information compiled for Gabriel Moraes' grappling record as an adult black belt is incomplete. There are dozens of matches from his early days as a black belt that remain unaccounted due to lack of information regarding those tournaments. This is, however, the best assessment of his competitive career we have found through research.
Gabriel Moraes Grappling Record
24 WINS
BY POINTS


BY ADVANTAGES




BY SUBMISSION




BY DECISION




BY PENALTIES




BY DQ



4 SUBMISSIONS WINS
13 LOSSES
BY POINTS


BY ADVANTAGES




BY SUBMISSION




BY DECISION




BY PENALTIES




BY DQ



1 SUBMISSION LOSSES
Gabriel Moraes Fight History
ID
Opponent
W/L
Method
Competition
Weight
Stage
Year
1279

Samuel Braga

Samuel Braga
L
Referee Decision
World Champ.
57KG
F
2005
1398

Ivaniel Oliveira

Ivaniel Oliveira
L
Choke
World Champ.
57KG
4F
2006
2650

Guilherme Mendes

Guilherme Mendes
L
Pts: 4x0
Brasileiro
64KG
F
2010
2953

Ary Farias

Ary Farias
L
Pts: 2x0
Brasileiro
64KG
F
2011
4219

Henrique Rezende

L
Points
NoGi Worlds
64KG
SF
2012
5131

Caio Terra

Caio Terra
L
Pts: 0x0, Adv
IBJJF Pro League
70KG
F
2013
5754

Paulo Miyao

Paulo Miyao
L
Points
World Champ.
64KG
SF
2014
8002

Joao Miyao

Joao Miyao
L
Points
Santa Cruz Pro
70KG
F
2015
9245

Joao Miyao

Joao Miyao
L
Pts: 2x0
Pan American
64KG
F
2016
9935

Ary Farias

Ary Farias
L
Pts: 2x0
World Champ.
64KG
4F
2016
11545

Mikey Musumeci

Mikey Musumeci
L
Pts: 2x0
European Open
64KG
F
2017
13076

Joao Miyao

Joao Miyao
L
Pts: 8x4
World Champ.
64KG
SF
2017
16453

Yuta Shimada

Yuta Shimada
L
Injury
World Champ.
64KG
R2
2018
1049

Geremias Maia

W
Pts: 7x0
World Champ.
57KG
F
2004
1149

Jeremias Maia

W
Pts: 16x2
Brasileiro
57KG
F
2005
1264

Samuel Braga

Samuel Braga
W
Pts: 3x2
World Cup
57KG
F
2005
1490

Daniel Otero

Daniel Otero
W
Pts: 4x2
Brasileiro
57KG
F
2006
4773

Thomas Lisboa

Thomas Lisboa
W
Adv
World Champ.
64KG
8F
2013
4775

Gabriel Willcox

W
Pts: 6x4
World Champ.
64KG
4F
2013
4778

Daniel Beleza

Daniel Beleza
W
Referee Decision
World Champ.
64KG
SF
2013
4779

Ary Farias

Ary Farias
W
Adv
World Champ.
64KG
F
2013
5129

Laercio Fernandes

Laercio Fernandes
W
Pts: 2x0
IBJJF Pro League
70KG
SF
2013
5744

Yushuto Yamada

W
Points
World Champ.
64KG
8F
2014
5750

Thomas Lisboa

Thomas Lisboa
W
Pts: 11x2
World Champ.
64KG
4F
2014
8001

Kim Terra

Kim Terra
W
Points
Santa Cruz Pro
70KG
SF
2015
8733

Luis Felipe Pinto

W
Cross choke
Irvine Open
64KG
SF
2015
8734

Gustavo Carpio

W
Choke
Irvine Open
64KG
F
2015
9234

Kazuhiro Miyachi

W
Pts: 7x2
Pan American
64KG
R1
2016
9242

Gabriel Marangoni

Gabriel Marangoni
W
Clock choke
Pan American
64KG
4F
2016
9244

Hiago George

Hiago George
W
Referee Decision
Pan American
64KG
SF
2016
9869

Alex Lira

W
N/A
Las Vegas Open
64KG
SF
2016
9870

Rafael Freitas

Rafael Freitas
W
Americana
Las Vegas Open
64KG
F
2016
9930

Mayko Borges

W
Pts: 7x0
World Champ.
64KG
R2
2016
11540

Lucas Dantas

W
Pts: 4x2
European Open
64KG
4F
2017
11543

Joao Miyao

Joao Miyao
W
Pts: 5x4
European Open
64KG
SF
2017
13064

Hideyuki Yamada

W
Pts: 4x0
World Champ.
64KG
8F
2017
13072

Hiago George

Hiago George
W
Referee Decision
World Champ.
64KG
4F
2017
Gabriel Moraes vs Caio Terra

Gabriel Moraes vs Bernardo Pitel