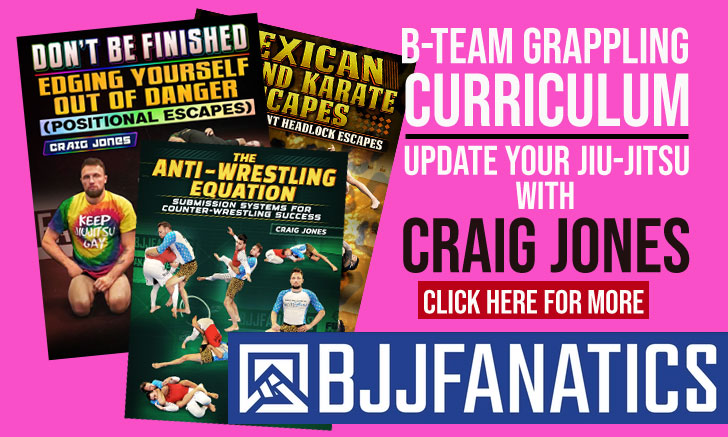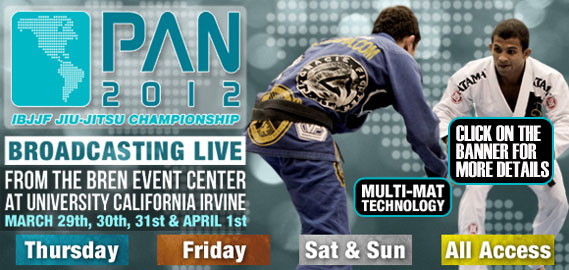 Wow, it doesn't seem right but it is, the 2012 edition of the Pan American Jiu Jitsu Championship is at our doorstep once again and a year has passed since Rodolfo Vieira made his first big statement of 2011, winning both his weight and the open weight divisions. Even though this year the great champ will not be defending his two titles, giving preference to the World Pro Cup event happening in early April, the tournament might very well be used to launch two of his GFT team mates to the spotlight in an extremely tough lightweight division, the team mates aforementioned are Vinicius Marinho and Italo Lins who have been causing an uproar in Brazil with their offensive and eye pleasing grappling game. This lightweight division is truly stacked this year as is the featherweight division (see some of the confirmed fighters below) making this tournament definitely one of the most anticipated jiu jitsu events of the year. In anticipation, many teams such as Gracie Barra, Checkmat, Atos and Alliance have been preparing heavily for the clash next weekend.
The event will be held at the Event Centre at the University California Irvine from the 29th of March, ending on April 1st and luckily we will be able to see it all, live through the excellent broadcast (more details click on this link). Many of the world's best fighters will be competing, here is a quick list of top athletes you should be looking out for at this year's event:
The broadcast of the event starts on Thursday the 29th with the white belts and blue belts, it continues through Friday with more white and blue belt action before the purple belts roll into play. On Saturday the event really picks up with the black belts being added to the broadcast starting with the open weight and the rest of the weight divisions on Sunday.
2012 Pan Jiu-Jitsu Championship Schedule
The event kicks off every day at 9:00am (Californian time).
Thursday – 29/Mar/2012
9:00 AM
Blue Adult Male – Rooster to Feather
11:15 AM
Blue Adult Male – Light and Middle
1:30 PM
Blue Adult Male – Medium Heavy to Ultra Heavy
3:00 PM
White Adult Male – Rooster and Light Feather
White Adult Female
4:00 PM
White Adult Male – Feather and Light
5:00 PM
White Adult Male – Middle to Ultra Heavy
White Master – Rooster to Light
6:10 PM
White Master – Middle to Ultra Heavy
White Senior – Rooster to Heavy
6:40 PM
White Senior – Super Heavy and Ultra Heavy
Blue Adult Male – Open Class
Friday – 30/Mar/2012
9:00 AM
Purple Adult Male – Rooster to Feather
Purple Adult Female
10:30 AM
Purple Adult Male – Light and Middle
12:00 PM
Purple Adult Male – Medium Heavy to Ultra Heavy
Blue Adult Female – Light Feather to Light
1:45 PM
Blue Adult Female – Middle to Heavy
Blue Master Male – Rooster to Middle
2:45 PM
Blue Master Male – Medium Heavy to Ultra Heavy
Blue Master Female – Light Feather to Light
3:40 PM
Blue Master Female – Middle to Heavy
Blue Senior 1 – Rooster to Medium Heavy
4:30 PM
Blue Senior 1 – Heavy to Ultra Heavy
Blue Senior 2
Blue Senior 3 – Rooster to Middle
5:20 PM
Blue Senior 3 – Medium Heavy to Ultra Heavy
Blue Senior 4 and 5
Purple Adult Male – Open Class
Purple Adult Female – Open Class
Blue Adult Female – Open Class
6:30 PM
Blue Master Male Open Class
Blue Master Female – Open Class
Blue Senior 1, 2, 3, 4 and 5 – Open Class
Saturday – 31/Mar/2012
9:00 AM
Purple Master Male – Rooster to Middle
Purple Master Female
10:20 AM
Purple Master Male – Medium Heavy to Ultra Heavy
Purple Senior 1 – Rooster to Middle
11:20 AM
Purple Senior 1 – Medium Heavy to Ultra Heavy
Purple Senior 2
Purple Senior 3 – Rooster to Middle
12:10 PM
Purple Senior 3 – Medium Heavy to Ultra Heavy
Purple Senior 4 and 5
Brown Master – Rooster to Light
12:45 PM
Brown Master – Middle to Ultra Heavy
Brown Senior 1
Black Adult Male – Open Class Registration
Black Adult Female – Open Class Registration
1:25 PM
Brown Senior 2
Brown Senior 3
1:45 PM
Black Adult Male – End of Open Class Registration
Black Adult Female – End of Open Class Registration
2:00 PM
Brown Senior 4 and 5
Blue Juvenile 1 Male
Blue Juvenile 2 Male
2:40 PM
Black Adult Male – Open Class
Black Adult Female – Open Class
Blue Juvenile 1 Female
Blue Juvenile 2 Female
White Juvenile 1 Male
White Juvenile 2 Male
White Juvenile 1 Female
White Juvenile 2 Female
Purple Juvenile
3:10 PM
Black Master Male
Black Master Female
4:10 PM
Black Senior 1
Black Senior 2 – Rooster to Light
5:00 PM
Black Senior 2 – Middle to Ultra Heavy
Black Senior 3, 4 and 5
5:45 PM
Purple Master Male – Open Class
Purple Senior 1, 2, 3, 4 and 5 – Open Class
Purple Master Female – Open Class
Brown Master – Open Class
Brown Senior 1, 2, 3, 4 and 5 – Open Class
7:00 PM
Black Master Male – Open Class
Black Master Female – Open Class
Black Senior 1, 2, 3, 4 and 5 – Open Class
Blue Juvenile 1 and 2 Male – Open Class
Blue Juvenile 1 and 2 Female – Open Class
Purple Juvenile – Open Class
Sunday – 01/Abr/2012
9:00 AM
Brown Adult Male – Rooster to Feather
Black Adult Male – Rooster to Feather
10:35 AM
Brown Adult Male – Light
Brown Adult Female
Black Adult Male – Light and Middle
12:35 PM
Brown Adult Male – Middle
Black Adult Male – Medium Heavy to Super Heavy
2:00 PM
Brown Adult Male Medium Heavy to Ultra Heavy
Black Adult Male – Ultra Heavy
Black Adult Female
3:45 PM
Brown Adult Female – Open Class
Black Belt Finals
Brown Adult Male – Open Class